Shopping Online
Need Assistance?
0800 274 726
Calling Hours
Mon - Fri: 8.00am - 6.00pm
Sat - Sun: 8.30am - 4.30pm
---
Email Us
contact@briscoes.co.nz
Click & Collect
We are excited to announce that we are trialing a Click & Collect service at Briscoes. Click & Collect is currently operating at multiple stores throughout New Zealand:


Albany, Botany, Bush Inn, Coastlands, Dunedin, Glenfield, Hamilton, Hornby, Invercargill, Lyall Bay, Masterton, Mt Roskill, Panmure, Papanui, Petone, Rangiora, Rotorua, Sailsbury St, Taranaki St, Upper Hutt, Wanganui, Westgate
At these locations, you will see the Click & Collect option as you proceed through the check out.We hope to have this available at other stores soon. However, in the meantime please bear with us as we work through this trial period so we can deliver the best possible service for all future Click & Collect orders at Briscoes stores.
HOW DOES CLICK & COLLECT WORK
In your shopping cart you will have an option to select your delivery method, either 'Click & Collect' or 'Home Delivery'.
When 'Click & Collect' is selected, a drop down menu will appear where you will be able to select your collection store. Once the collection store is chosen, you can then 'Proceed to Checkout'.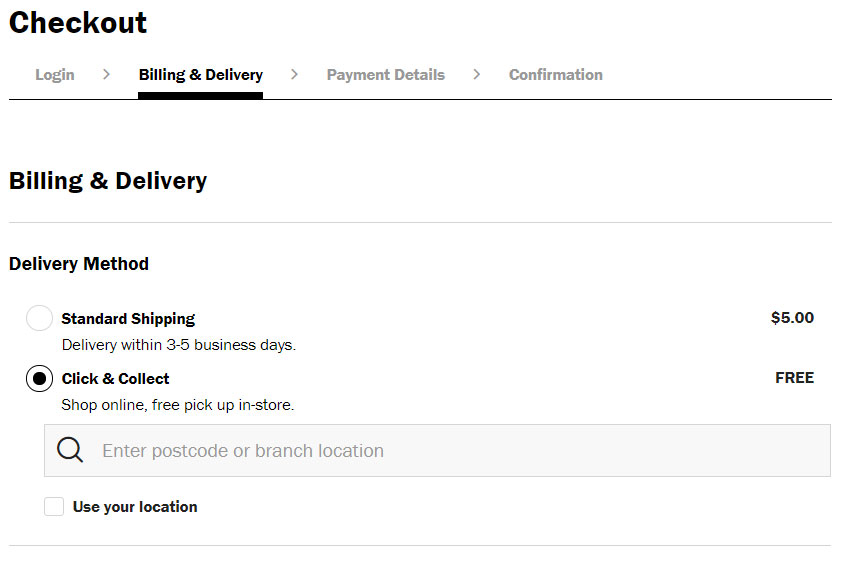 Can somebody else pick up my order?
Once you are in the 'Billing & Delivery' section you will have the option to nominate a person who will be collecting this order if you cannot.
NOTE: For security purposes we will only be able to hand over the order at the collection, with appropriate ID, to:
The person who placed the order
The nominated collector
How much does Click & Collect cost?
All Click & Collect orders are free of any freight costs.
What are the collection times for Click & Collect?
Click & Collect orders take the same length of time as our standard home delivery, 3-5 business days. This is due to some Click & Collect orders being sent from one of our other distribution centres based across the country.
If your order is being sent from another distribution centre, it will depend how close the distribution centre that your order will be coming from is to your selected collection store.
The above factors will contribute to the time it will take for your Click & Collect order to be ready for collection
What do I need to bring with me to collect my order when using Click & Collect?
Click & Collect orders must be collected by either the person who placed the order or by the nominated person.
For security purposes please ensure you bring the below:
Order Number
Vaild Photo ID*
*Please note that upon collection your photo ID type & number will be recorded for security purposes
What happens when I don't collect my order?
If you cannot collect your order within 7 days of it arriving at your chosen collection store, please contact our Customer Service team on 0800 274 726.
Should you fail to collect your order after 14 days of it arriving at your nominated collection store the order will be cancelled and a refund will be processed back onto the card that was used to place the original order.
Need Assistance?
0800 274 726
Calling Hours
Mon - Thurs: 8.00am - 6.00pm
Fri: 8.00am - 4.00pm
Sat - Sun: 8.30am - 4.30pm
---
Contact Us