Shopping Online
Need Assistance?
0800 274 726
Calling Hours
Mon - Fri: 8.00am - 6.00pm
Sat - Sun: 9:00am - 4:30pm
---
Click & Collect
We are excited to announce that we are trialing a Click & Collect service at Briscoes. Click & Collect is currently operating at multiple stores throughout New Zealand:


Albany, Botany, Bush Inn, Coastlands, Dunedin, Glenfield, Hamilton, Hornby, Invercargill, Lyall Bay, Masterton, Mt Roskill, Panmure, Papanui, Petone, Rangiora, Rotorua, Sailsbury St, Taranaki St, Upper Hutt, Wanganui, Westgate
At these locations, you will see the Click & Collect option as you proceed through the check out.We hope to have this available at other stores soon. However, in the meantime please bear with us as we work through this trial period so we can deliver the best possible service for all future Click & Collect orders at Briscoes stores.
HOW DOES CLICK & COLLECT WORK
In your shopping cart you will have an option to select your delivery method, either 'Click & Collect' or 'Home Delivery'.
When 'Click & Collect' is selected, a drop down menu will appear where you will be able to select your collection store. Once the collection store is chosen, you can then 'Proceed to Checkout'.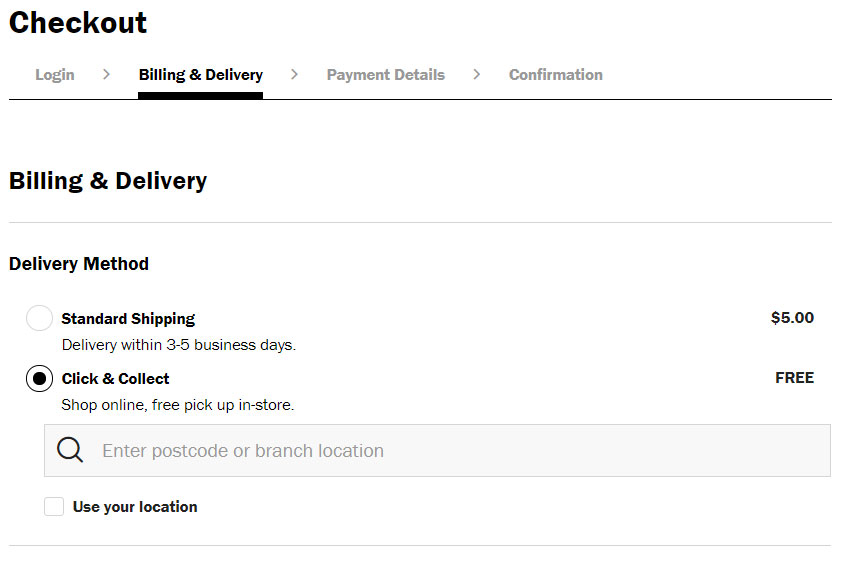 Need Assistance?
0800 274 726
Calling Hours
Mon - Fri: 8.00am - 4.00pm
Sat - Sun: 9:00am - 4:30pm
---