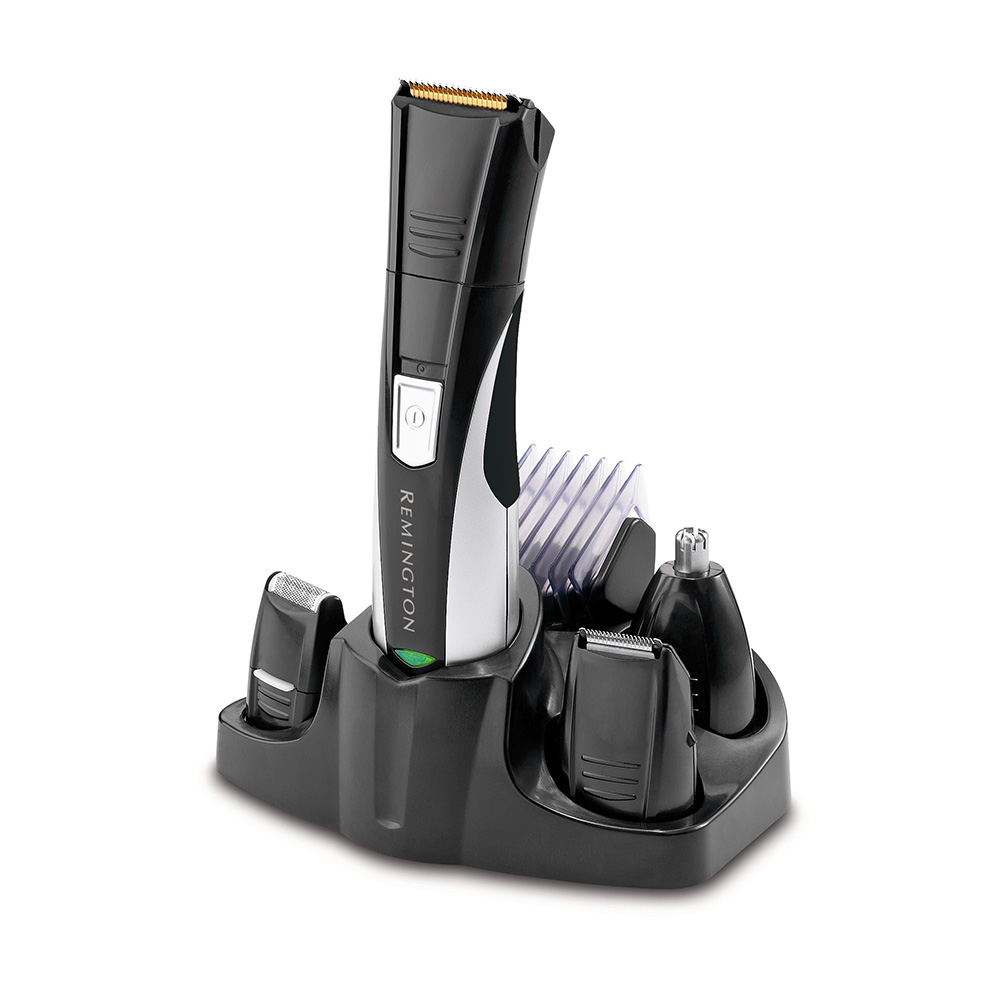 Remington PG350 High Precision Titanium Rechargeable All in 1 Groomer
or 4 fortnightly payments of $10.50
or 4 fortnightly payments of $10.50
or 6 weekly payments from $7.00
---
---
Sculpt the look you want with Remington's PG350! This all in 1 grooming system includes a detail trimmer, mini shaver, nose and ear trimmer, full trimmer, hair clipper comb, moustache and beard comb and a charging and storage stand. Blades are self-sharpening so they will never need to be replaced. The attachments are rinsable and the groomer can be recharged for cord free use. This product has a 2 year warranty.
20mm trimmer detail attachment
Up to 40 mins cordless running time
I'm not sure how much the other reviewers actually use them. I've had my set for over 5 years. Charge them everytime before use. No problem. Will be buying another set
I have been using this since last three years, never had any issues..
I have been using this since last three years, never had any issues..
My boyfriend said it was ok but kept going flat before he was finished.
Absolute rubbish, same experience as other buyers. DO NOT BUY.... Battery is junk and dies after little use, won't hold a charge for more than a day. Also trim get heads/guides are brittle plastic and break. Overall a 0/10 from me if 0 was an option!
Low quality , most fittings are already broken after one use . Hair trimmer doesn't cut hair and blunt after one use
Battery doesn't hold charge long enough for single use.
Its really a shame that we didnt read the review from different people who bought this product. My husband complain about this everytime. It takes him half an hour to shave and after wasting time still whiskers are obvious on his face....A waste indeed. Dont buy
Same issue as everyone else it seems. Battery is knackered and no longer chargeable. Clippers quickly became useless. Don't buy these!
Seemed ok at first. But after 3 charges, the battery is useless. Will be asking for my money back.
Worst product I ever bought Lasted about 2 months then stopped working .Put me off the brand and hence would avoid like the plague.
8qWH6x http://www.FyLitCl7Pf7ojQdDUOLQOuaxTXbj5iNG.com
Worked great for a couple of months, even though the battery didn't last very long. Then the battery started to deteriorate to the point where it wont hold a charge. I highly recommend avoiding this product due to a faulty battery. You've been warned!
parts fit badly, and the design of the main clipper head seems to have been designed by someone who had never seen hair before, but was given a vague description, and 5 minutesI've just spent 15 minutes attempting to give myself a number 3 all over haircut, and I'm about halfway there before the battery diedWeak design, weaker motor, and the only good point is it won't take up much space in the bin. Run.