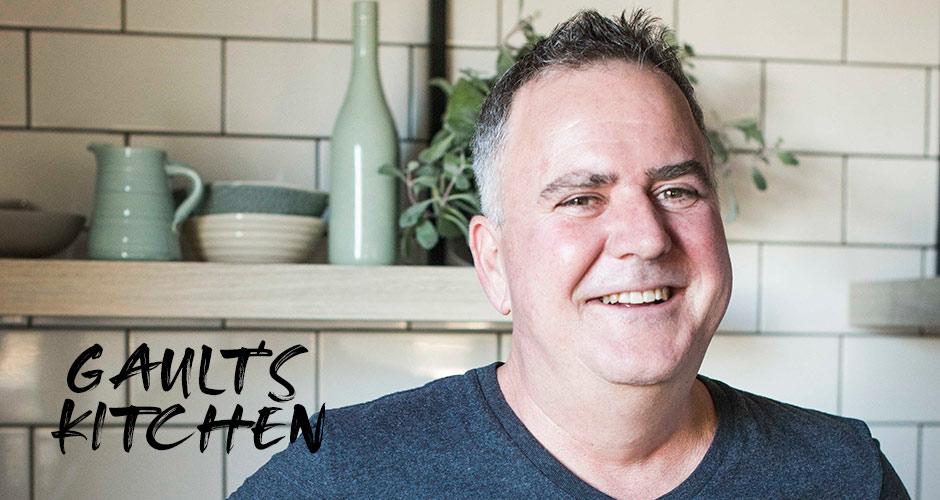 Welcome to Gault's Kitchen!
Welcome to the home of all things Simon Gault, New Zealand celebrity chef, food writer and TV personality. Find expert recipe tutorials, inventive cooking ideas, plus, shop all the products used by Simon himself! Pop back regularly to check for new videos & recipes, as well as the latest Simon Gault products.
Click here for the full recipe
Beef Bourguignon. I love everything about this classic French beef and red wine stew that's completely flavorful every bite.
Beef Bourguignon, literally translated as Burgundian Beef. That's tender fall apart chunks of beef simmered in a rich red wine gravy.
1 kg (35 ounces) beef shin or brisket or blade steak, cut into 3 cm dice

5 tablespoons olive oil

150 grams (5.2 ounces) pancetta or bacon roughly diced

3 cloves garlic minced

2 medium onions, roughly diced

4 large celery sticks, roughly diced

4 tablespoons flour

2 tablespoons tomato paste

½ bottle of red wine

6 green or black pepper corns crushed

3 sprigs thyme plus

4 sprigs marjoram

3 bay leaves

500 ml (2.2 cups) beef stock

Optional 400 grams (14.1 ounces) button mushrooms, quartered
Preheat the oven to 170°C. (338°CF)
Heat the oil in a large casserole dish, then add the meat in batches and fry until golden brown, removing each batch as you go and set aside. Add the pancetta or bacon, garlic (if adding mushrooms save a teaspoon of the garlic for the mushrooms), onion, celery and carrot to the casserole and sauté for 4 minutes, stirring occasionally, until the onion is translucent. Return the sautéed beef to the casserole pot, then sprinkle in the flour and cook for 4 minutes. Add the crushed peppercorns, tomato paste and cook for a minute, then add red wine and beef stock. Bring to a simmer, cover with a lid and place in the oven for 2 hours or until the beef is tender. Remove from the oven and strain the sauce and return the sauce to a medium-high heat and reduce until a sauce consistency is achieved then pour over the meat and vegetables. Taste and adjust the seasoning with salt and freshly ground black pepper, and serve on a bed of mashed potato. Creamy mashed potato https://www.youtube.com/channel/UClLK...
Traditionally mushrooms are served in the Bourguignon
I prefer to retain a teaspoon of garlic and sauté the mushrooms in extra virgin olive oil and garlic, just before serving the Bourguignon. Or alternatively you could take the easier option and add them without cooking just before the casserole pot goes in the oven.
Simon Says: For an extra 5 % Magic the secret to this super-rich beef casserole is to use all wine and no stock.
The red wine was typically a red Burgundy – a Pinot Noir or Gamy.
Bacon and pancetta are both made from pork bellies; the difference between them lies in how they're prepared and cured. ... Pancetta, the Italian version of bacon, is made by seasoning a pork belly side with salt and lots of pepper, by curling it. Pancetta tastes similar to bacon, however does not have the smoky flavor that most bacon has.
Traditionally served with mashed potatoes and green beans and plenty of bread.
Shop
Simon Gault Cookware