So You Want to Buy an
Air Fryer?
Air Fryer's have been a Briscoes fan favourite since we began stocking them, and most recently they have made appearances in the news with air fryers gaining popularity with New Zealanders nationwide. Here is a guide to help you pick the right air fryer for you, so you can join the conversation and make fried food at home.
How Air Fryers Work
The whole idea of an air fryer is to be an alternative to deep frying, getting a similar result but using much less oil and circulating hot air to cook your food. They are a bench top appliance, and can be used to cook veggies, pastries, dry out fruit for cocktails or even fry chicken.
Most air fryers are simple to use with either a single or dual basket that the food is placed in for cooking, depending on the size of the basket or oven space, and air fryer, you can get up to the size of an entire chicken sitting nicely inside. A bit of oil, usually two teaspoons, is added, and the cooking time and heat can be adjusted from the outside of the air fryer.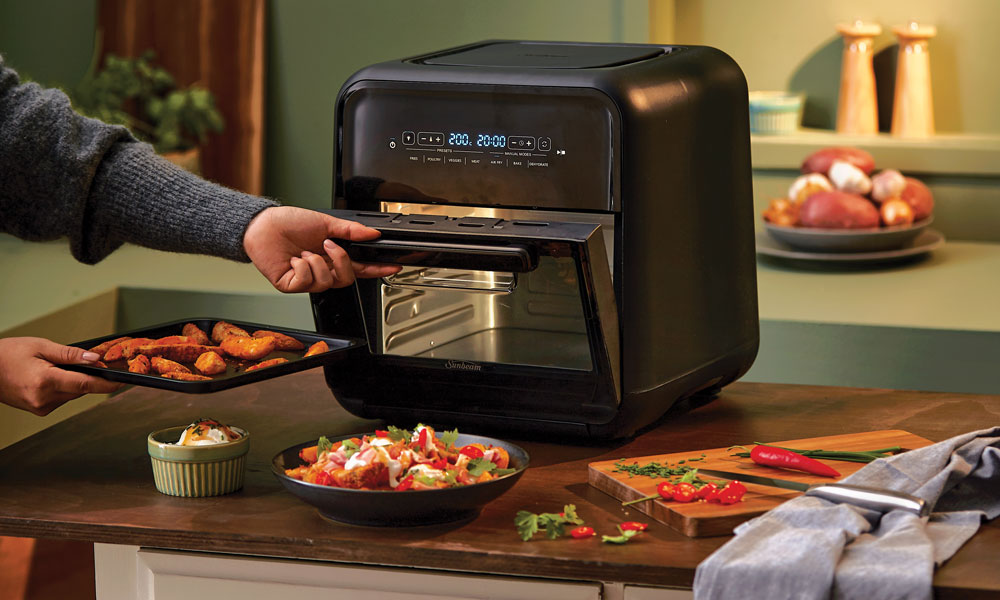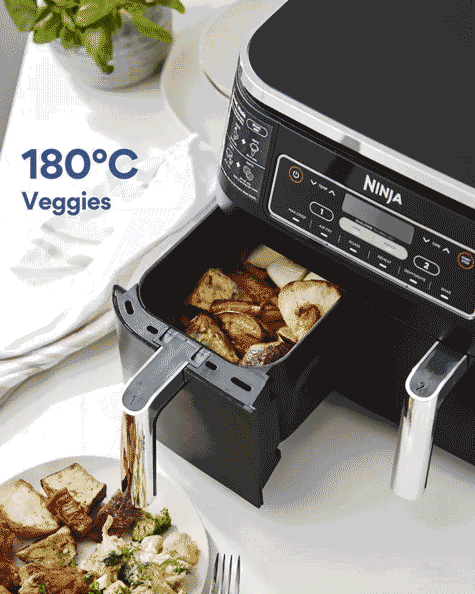 Basket Air Fryers
Basket air fryers are the most well-known type of air fryer, they are similar to a deep fryer because they have a basket in which the food is "fried" in, and typically the fan heats from above to cook. The things you want to look out for are the basket size and depth, the bigger the basket the more you can cook. You may prefer a more circular basket, or you might want one just to make fries. Basket air fryers usually are quicker to heat up than convector ovens and don't make the space that they're in hot, so the kitchen doesn't become stuffy. They usually cook very quickly too, but because basket air fryers are smaller than convector ovens, if you plan on doing your entire meal in one, you'll either need a big basket, or to cook in relay. Not all the pieces of a basket air fryer are dishwasher safe either so that's worth factoring into your decision. The other factor would be the technical abilities of the air fryer, if you are happy with a simple dial for heat and time, or if you'd like a digital interface that tells you a bit more. Basket air fryers are sleek looking and come in different colour options so you can match your existing kitchen décor.
Air Fryer Ovens
Air fryer ovens don't have a basket; they have a rack like a real oven but are smaller and bench top. The heat also comes from above and it's fanned around the oven, but with racks food can be spread out and even baked. Air fryer ovens typically also have more functions, along with baking, you can roast or toast too. Air fryer ovens are preferred by people who like to see how their food is cooking, you can also move the racks up and down so food can be closer or further away from the heat source, and because they are generally bigger more can be cooked in them, ideally your whole meal at once, but this means they also take up more bench space. They also tend to heat up and can make small rooms warm. The good thing about air fryer ovens is also the fact for most of them, their parts are dishwasher safe, so clean up is less of a pain point. Oven air fryers have less variety when it comes to colour, but the colours are classic, and easy to slip in with any décor style.