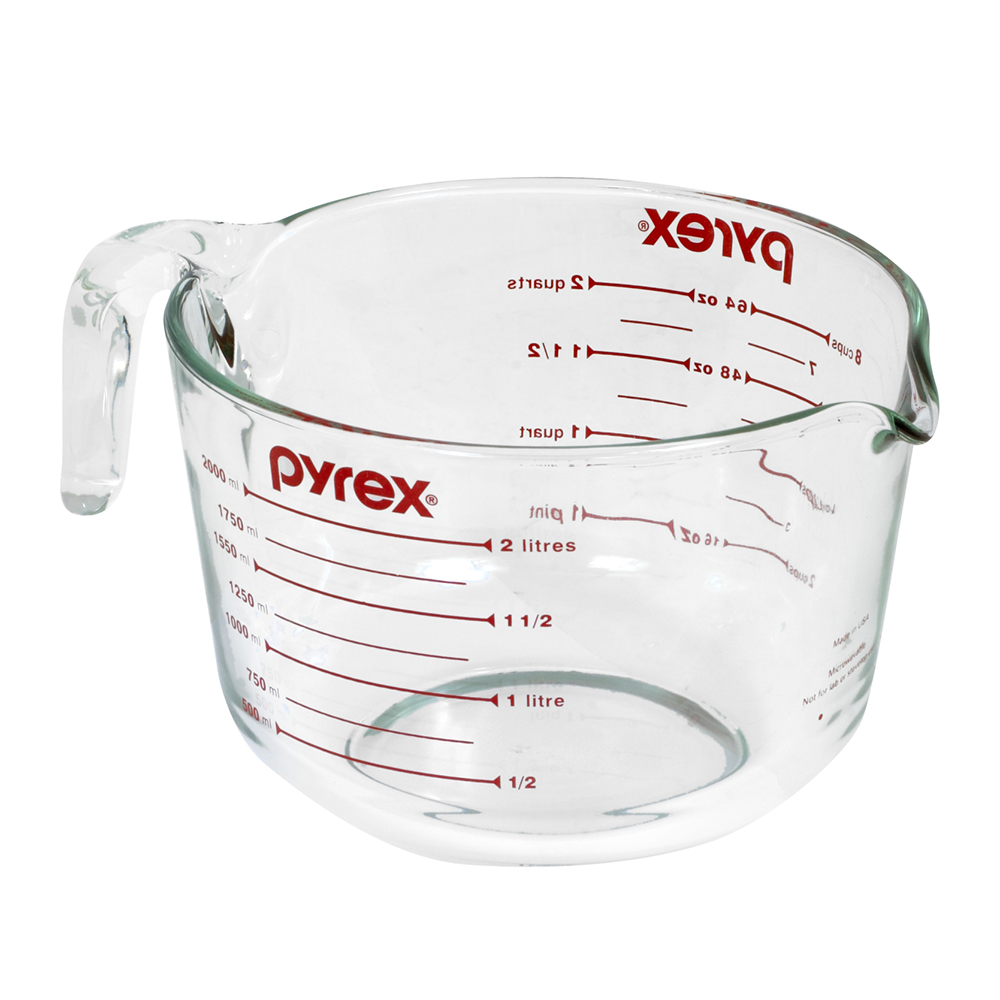 Pyrex Glass Measuring Jug 2 Litres
---
---
The measurement indicators and grab handle are designed to make it easy to mix, measure and pour. Pyrex glass is non-porous so it won't absorb food odours, flavours or stains.
Microwave, refrigerator, freezer and dishwasher safe.
Made in the U.S.A.
2 Litre
Pyrex Usage Instructions
Pyrex® Glassware can be used for cooking, baking, warming and reheating food in microwave ovens and preheated conventional or convection ovens. Products are dishwasher safe and can be washed by hand using non-abrasive cleansers and plastic or nylon cleaning pads. Products are intended for normal household use only; not for camping, industrial or commercial use.
7 Simple Rules to Cook with Care
Always place hot glass bakeware on a dry, cloth potholder or towel. Never on top of the stove, on a metal trivet, on a damp towel, directly on a counter or in a sink.
Always fully preheat oven before placing glass bakeware in the oven. DO NOT use on or under a flame or other direct heat source.
Always cover the bottom of the glass bakeware dish with liquid before cooking meat or vegetables. DO NOT add liquid to a hot dish.
Ensure your Pyrex product is cleaned thoroughly between each use to avoid 'hot spots' which can lead to breakage.
The BPA Free plastic lids are for microwave and storage use only. In the microwave rest the lid on top of your Pyrex dish or lift one corner to allow heat ventilation and avoid lids buckling.
DO NOT use or repair any glassware that is chipped, cracked or severely scratched
Avoid handling hot glassware (including items with silicone gripping surfaces) without dry potholders
FAILURE TO FOLLOW THE INSTRUCTIONS ABOVE MAY RESULT IN PERSONAL INJURY OR PROPERTY DAMAGE, OR MAY CAUSE YOUR GLASSWARE TO BREAK OR SHATTER IMMEDIATELY OR LATER.
Limited Two-Year Warranty
Corelle Brands promises to replace any Pyrex glass product that breaks from oven heat, and any Pyrex non-glass accessory item with a manufacturing defect, within TWO YEARS from the date of purchase.
The foregoing warranties apply only to products damaged during normal household use.
What more would a cook want. A measuring jug, a mixing bowl to mix your favourite baking recipes and a bowl that that you can use to cook rice and pasta in the microwave in. I have also made a chocolate self saucing pudding in the oven. This measuring jug/bowl is really versatile, l just love using it.
These are fantastic! They are sturdy, the numbers don't rub off and the size is big enough to use as a mixing bowl for baking or cook veges in in the microwave. It's definitely usd more as a bowl than a measuring cup and the handle just makes it that much easier to use. My mother loves hers so much I bought her a second.