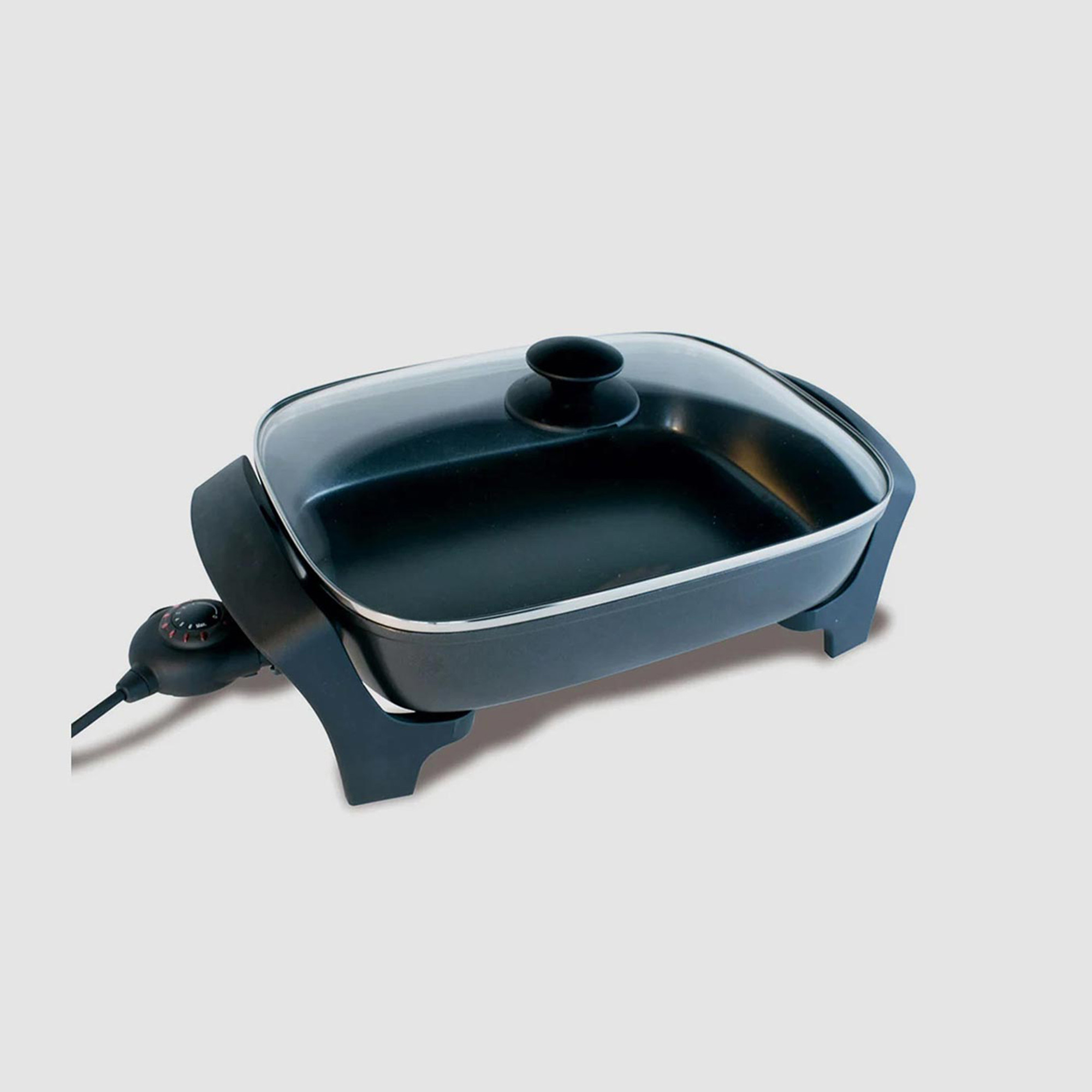 Zip 833 Elegance Rectangle Electric Frypan
or 4 fortnightly payments of $15.00
or 4 fortnightly payments of $15.00
or 6 weekly payments from $10.00
---
---
This Zip Elegance Electric Frypan features cool touch side handles for added safety and control. It includes a steam vented lid, variable temperature control probe and immersible base.
2400 Watts.
Dishwasher safe.
Quality Non Stick Surface.
30 x 39.5cm
Not a good fry pan. Does not keep a constant heat. It seems to heat up once set then turns off. USELESS. Non stick surface also starting to wear just after 4-5 months. Wouldn't recommend.
Now i am regretting buying these products.They look awesome but.after the go plus burnt out.Now reading other reviews to scared to even plug it in.Still in the box it came in. I thought it was a great deal,seems to be a waste of money.Are these machines refundable.
the older model was far more reliable and usable. Heat dial is hard to use and pops out sometimes when cooking. Would not recommend this product.
I agree with all comments about the dial on this frypan. Uneven heat distribution has also been a problem and after 8 months with only gentle non abrasive cleaning the surface is coming off! This could be contaminating food so out it goes. Back to my reliable stainless steel Electric pan.
We have used this for a wee bit and no complaints (only bout a month ) works fine , no complaints , wife loves it
Love it, this electric frypay is the best...
Had 7 in 18 months. The non stick kept on coming off. It was said they would not replace any longer so they talked us in to paying more for a better quality electric fry pan.(sunbeam) This lasted 11 months. Now non stick coming off. I am only cooking for my husband and I. I don't do roasts or steak in it and have only cookd fish,chicken, mince, breast/drum, chops and sausages. It does not go on a high setting either. So back to the drawing board on this now.
What a waste of money. Bought mine at full price. Thermostat must be non existent. Either runs too hot or not at all.
This frying pan is ok but the dial is an absolute nightmare to turn!! God forbid you should have a little oil on your fingers but even without that it is still awful. I have only had this for a few weeks and I am already looking for a new one.
I was so excited to get my new zip frying pan and try it out last night. What a let down! Terrible knob and frying pan wouldn't hold the heat. I've packaged it up and sending it back. Can't believe this has been tested by zip and on the market. I'd give it a zero if I could.
Brought this about 9 months ago and although it cooks well the temperature settings hve worn off so I don't know what temperature I'm cooking at..bit annoying
Would not recommend this pan at all. Temperature is not consistent heats up really quickly but then temp drops again, non stick coating started peeling off a little after first use and numbers on plug smuged off after first use when wiped. Definitely not worth the price it's going for.
I brought one of these a couple of years ago from the Tauranga store. My unit worked well until about a year after I purchased it. Still heats well but the non stick coating has well worn off (even though I only ever used non scouring cleaners) and the power makes a high pitch buzz when connected. Not every time, but most times. Seems to be when the thermostat clicks back on that it activates the whining high pitch. Tried several times to call but can never get through to discuss the issue.
Where to start... The non stick wore off around 6 months. The temperature control dial is awful, cannot grip it if your hands are slightly greasy, rubber fallen off. The temperature control just turns the temperature on full then off for a bit so you CANNOT simmer anything without burning it, does a reasonable job making pancakes and cluttering my benchtop so not all bad :D
Wish I'd read the reviews before purchasing but it was a boxing day impulse buy. Agreeing with all of the negative comments, terrible heating that is inconsistent. And after 4 months it has stopped working. Won't be replacing.
The foot at the plug end had a crack which we didn't notice until it snapped off. Have had no assistance finding a replacement foot
Worst frypan I have ever had. It would heat up to excessive temperatures even on the lowest setting or would not heat up even on a high setting. You cannot cook pikelets on this frypan. Very uneven heat distribution with some parts of the base getting very hot and others just slightly warm. At least Briscoes willingly refunded my money. I would not recommend this frypan to anyone and would rate it zero if I could.
This is the worst frypan I have ever had. The thermastat turns off. I can't cook my mesl with the rest of the ingredients as it has switched off. A waste of money.
My frypan was amazing but after about 4-5 years it started wearing down and soon after this it stopped cooking my food.
Buyer beware! I should have taken it straight back to the retailer as soon as the Teflon started to come off after six months. The rubber on the temperature setting has come away, food sticks to the surface and I could go on. Worse frying pan I have ever purchased I've brought cheaper brands that have been better. Really disappointed .