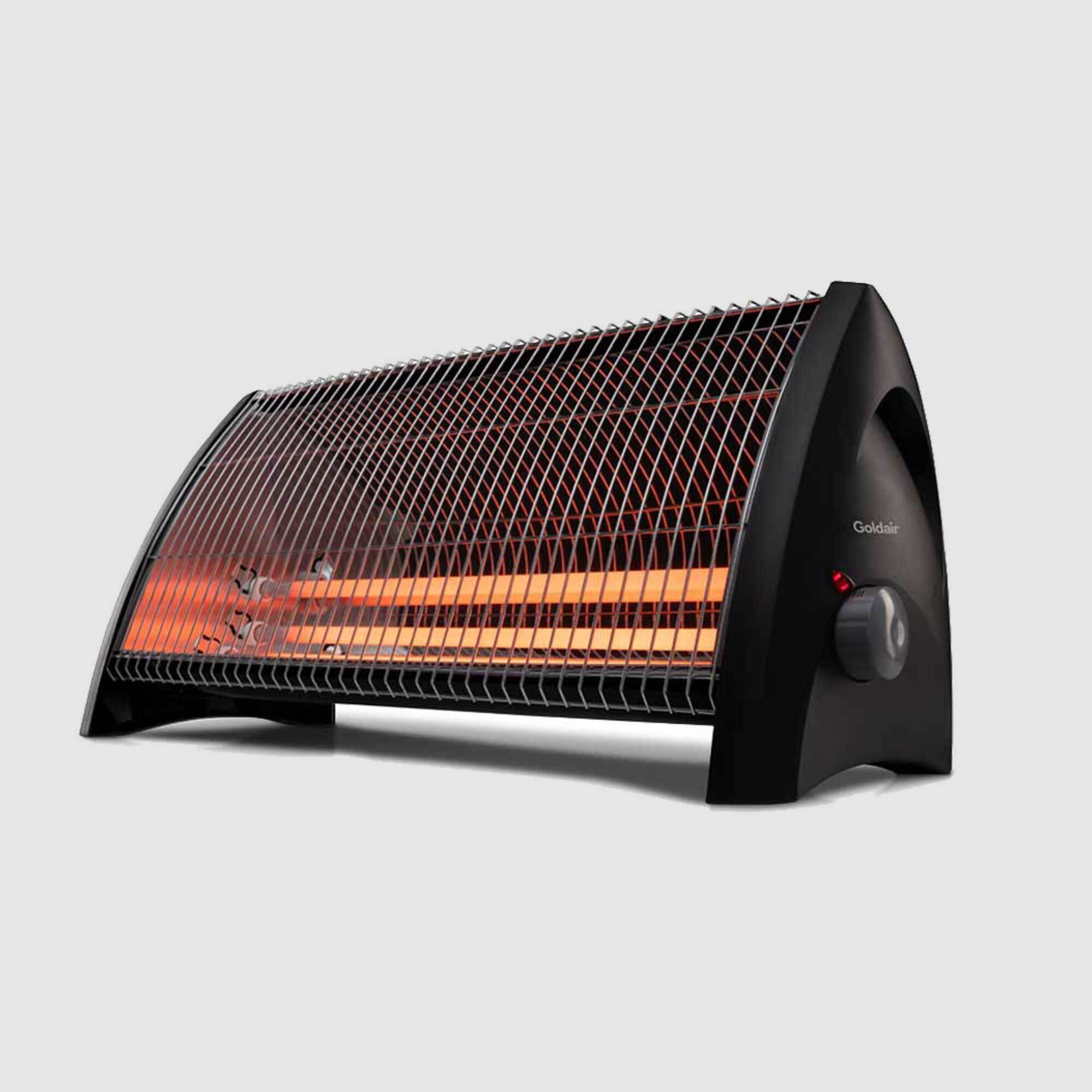 Goldair GSIR300 Radiant Heater
or 4 fortnightly payments of $15.00
or 4 fortnightly payments of $15.00
or 6 weekly payments from $10.00
---
---
Radiant heater with long life quartz elements and 3 heat settings. Integrated handles make moving the heater easy, and it features a safety cut-out and safety cut-out tip-over switches.
a great small heater, easy and light to move and gives out a good quick heat with one bar.
Great value. Warm up the room in minutes.
This is such a nice heater for making a place warm enough! And I love this special price HAHA. This has 3 steps of heat control so it's also easy to control whatever you want. and it dosen't have any fan, I mean, it hasn't sound when it's working. :D I would like to recommend this for others. But a one thing, if it's more compact(small size), would be more better I guess :'( when I moving someday, I can't carry it......! end!
Heater works well. Heats up nice and quick, comfortable heat. I use it on three bars to heat up fast, then dial down to one or two bars.I don't like that the power light is on when the heater is off. What were the designers thinking!!Other than that great little unit for the right space.
Love it. Heats up room really fast. Got it on special too.
You only need one bar of this heater on otherwise it is too hot. Good if you don't want people standing in front of it blocking the heat frond others! The cat loves it.
This is a great personal heater and much more effective than the fan heater we had previously.You must understand that it is a radiant heater and not intended to heat a whole space, so people who have said it doesn't heat their house effectively didn't understand what they were buying!For a personal heater you can not beat this and we've rarely used it on more than 2 of the 3 bars.The main problem we've had is that the dog hogs it and we have to keep moving her away to avoid singed fur :-)
Awesome value for money,Heats bedroom amazingly well
This is the one which I was looking for and we just loved this one worth buying one . Will heat up the whole living room quickly .Thanks for your hot price deals Briscoes Sreeraj
Love this heater as does the cat. Quickly heats up the house in an open plan environment. Really happy with this purchase.
I bought this for my mother and she loves it,it's extremely lightweight for her and very quickly heats up her living room on only the first or second setting.She is very happy with it!:)
Great little heater, great price and very quick delivery. We could not ask for more. Thank you
Was great while it worked. Used it prob less than 10 times last Winter. Plugged it in today nothing. I'm willing to buy another with the online deals let's hope the issue is just a one off thing.
Excellent heater - it's exceeded my expectations - powerful heat for a great price.
This was good value and I am pleased with it. One or two bars are all that's needed. I wish that the handles were deeper. though.800 watts for one bar seems very good for the amount of heat.
Not really good for a average sized 3 bedroom home.Have only used in hallway to heat kids rooms.Not a good heater unless your standing right beside it to keep yaself warm.Quite disappointed..
It's a nice heater, but the 'handles' are very/too shallow and make it awkward to carry. It took a while to realise that those little declivities were the handles. Having the light on all the time seems odd, I keep thinking that I've left the heater itself on. It's not quite as warm as I was expecting from other reviews.
saw good reviews for this heater and they are not wrong .really happy with it.
The safety feature works well. A friend worries about heaters like this being kicked or tripped over...I experimented with pushing mine, and it went right over and turned itself off as it lay on its back.
Love this heater. Heats room real fast.