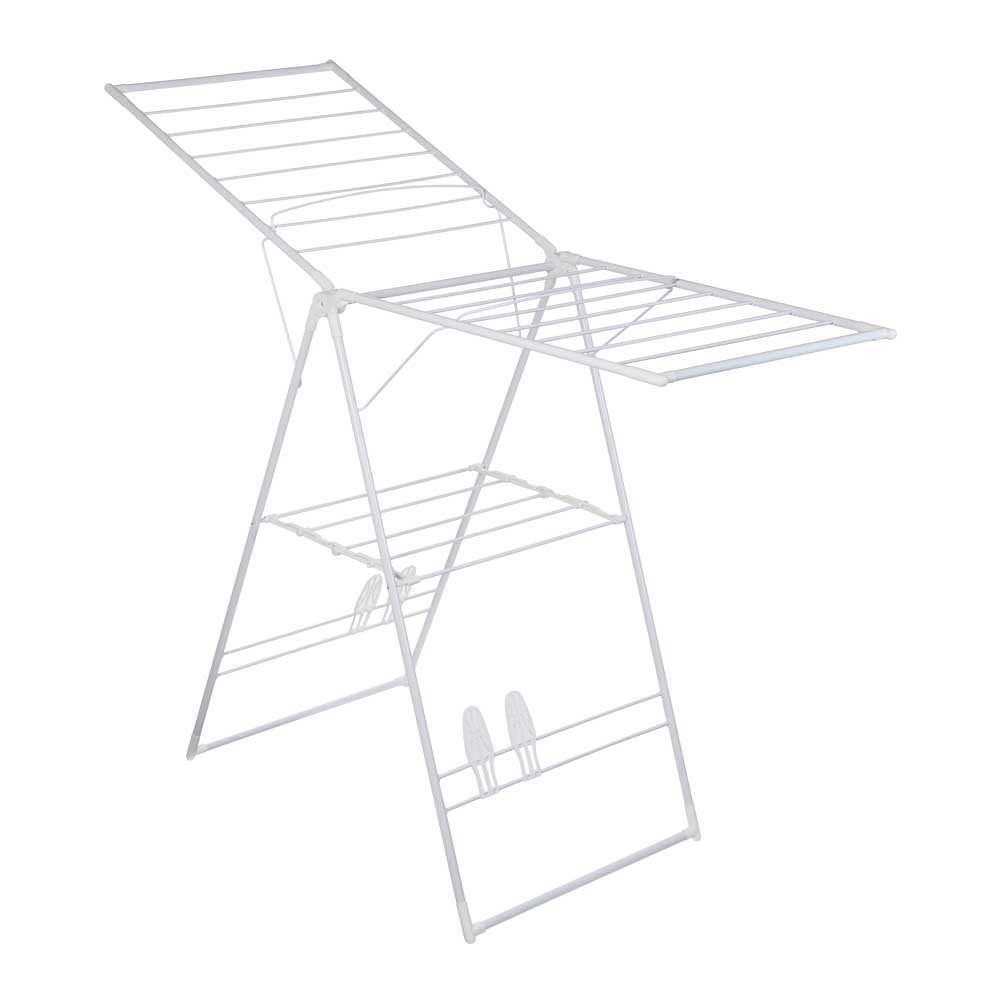 Clothes Airer
or 4 fortnightly payments of $9.00
or 4 fortnightly payments of $9.00
or 6 weekly payments from $6.00
---
---
14m linear clothes airer is great for drying your clothes inside when the sun isn't shining.
I brought 3 of these and they all broke within days of using them! The most frustrating thing to try and piece back together too! Once one piece falls out the rest follows! The idea is great, plenty of space , but don't try and move it one its got clothes on it and good luck putting it back together once it begins to fall apart.
Great strong dryer, shoes things on bottom bit was of time.
I received the requested product and am very happy with the ease of the process . I would like it if the packaging contains less plastic wrapping though. I am aware of the need to reduce the amount of plastic going into our landfills and having to put a large amount of plastic wrapping into the bin does not feel good.
This is the best and sturdiest of a myriad of clothes airers I've used. Easy to put and down and doesnt fall over easily.
Do not waste your money, after 3 weeks the rails kept popping out, nightmare. And you cannot move it when full as it collapses, then takes 2 people to put up again. Worst airer dryer I have ever owned, not to mention it was expensive
What a waste of money. I bought this online thinking it look really sturdy in the picture. It falls to bits all the time which is pretty freaking irritating when I already have enough to do with a baby let alone try and put this back together and rehang the clothes that fell off as well.
Awful awful awful!!!! Thought I would spend extra for quality what a waste of money. Totally fallen apart
Worst air drier ever. My little cheap one was way better! All the rails keep popping off and whole airer falls apart when you try and move it.
Very happy with my purchase, came quicker than I thought
Please don't buy this clothes rack. I too thought it was going to be great and spent more money thinking I would get something of better quality. It falls apart all the time as each rack can come out! So annoying and frustrating. I also didn't keep receipt as thought what could go wrong with a clothes rack!
Great clothes horse. Had one exactly the same but my partner killed it so waited for it to come on special and then snapped it up. Does look slightly different than the last one, but works a treat.
Terrible product. As others say, it falls apart all the time. I wouldn't recommend this airer at all!!
Awful airer started out looking strong and light weight. Before bits started to fall off, now it's just unusable. A total waste of money.
Don't waste your money on this airer, looks sturdy but as many have discovered it falls apart. Better off getting the $15 one.
This is the worst one I ever bought, I wouldn't recommend.
I wouldn't recommend this airer. It does not hold clothes. The rails comes off its holes with slight pressure. It will not hold towels, jackets, pants, etc. I had to return it after one use.
I 100% agree with other reviewers here. This lasted less than 2 days before it started to fall to bits. Absolute waste of money. Unfortunately we didn't keep the receipt! DO NOT PURCHASE THIS ITEM.
Wish I had read the reviews on this product before purchasing! Broke within the first 2 weeks of having it. Do not recommend.
Briscoes please stop selling this Clothes Airer, it's a terrible design and collapse every time we use it. The internal poles are not secured to the outer frame so they fall out when you put clothes on the airer. Please listen to the reviews and delete this from your range. Very disappointed.
This is "The Best" clothes airer!