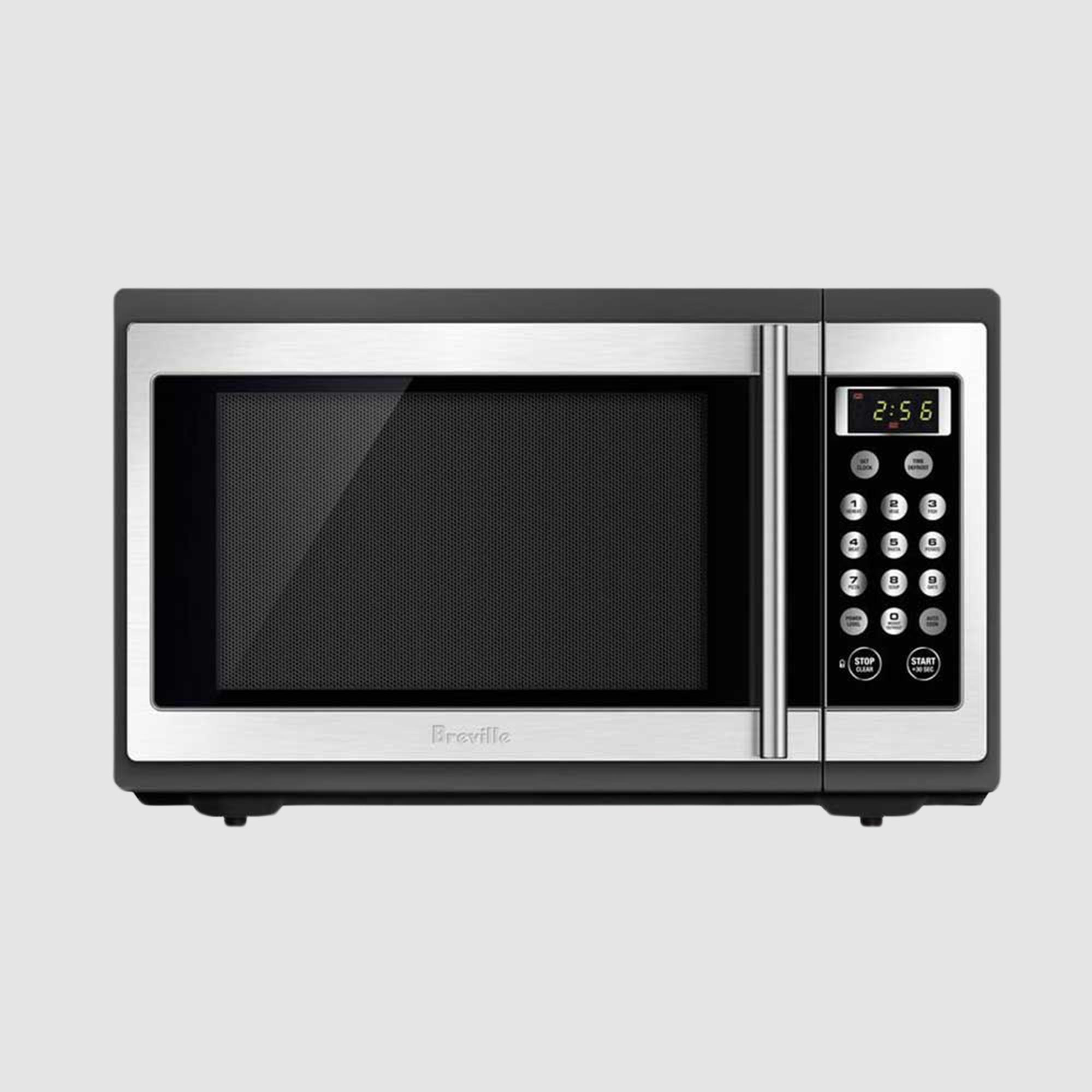 Breville the Quick & Easy Microwave 34 Litre BMO300
or 5 fortnightly payments of $120.00
or 4 fortnightly payments of $150.00
or 6 weekly payments from $100.00
Enter your Delivery Postcode
Standard Delivery

*excludes delivery to the outer islands

$7.00

Click and Collect

Ready for pickup from your selected store in 1-5 Days

$3.00
Check store Availability

See if your local store have this style in stock
Overview
The large 34 Litre microwave has a high 1100 watts of power which means cooking and reheating is fast, while the simple touch pad makes it effortless to operate.
The auto cooking and weight defrost menus automatically set the time and power level and the one touch instant cook button is the easiest way to instantly cook or reheat.
The +30 sec instant start button is the easiest way to cook or reheat food and the 9 auto cook menus automatically sets the time and power level.
LED display with push buttons
315mm turntable
One reheat menu
Defrost by weight and time
5 power levels
Sensor IQ techonology
Colour: Charcoal with Stainless Steel
12 month replacement warranty
Height = 314mm, Width = 423mm, Depth = 509mm
Very happy with mine. People with the problem of it moving are exerting too much pressure as I see my daughter do this but it is fine with me.
Just recently purchased, but so far so good. After a 20 year old microwave, this one is a breeze.Great service from Briscoes.
Just purchased this microwave, given the price I would expect it to be near flawless! Its very loud while in operation, the feet are not non slip so it slides when you open/close it, can't put anything underneath to stop it from sliding e.g non slip mat as per the safety instructions of not placing it near anything flammable. And finally the pad not only is easily scratched but the scratches stand out quite badly. Not a good buy at the high price it carries.
Ive had this microwave for a little less than 2 years and today i went to melt some butter in it and it started sparking and crackling like i had put bowl of metal in it! Opened the door and stunk of burnt out smell. I would expect it to last a lot longer than that! so its a "NO dont do it" from me.
I am very pleased with my purchase. Great easy and fast delivery. The microwave is a good size and is easy to use. Very happy!
An excellent purchase, with plenty of power at 1100 watts.
Love this microwave! I've owned only a handful of microwaves and had them die out on me (zip) but this one is reliable, easy to use, extra fast to heat & defrost my food and i reccommend it to anyone!
Very happy with my purchases.
More than happy with this purchase, one very small problem, the feet are not 'non-slip' hence the unit moves every time you open the door, apart from that, excellent unit. Thanks for your great service.
Very pleased with these microwaves, two for my own home one for my daughter, and these two as gifts, which I wouldn't give unless I was certain of their quality.
Simple design without all the buttons that never get used. Love the auto start button. Plenty of room. Very good.
Horrible. We have our second one as first one bubbled and rusted, inside. Took it back, got given another and told we weren't allowed to return a second time. The rust in our second one is so bad. It was expensive and so disappointed.
Really bad. The most money I have ever spent on a microwave. Returned the first one a year later due to rust. Briscoes replaced it and said I could not return this one. A year later this one has rusted too. Not bloody good enough
Worked well until recently. Now the key pad has gone bung and has a mind of its own. Won't buy another of this brand.
I've had my Beeville microwave for about 5 years now. I have loved everything about it. I too had the bubbly keypad until about 6 months ago when I realized I hadn't taken the protective film off it. I took it off and it looks brand new again. With overuse from boarders in the past year it has started to rust inside. So as advice to others make sure you wipe your microwave out after a steamy use. otherwise a great microwave.
Had this for nearly 6 years and haven't had any issues that orhers are talking about. The paint on the handle is coming off but other than that it's doing its job. I think like most things you'll find people that have bad and good experiences. Just hope yours is good lol.
Great value for money , what a bargain
Had this for about 6months and we cooked popcorn in it for 3 mins and the glass plate just blew in half was a very loud bang whn it happened . Very disappointed in this as they aren't cheap
Worked fine for about 18 months and now it doesn't heat any food. Wouldn't buy this brand again.
Fine while it worked but just after 15 months, a crack has appeared in the rear of the microwave (on the inside) rendering it unsafe. Of course, it's out of warranty...
Related Guides and Advice
Coffee Machine Buying Guide
We know that a great morning coffee makes all the difference to your day! Find the best coffee machine for you, with our guide. Break down the different types of machines, the amount of effort required and compare our range.
Air Fryer Buying Guide
This trend is here to stay! Don't miss out on easy cooking and guaranteed flavour with our wide range of Air Fryers. From your classic air fryer, to dual basket style or an air oven-style, Briscoes has you covered.
Slow Cooker Buying Guide
Slow-Cookers are a lifesaver in the Kitchen for busy homes! Yummy meals practically make themselves. Find the slow-cooker that's best for you with our wide range at Briscoes.