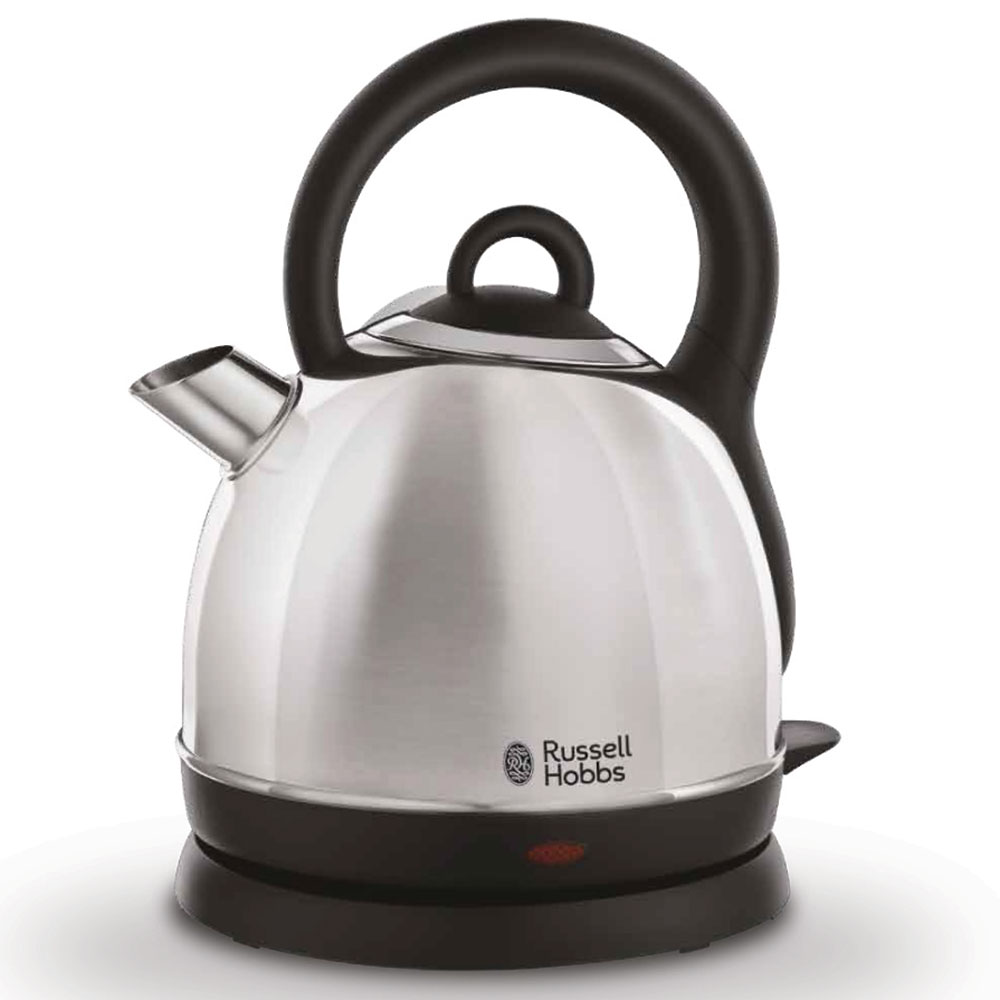 Russell Hobbs Eden Stainless Steel Kettle
or 4 fortnightly payments of $37.50
or 4 fortnightly payments of $37.50
or 6 weekly payments from $25.00
---
---
This 1.7 litre stainless steel kettle is suitable for left or right handed use and has an easy grip lid. It has an on and off switch with a power indicator light, a large water gauge for easy viewing, a 360 degree base with cord storage, a removable, washable filter and a 2200 watt concealed element which is easy to clean. The auto cut off boil dry protection gives you added safety.
I've had this kettle for at least 4 years and has always worked really well. Previous to this kettle I had 3 others within a short space of time that failed and had to be returned so I was really happy to find this reliable kettle and plan to buy another one now mine is leaking out the base.
Extremely loud. Sounds like a 747 taking off. Only had it one day and would like to return but have thrown out the packaging. Won't buy Russell Hobbs again.
Extremely loud. Sounds like a 747 taking off. Only had it one day and would like to return but have thrown out the packaging. Won't buy Russell Hobbs again.
This kettle is less than 3 years old and is leaking out of the base. Not impressed :-(
Previously had a Zip 417, and this kettle is almost silent in comparison.
Bought this kettle 5 years ago. For the sale price I paid, I can gladly say I received good value for my money. We are a big family and made good use of this kettle. Sadly it started leaking a few weeks ago and had to be replaced.
Sick of Russell Hobs! Loudest kettle ever and it's the 4th one I have had that leaks every time the same leak! :-(
Great kettle, had bought the previous model also from Briscoes which served us many years. Not extremely quiet but does the job reliably well. Would recommend.
Bought this kettle 3 1/2 years ago. Has been leaking out of the water level gauge for about 6 months but it's now a lot worse. Constantly finding the kettle sitting in a large puddle, too close to the electrical contact to be safe. I would have expected better from this brand.
Second Russell Hobbs kettle... first one was the wisper... The silence lasted only a month at most then went louder than our previous kettle... now this one leaks from the water level indicator and the bottom which has tripped our electricity a few times... very disappointed in Russell Hobbs. Won't be buying this brand again.
Love this kettle. Always wanted a kettle like this as it reminded me of the old school camp kettle or those kettle's that boil on the stove top. Got it on sale. Lasted us about 5 years...and well over a million boils and cups of tea and coffee and hot chocolate. Just started leaking in the last week or so. Still work all in all. But definitely got my money's worth!!
Taste the metal. Acidic tasting. Shape of kettle and the Filter make it difficult to clean out calcium and lime. Otherwise a good kettle.
Had the kettle for 4 years.Like the above number of comments, it started leaking at the base!Could possibly have been a electrical hazard with water into the contact point.
This is the worst kettle I've ever owned. It leaks water out of the volume gauge all over the kitchen bench. It's noisy-I can sit in the lounge and can't hear the TV over the noise of the kettle boiling in the kitchen. My mother in law bought the whisper version and that's very noisy too. Very disappointing.
Had kettle for less than a year. Started leaking from the base with droplets of water progressing to puddles pooling at the cordless power base. Power plug plastic cover prong 'melted' in the electrical wall socket. Fire hazard. Returned to Briscoes and opted for refund. Customer service was good. Thank you.