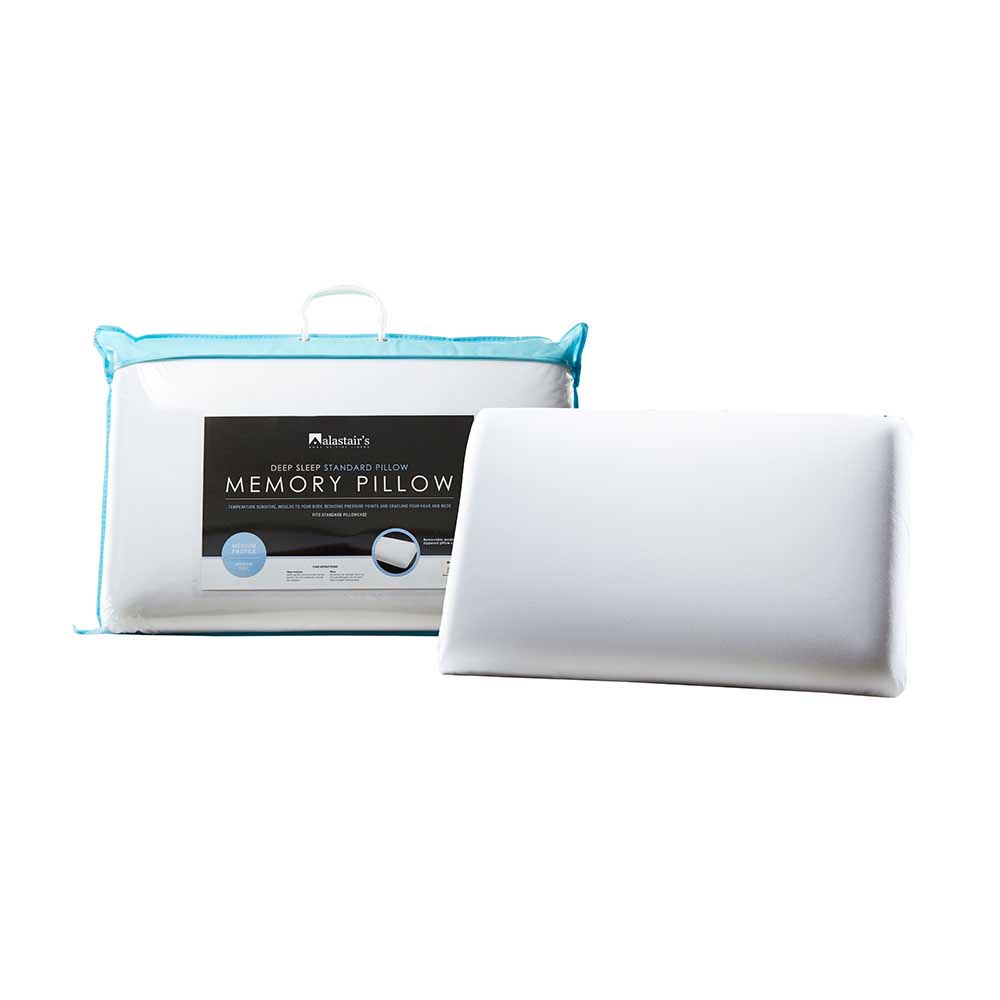 Alastair's Memory Foam Pillow
or 5 fortnightly payments of $20.00
or 4 fortnightly payments of $25.00
or 6 weekly payments from $16.67
---
---
The Alastair's Memory Foam pillow supports the head, neck and shoulders, allowing your muscles to fully relax for a more restful sleep.
Removable and washable zippered washable cover
Pillow sponge clean
Do not expose to direct sunlight
Made in China
This is the best pillow I have ever slept on.
This pillow surpassed my health pillow and I now won't sleep on any other pillow. Took a few sleeps to get used to but worth persisting with.
Seriously best pillow I have ever used. Our whole household has one and we are now such pillow snobs ;-)
Best pillow ... 7 in our household
Felt like a soft brick to begin with, now I love it and won't use any other pillow.
We have used these pillows since 2014 and they are without a doubt the best we have ever used!
The reviews certainly say it all. perfect!no more sore neck when I wake.It is my favioutre pillow now.
Purchased this a few days ago and I absolutely love it! It's just the right amount of firmness and softness. The nicest pillow I've ever bought.
best pillows ever. This is my husbands second one after almost 4years with the other one.I am still using mine. First few days definitely need to get used to change but after that no going back.Love this product....
I have neck problems and constantly clicked my neck. I struggled to find a pillow that was firm enough. This pillow is great and my neck problems have reduced dramatically. My dad didn't like them - thought they were too hard but he didn't have any issues in the first place. I would recommend trying them just in case they work for you too! On sale they are very inexpensive if they help!!
What a great service. I got the pillows with online purchase. Fast delivery and the product was what I wanted and i am so pleased with the service and product. Highly recommend these pillows 100%.
To start withi hated the pillow it was to firm for my liking but after about 2 weeks I got used to it and it is the most amazing pillow I have ever owned I have had a permenant neck injury for year and have had issues with my neck constly giving me problems over the last 8 months of own this pillow I have only had 2 issues with my neck highly recommended!
Took 3 nights of hating this pillow waking with headaches then like magic on the 4th night i slept like a baby and woke pain free no back pain or shoulder/neck pains that i had been getting 8 months prior.Worth the wait... i also got on sale will be getting more next time its on special.
This is a great pillow. It's the wright height for me a side sleeper with the correct amount of support and softness. It did take a night or two to get use to it but its a brilliant pillow
just bought one last week n it was $40 after discount then it is $29.99 this week
I have looked for a good pillow for my neck for about a year, and have spent a lot of $. Other memory foam pillows are rock hard when compacted but this is so soft. It is heaven. Best pillow ever, buying more now. Thank god I finally found THE pillow!
Great affordable firm pillow supporting my neck very nicely. Took a few days getting used to but absolutely loving it now.
This pillow was recommended to me by a masseur. The first night was a 'what have I done'? night, and so were the next 3 or 4 ... then bingo! I cannot go anywhere without it. Hubby calls me a princess as I need a good pillow and bed, this pillow now means I can sleep anywhere regardless of the bed! no more headaches, no more back ache - I am off to buy more today!
Very good gives great sleep highly recommended