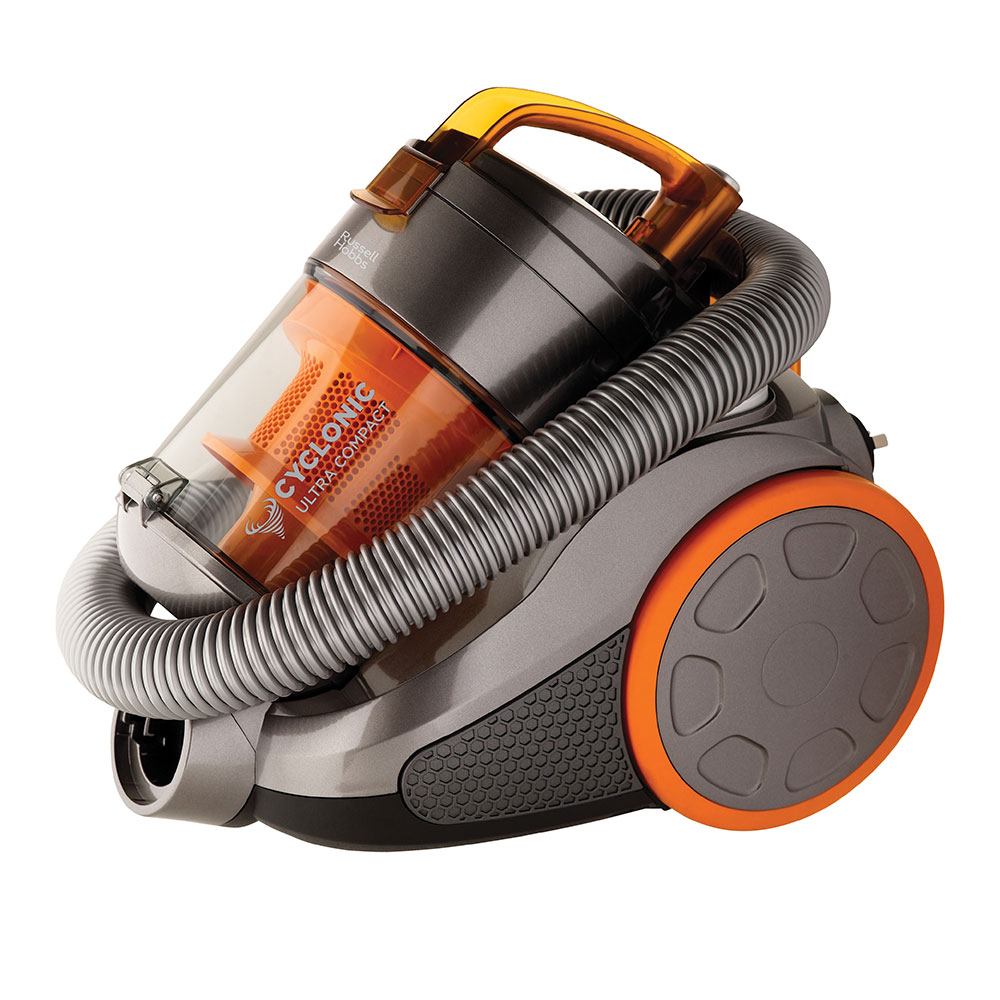 Russell Hobbs 19300AU Bagless Vacuum Cleaner
or 4 fortnightly payments of $37.50
or 4 fortnightly payments of $37.50
or 6 weekly payments from $25.00
---
---
The bagless vacuum cleaner from Russell Hobbs comes in a compact design and has a guaranteed no loss of suction, with a powerful 1300 watts of cyclonic cleaning action. It features a HEPA filtration system and a 1 litre bagless dustbin with a 99% filtration efficiency. The combination floor tool adjusts to suit all floor types, and has a multi-height adjustable telescopic tube. It has a 5 metre retractable cord and high performance washable filters which are easy to remove.
Comes with a crevice and upholstery tool brush
2 year warranty
Replacement Filter Pack available: 1050161 (19300AU-FP)
One of the worst vacuum I ever had. The suction is very weak, the stick is very short, the cord is very short too...It feels very cheap even on sales at that price. I would have gone crazy if I had to pay the full price. We will try to sell it and buy another one asap. Don't be fooled by the style.
Bought the same vacuum over a year ago... suction is real bad...felt like I wasted my money. Bought at Briscoes in Pakuranga.
This vacuum cleaner is useless. I tried to return it to Briscoes and was basically told that you get what you pay for. Do not buy this cleaner and Briscoes, you should really consider not selling junk like this.
This vaccum is compact but has no suction power and just moves dirt around. It really does not pick up much at all but dust. I bought this a year ago but will def need to buy a better vacumme
Read reviews after buying so set about to see how this cleaner works. Pretty impressed so far. Took the foot off sucked my palm onto hose and it is as good as most. For one rug that no cleaner has ever cleaned well that is what the turbo did for me. So far so good. Now to see how long it lasts for.
Extremely disappointed, no suction power and if you try to return it the manufacturer claims it functions as per specification.Waste of money.
Pity you cant try before you buy as I definitely wouldn't have purchased. I have to hoover on my hands and knees because the suction is that bad! Currently 7 and half months pregnant going to purchase a new vacuum that will clean the floor!
Absolutly TRASH! DO NOT BUY THIS PRODUCT. You'll be better off buying a broom and sweeping the carpet. This vacuum literally does not suck anything up and litterally has cat litter (pebbles) falling down the pipes. Briscoes, you should really think of removing this product off your shelves and stop selling this junk to customers.
This is a shocker. Do not buy it.
Bad suction do not recommend
So disappointed in this product! Pretty much doesn't suck.
This vacuum is the worse vacuum ever!!! It doesn't even suck!! I wish I read the reviews before I got it. Don't waste your money :(
I purchased this vacuum for upstairs. Am happy with how it works for the price.
Worst vacuum ever from day 1. Does absolutely nothing. Very angry at the amount of money wasted on this hunk of junk.
Not enough power very small code Not worth the money even on special
This is nice and small but doesnt have a very powerful vacuum at all. Pretty disappointed really.
Worst vacuum cleaners I have ever purchased. Just makes a noise and spits out more than it sucks up
Pretends to be a vacuum cleaner but isn't. Pretty much just pushes the dirt/fluff around without picking it up.
This vacuum has never been very powerful. Today it stopped working altogether. I have owned it just over a year - just outside its warranty. When I purchased it the assistant advised me to take a photo of the year warranty sticker: I should have taken this as a sign. Do not spend money on this vacuum!