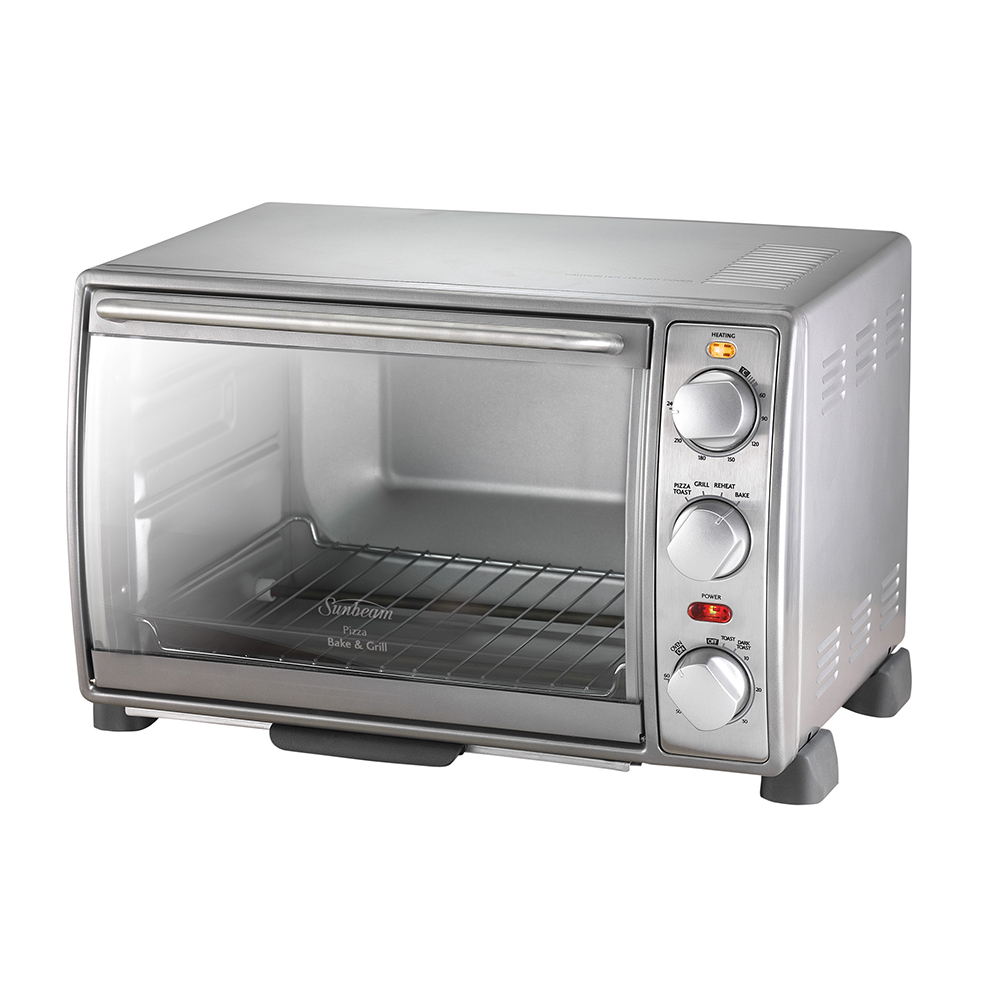 Sunbeam BT5350 Pizza Bake and Grill
---
---
Bake everything to perfection with this Sunbeam Pizza Bake and Grill, bakes, roasts, grills, toasts & reheats and has stainless steel housing. The variable temperature control has a 60 minute timer, adjustable oven racks and includes enamel baking pan, enamel drip tray, wire rack, pizza pan and crumb tray.
12 month replacement guarantee
1600watts
19lt working capacity oven
350mm x 406mm x 499mm - HxWxD
Top element has just blown after 3 months of use. Very disappointing buy.
Best bake and grill I have ever bought.
Really love it easy to use and heats up very quick.
Just received my Pizza Bake a couple odd days ago really happy so far and am sure I'll get lots of use out of it. Very happy with the service too. Will be happy to send another review after I have used it a lot more.
We are thrilled with this benchtop oven. We are building our new home and living on site. No kitchen yet but I've made scones, quiche, roast chicken and veges. It's a little beauty.
This is a great Benchtop oven, use it everyday, omelettes, pizzas, pies, heats up super fast, so glad I brought one, easy to clean...
I use this all the time instead of the house oven as there are only two of us. I have had no issues with this oven. I recommend it.
a great bench top oven. Bakes and grills really well.
Best little oven ever!! Great for making pizza. Does perfect cheese on toast. Easy to clean.
A great bench oven. Very efficient and easy to clean and so versatile. You can bake, grill, reheat and bake pizza. I am really enjoying my new oven
Very handy, easy to operate and less hasssel in cleaning. Heats up in minutes, don't have to wait .i love to use it n also my son ,uses less power as well
This is an amazing wee oven.It cooks everything perfectly and takes up very little space. We use it in our bus
This is one of the best benchtop ovens I have ever bought. It's plenty big enough inside and I enjoy baking biscuits, pizzas and pavlovas in it.
FANTASTIC! I use it every day... grilling, toasting, casseroles, baking... in fact anything that I used to cook in the big oven. Unlike older models, the door handle is now designed to support the door when down.
Love it...but am having a new kitchen put in and would like to put it in my open pantry...what height do i need for a shelf above it. Thanks