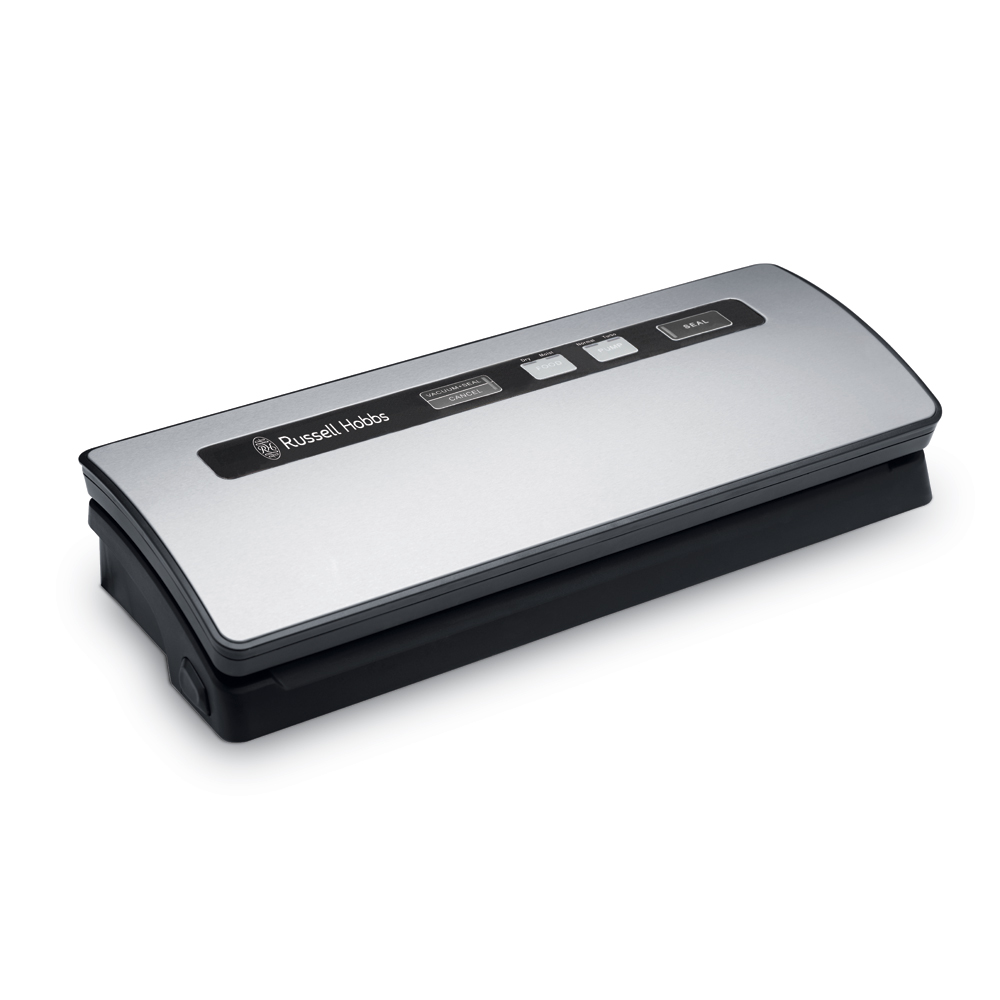 Russell Hobbs Seal Fresh Vacuum Sealer
or 4 fortnightly payments of $32.50
or 4 fortnightly payments of $32.50
or 6 weekly payments from $21.67
---
---
With an automatic vacuum and seal function this Russell Hobbs vacuum sealer has a stainless steel finish. It has a turbo switch for strong vacuum, powerful enough to crush aluminium drink cans. it has food type selection for sealing dry or moist food with touch pad control.
Canister port
Additional rolls available separately
120 Watts
Includes:

2 x 28cm x 3mt rolls
5x20cm bags
5x28cm bags Instant seal function
Great machine have had for several years But heating pad not working finding it difficult to get replacement?
Excellent product overall. I already have one and just bought a second as a gift.it takes a few goes to get the hang of it but then its easy. Only downside is that there can be abit of wastage with the rolls/bags but this improves with technique
Absolutely love my sealer, so Much so i just wanted to vacuum seal everything, just because lol, there was a little residue on my machine when i removed the sticker but You just place the sticker strip over the residue rub it and quickly rip it off, no damage to the machine what so ever
Pleased with product and very happy with the service. Definitely be buying off you again.
very happy does everything I wanted. strong vacuum.
Very impressed with this product, once I worked out how to use it (thank you youtube). Got it at a great price and brought extar rolls of bags. I look forward to saving on food and less wastage.
Absolutely great. Can't believe it seals and vacuums so quickly & easily. Very glad I chose Russell Hobbs.
Great product. Very easy to use. Highly recommended.
Wee marvel! Only takes seconds to seal and no effort involved at all. Love it!
Awesome product highly recommend.
This is one of the best things I've ever bought, it's simply awesome - no wasted food and makes way more space in the freezer than other options I've used in the past. Found the instructions a bit hard to understand so looked on google and found a simple video to watch.
The Best and simple to use food vacuum sealer for domestic use.
Have had this product for just over 2 years, worked well initially but doesn't now completely remove all air. Typically it only had a 2 year warranty. Time for a new one....
After returned the Sunbeam Foodsaver. I got this one instead. Two of my friends have it as well. They told me it is awesome. And now I totally agree with them. So so much better than the sunbeam one. Very quite and seals the bag well every time. Highly recommended.
Easy to use - very effective seal - better suction than expected - highly recommended.
Read reviews and bought this one over the sunbeam, so glad I did, perfect every time. Great service from Briscoe, had to order online as sold out in our shop, was here in 2 days. Highly recommend
Arrived within a couple of days and works wonderfully, great buy at half price.
Compact and easy to use. Good suction. Would definitely recommend!
Great value for money. Saves so much food wastage. Excellent product
This sealer is a great little unit.Quick and easy to use and creates a really good vaccum We use it for freezing and also for vegetables in the fridgeNo more waste.