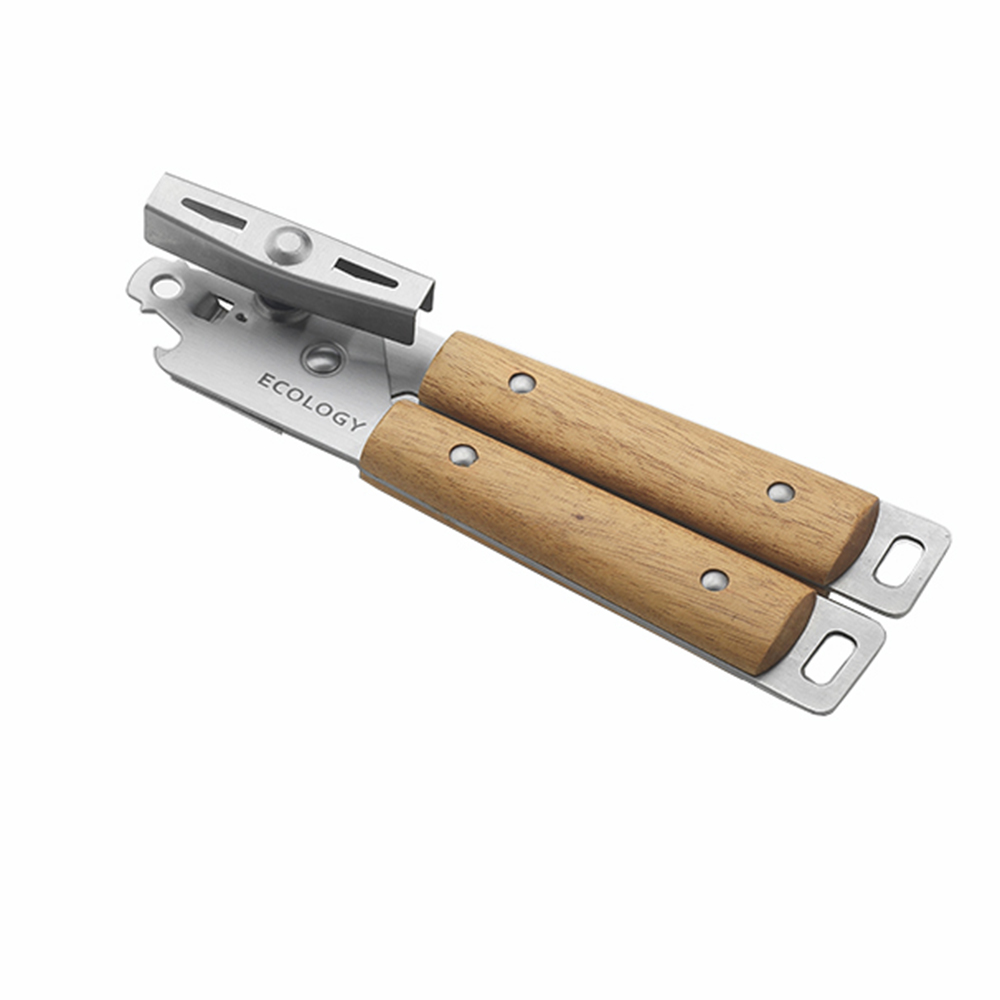 Ecology Wooden Can Opener
or 4 fortnightly payments of $10.00
or 4 fortnightly payments of $10.00
or 6 weekly payments from $6.67
---
---
At Ecology, we've taken the humble kitchen utensil and turned it into a thing of beauty. Provisions delivers a comprehensive range of functional and inspired kitchen utensils and accessories.
Each piece features smooth acacia wood handles or bases. The natural grain of acacia wood means every piece has its own unique look.
High-quality stainless-steel Acacia Wood Handles, the natural grain and colour of the acacia wood means every piece has its own unique look.
This material will age with use. We recommend regular oiling with vegetable oil to ensure longevity. This product is Food Safe.
• Hand Wash recommended with warm soapy water and air dry.
• Do not Soak
I brought this about a year ago and it lasted about 4 mths. I thought my kids had broken it so brought another but that stopped working after a month
Nice having an implement with no plastic. Unlike others have used every few days for over a year with no issues.
Am I the only one with a decent review? Love this can opener have had it for ages now and still works beautifully.
Used less than 10 times and the winder snapped clear off. Huge waste of money
Brought a year ago. Broken already, mechanism doesnt grip can. Previously can openers have been pretty sturdy but this isnt built to last. Same sadly for other ecology utensils. I adore how range looks but so far on ladels etc the handles have come off due to poor glue. Theyve never been through dishwasher. Shame as the bowls/serveware I got at same time have lasted really well. Going to have to replace with another brand but wont look as nice
Bought this product on special. With the hefty price before the special, expected it to be a good deal. Unfortunately, broke on the very first use!! Obviously, more thought went into designing the handles, than in the actual product!! A negative number would have been my rating!! Where is this product made in anyway??!!
Can opener is used approx twice a week and no longer works after 6 months. Very disappointing.
How a company can sell this rubbish I don't know. It is a tool with 1 purpose, opening a Can and it can't do that. Doesn't matter how cheap it Is, don't bother.
Opened two cans only. Waste of money.
After using it few times it has lost grip and can no longer open a can! We bought more ecology kitchen tools and the wooden handle of our peeler has cracked as well. Stay away from this brand.
Bought this less than one year and now one of the handles are broken so we cannot use it. Very expensive and useless. What a waste of money!
Worst can opener I have ever used. The traction grips are ineffective, leaving the cutting wheel spinning in the same spot. Also, large heavy and not worth the money paid for it. Will need to buy a new can opener to replace this one - won't be Ecology brand
I had the model before this with wooden isert handle so I cant garantee they both are as bad as each other.But my one wouldnt open cans from day 1. I forgot to take i tback so still have it.It looks and feel geat but it just wont open can -duh
One of the worst. For the price paid I expected a lot better performance. It would lift off the can 1/4 of the way round and keep having to restart.
Bought this less than a year ago, but didn't keep receipt. Now in the rubbish. If you buy this can opener keep the receipt as you will probably need to return it. So much for being Eco.
Looks nice but doesn't work
I purchase one of these openers from Briscoes 3 mouths ago and it no long works very disappointed with this product
Terrible. Bought it cause the marketing implied Eco-ness. Anything but because it's now useless after less than 10 can openings.... DO NOT BUYDear Briscoes,Selling stuff like this reflects badly on you. Do your homework before getting on bored with a product based on such a false premise.
Terrible can opener. The wood handles fall off, the product doesn't open cans. Disappointed. Doesnt last long.