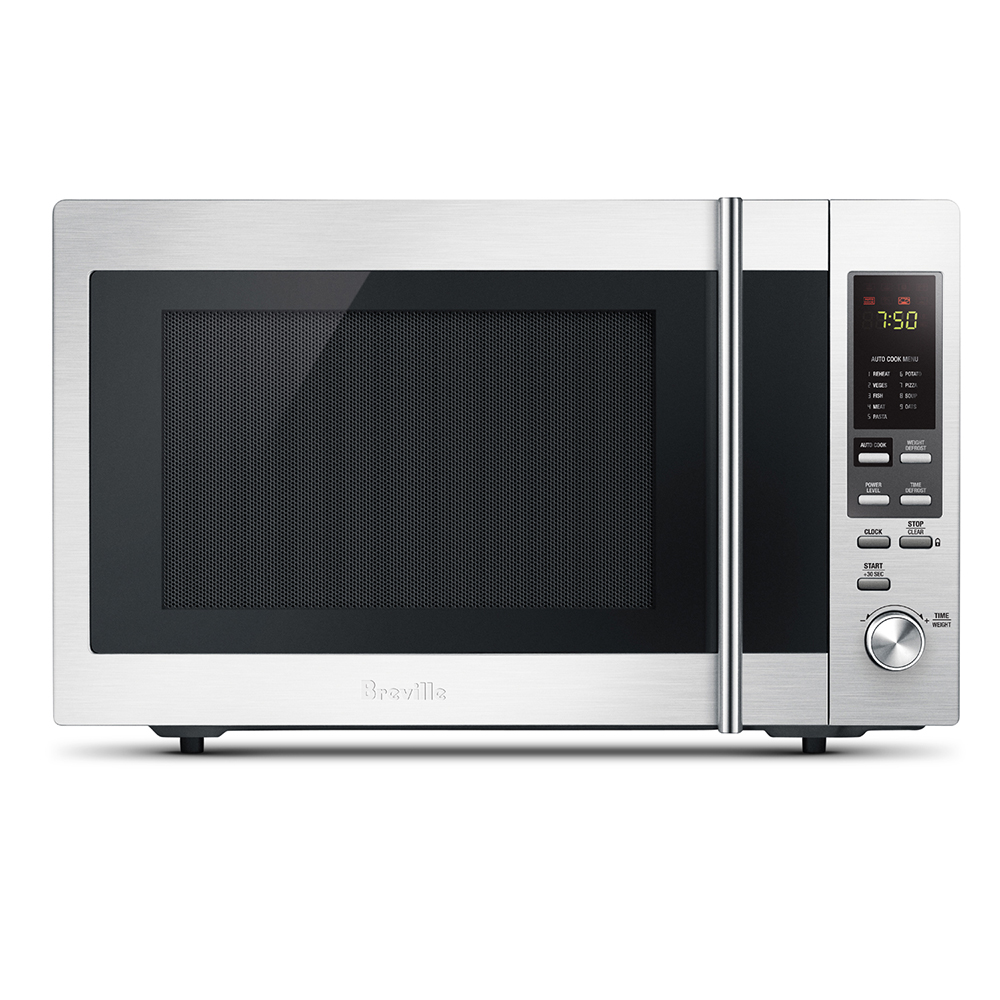 Breville BMO430 Microwave 30lt
or 4 fortnightly payments of $82.50
or 4 fortnightly payments of $82.50
or 6 weekly payments from $55.00
---
---
This 900 watt Microwave by Breville is a sleek and stylish model that features 8 auto cook menus. Functions include auto reheat, weight and time defrost, +30 second instant start and 5 power levels.
315mm diameter plate

30 litre capacity

Multi-function dial for easy access to timer, auto menu and weight settings

Stainless Steel
Exterior measurements: 32.6 x 52 x 44cm (HxLxW)
Interior measurements: 22.7 x 33.3 x 33.3xm (HxLxW)
Weight: 15.2 KG
Easy to use and looks nice!
So happy with Breville Microwave. Excellent online deal and purchased for my daughters birthday,arrived in three working days.Thankyou. My fav shop Briscoes.
Sadly the bulb blew within 1.5 year and we can not replace it without removing cover (it states clearly DO NOT REMOVE COVER)
I have had this microwave for under a year and the light bulb has blown!! I can't replace it as it says DO NOT REMOVE COVER and that's the only way you can access to change the bulb. I am so frustrated as I can not find my receipt anywhere! I've just read the reviews and see it's a common fault. I like the microwave itself but annoyed the bulbs blown :(
Disappointing. Hardly used, yet stopped working within 2 years
This microwave has made my year!It's not only gorgeously huge, it is so easy to operate & the knock down sale price was phenomenal.Well done Briscoes I will certainly be back shopping with you guys!
very disappoinred,the bulb blew after 1year and 5days,just 5days out the warranty.
Loved it, until it just stopped working at 18 months. it blew the fuse of the house when it died and I hadn't even turned it on yet. Just opened the door. Not happy
I am now into my 8th year with this product. Bought it for my daughter's flat and inherited it when she moved. Never had a hint of a problem with it and use it every day. Am I just lucky? Big and grunty. Love it.
This microwave broke down after one year. I've also always had trouble with opening the door and the microwaves moves with it.
Very dissapointed in product. The guarantee has run out after 5 weeks after guarantee expirey date Microwave no longer working never expected to breakdown after a little over one year
Had it only for 2 years and today, this microwave just died on us. It's annoying that it cost so much and didn't even last that long.
Have had this microwave for 5 years. When it does decide not to go anymore I will certainly replace with the same.
Excellent product have had one for 5 years with no problems.
Had this microwave about 9 months and the light blew out and then another 9 months after it's totally stuffed and won't heat food properly. Extremely disappointed with this microwave, I would not recommend!
VERY DISSAPOINTED HAVE HAD FOR 14 MONTHS FIRSTLY LAMP BLEW, THEN IT JUST STOPPED MID COOK NOW COOLING FAN HAS GONE AND WE CAN NOT USE THE MICROWAVE AT ALL, RUBBISH PRODUCT BREVILLE WONT EVEN HELP WITH PARTS.
Extremely dissapointed. This microwave died 14 months after purchase. When paying a resonable amount for a higher quality item you would expect much better. My last microwave lasted 26 years.
Only lasted 3 years which by the looks of things is longer than most people's. For something that's suppose to retail for around $600 it should last much longer!
Super disappoinred with this microwave. Had for all of 16 months and it no longer goes. Light blew fter about 8 months and it was only used once maybe twice a week. For the price paid I expected this to last a lot longer.
Disappointed. Never really got the chance to cook something decent in it as I use it once in a while to heat up wheat bags when home. Still looks as new as the day I got it. Just over two years old and completely dead with not powering up. Nice while it worked.