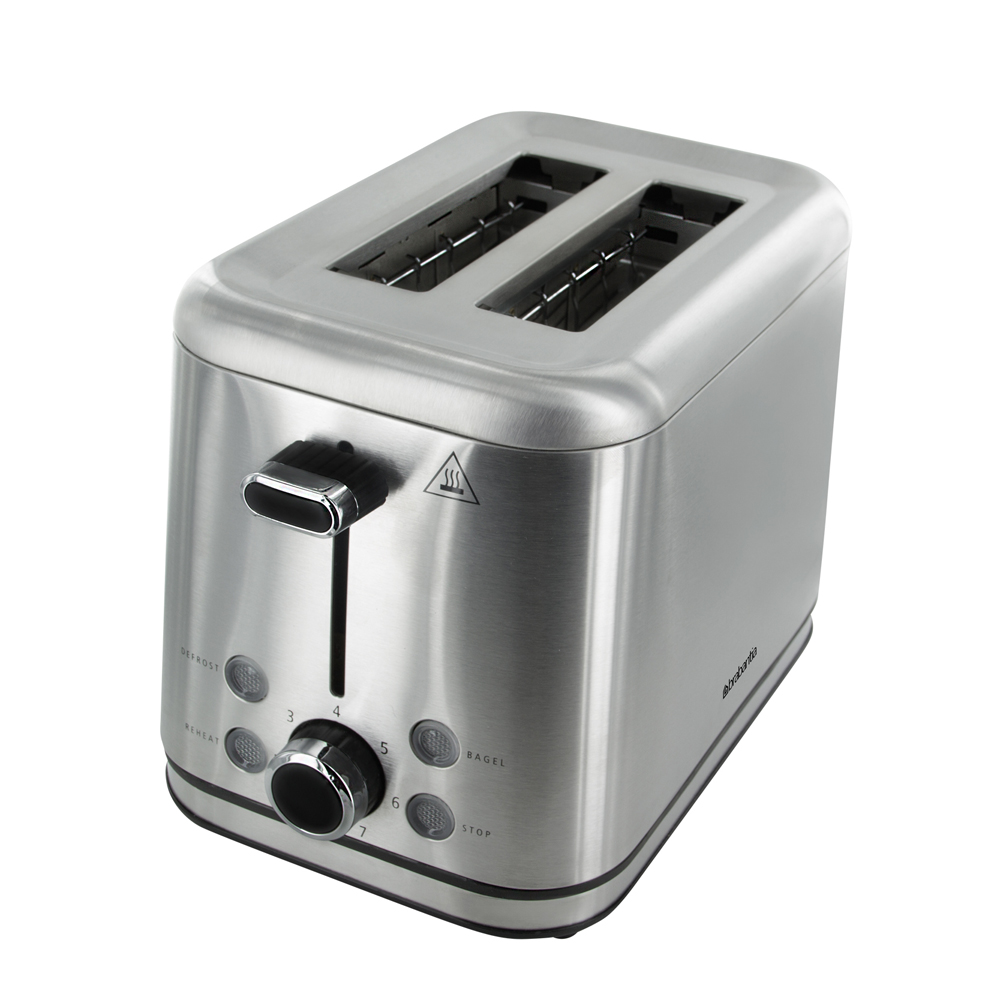 Brabantia BBEK1021 2Slice Stainless Steel Toaster
or 5 fortnightly payments of $17.00
or 4 fortnightly payments of $21.25
or 6 weekly payments from $14.17
---
---
The Brabantia 2Slice Stainless Steel Toaster has full-size stainless steel housing with self-centring function and slide-out crumb tray. It has indicator lights, variable browning control and an anti-jam leaver function.
LED light display
Extra-wide slots
Defrost & reheat functions
Wattage: 880W
2 year warranty
I'm only giving it 1 star because I can't give it 0. V poor quality. The replacement 1 I've had 2 weeks has started not holding down sometimes.
Doesn't toast evenly, on either slot. Also throws the toast when it pops up. I wouldn't buy this toaster again.
So far so good. Well priced item and working well so far.
Great toaster. Works perfectly. And very prompt service from Briscoes.
Toaster is doing beautifully all that toasters are expected to - I'm a happy chappy!
My very old toaster packed up and there on your advertisement was 50% off toasters - are you psychic?
One of the worse purchases I've done. Buying unseen was a mistake as I made the decision on the Brabantia brand which I respected as their bins are very well designed the toaster on the other hand is bulky, cumbersome, ugly and cheaply made. And I am reminded of it everyday I see it.
Oh I've had some doozie toasters in my day but this one is an utter pleasure to use! From the defrost to the reheat, bagel functions it is very even in its ability to toast. Best toaster Ever!! Briscoes you got it right with this one!
after 3 months of only weekend use, its broken.. the part that wholes the bread keeps bending and getting caught so you cant toast anything without bending it back
I am happy with this toaster, because it toasts the whole bread evenly and good for small pieces of home made bread
This does actually work ok but so far we've had two break in 4 years... the same problem each time. The lever goes down but won't stay down. Problem is the briscoes warrantee is only from the purchase of the first one not the replacement. Don't recommend this brand.
Purchased from Briscoes and didn't even last the year, disappointed as when it was working it was a good toaster. Won't be buying this brand again.
After returning another brand to a different retailer because it did not work on bagel function, we found this toaster at Briscoes.Great for homemade bread. Deep slots & even toasting of whole slice. Big plus is a Bagel function that works well.
Defrost function and toast function great. Toasts bread much faster and evenly than old brevel one we replaced. Very happy with it.
Purchased at a great price from Briscoes. Nice little toaster - toasts well and evenly, even my Vogels. Have had it 3 or 4 months now with no problems.
Fully satisfied with product received, price & service from Briscoes
Decided to replace my old cheap toaster with a nice looking new one. Should have read the reviews before I purchased this. Used exactly twice and only toasting on one side. Won't be buying this brand again.
Toaster only toasts one side of the toast and that even takes a ridiculous amount of time to do so. Would never buy this brand again with out fully researching it as we have only had it for roughly a year now.
Bought it, used it, love it. Delivery was prompt, package carefully cushioned. The bagel/crumpet/defrost/reheat mode, is very useful. Each number on the dial relates to approximately 30 seconds of heating. Toasting is even, and even on both sides. This is my first serious toaster after a string of "$20 specials" from other stores that toast unevenly and are always unexpectedly burning or jamming. At the price it is, it's a steal deal. Recommended.
Excellent toaster, toasts evenly and has defrost and bagel toasting function which is handy.