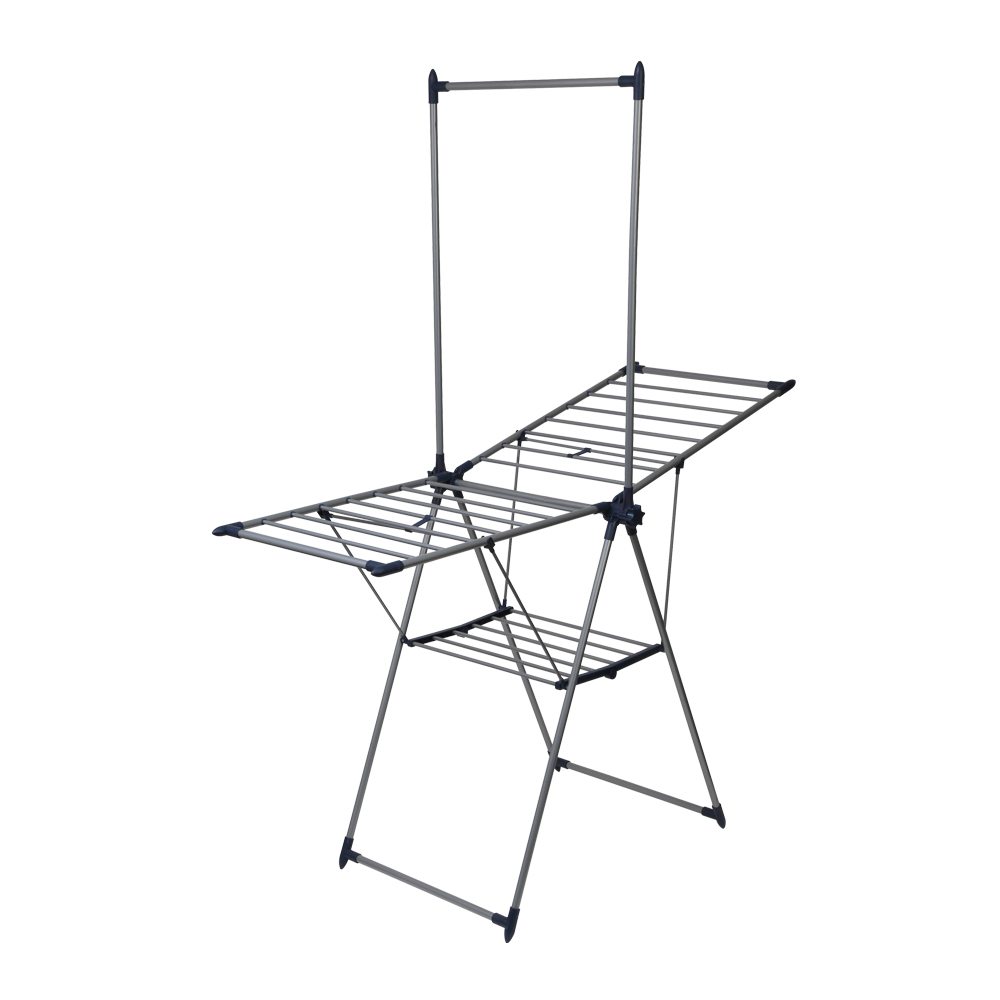 Clothes Airer Wireking Premium
or 4 fortnightly payments of $25.00
or 4 fortnightly payments of $25.00
or 6 weekly payments from $16.67
---
---
Silver powder coated on steel frame.
• Dimensions: 156cm x 68cm x 98/198cm
Really surprised others have given this a low rating. I have had mine for at least 4 years. I have a large family and this holds a lot of washing. I usually hang shirts and hoodies from the top rack and smalls from the lowest rack. I have moved it when full but always need another to help because of the quantity of washing it holds it is very heavy. I am only buying another as a recent visitor to my home snapped to bars forcing it closed. I 100% recommend this dryer.
Have had for 3 years and use it multiple times per week. It has broken when I've attempted to move it with clothes on but have put back together. Love it.
Absolute rubbish. Had it for just over 6 months and one of the legs buckled where the cross bar attaches so that side doesn't stay up. Was told there was nothing they could do even though it was obviously a defect - what's the point of a clothes airer that breaks when wet clothes are put on it? Cheaper ones from elsewhere have lasted much better.
I havnt used this as yet but had the same one at work in the house I run and it was fabulous.it held a lot of washing and the bar that came up was great for drying sheets.alas someone used it without unscrewing the knobs and broke it.I miss it, I used it daily.
Good capacity,, folds away easily and the extra rack was very good for hanging shirts. Unfortunately as others have noted, very poor construction and came apart under quite light loads. Was in the rubbish bin within 6 months.
Just love this best thing I brought to make my life easier.
Also bought this cause it looked sturdy And was one of pricier ones but fell as part quickly. Not happy
The concept of this is fabulous but the construction is poor. Once you have it set up DONT move it or it will bend and fall to pieces. I treat mine with kid gloves as I fear it will break lol BUT I do love using it
I bought this airer thinking it was the best I could find. It was much more stable than other ones I had in the past but it was blown away by the wind recently broke very badly. The wind was not very strong. I was very surprised to see it on the ground with all my sheets. It is not fixable.
Not happy with this product! It's dangerous - it collapses at the slightest movement. In trying to stop it collapsing, my index finger got caught. The idea of the design is great, but the construction is simply not sturdy enough.
not worth the price, last 4 months only.
This clothes airer looks good but is poorly designed and falls apart all the time. Not happy with this product.