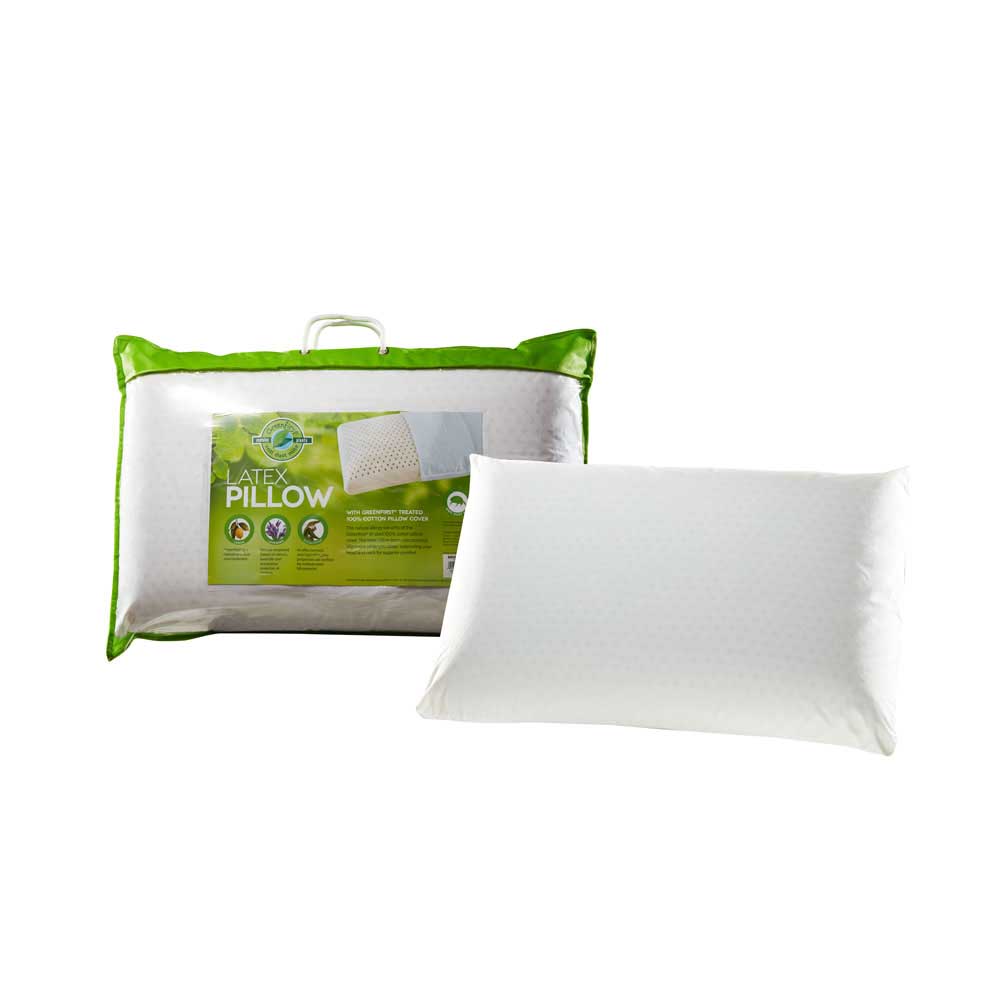 Greenfirst Latex Pillow
or 4 fortnightly payments of $30.00
or 4 fortnightly payments of $30.00
or 6 weekly payments from $20.00
---
---
With the natural allergy benefits of the Greenfirst treated 100% cotton zippered pillow cover. This latex pillow promotes postural alignment while you sleep, supporting your head and neck for superior comfort.
The pincore channels allow air to circulate freely through the latex. Latex materials are naturally derived from the rubber tree with anti-microbial, low allergenic and resistant to mould, bacteria and dust mites.
Click here for more information on Greenfirst.
Was a bit firmer than I expected I didn't feel it was a good pillow foe me.
Good to prevent over heating on hot nights. Great for allergy sufferers.
I love latex pillows! But this one is way too high and firm for me, I find it very uncomfortable. I bought a latex pillow from Briscoes years ago, a different brand (I can't find it anymore), which is much lower and softer, I use it all the time. Sadly this one is now a spare pillow.
Love it taken lots of bad pillow to finely get it right.
Highly recommend this pillow. Apart from being 100% natural &great for allergy sufferers. I found this to be better than the memory foam as they can be hard. Well worth investing into.Try one.
I have used a latex pillow for years and love them. Pillow is not an apt name for this brand, it could only be more accurately described as a rock. There is virtually no give in this extremely high and firm neck-wrenching rock. It is now put away as a spare but only for guests I don't like. I may bring it out for pillow fights as it would be a deadly weapon.
If you enjoy sleeping on a hard plank then this is the pillow for you, it was horrible nothing inviting or snuggly about this beast. Certainly not for me one night $54.00 and it is hitting the rubbish bin
Best purchase I've made. So comfortable. Used to wake with sore neck but this pillow has stopped that. Did take a little bit to get used to the height.
xGPf1o https://goldentabs.com/
Love this pillow, have tried several including bambillo and have not had a better sleep than I have with this one. Now purchasing for all of the family, highly recommend!
Very comfortable, quite firm and springy. The only downside they have a very strong smell that takes some getting used to.
To start with I found it hard to get used to after using goose down pillows but I am back using them as they support my neck and as a side sleeper they are ideal.
Yes it's cool, and keeps allergies away but not the pillow for me. Pretty uncomfortable, no give in it. Definitely not a snuggly pillow. Like a Flat board