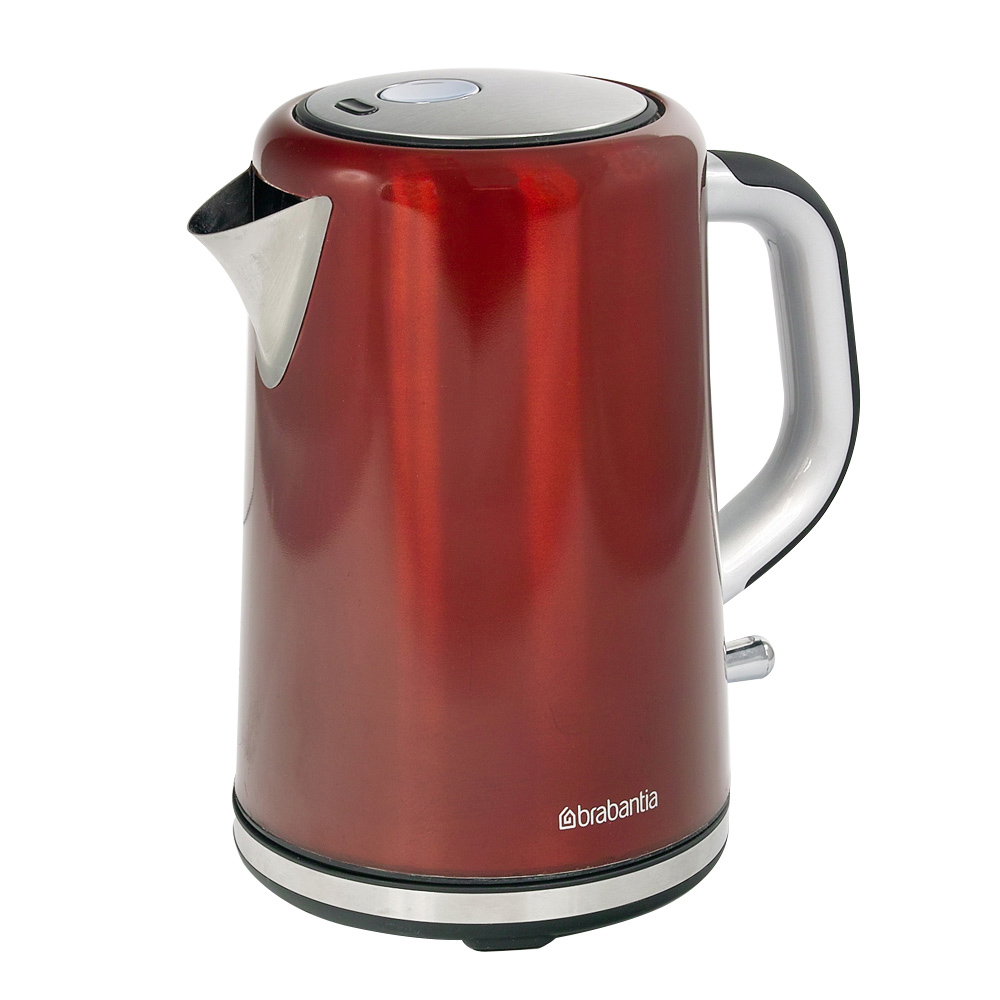 Brabantia BBEK1001ARD Kettle Red 1.7L
or 4 fortnightly payments of $20.25
or 4 fortnightly payments of $20.25
or 6 weekly payments from $13.50
---
---
This Brabantia Kettle has a 1.7 litre capacity with a 2000W fast boil function. Designed with 360 rotation, dry boil protection, on/off switch with indicator light and pop up lid this stainless steel kettle will fit in with most home aesthetics.
Model: BBEK1004
Concealed heating element
Auto shut off function
Stainless Steel body
Removable and washable filter
Large water gauge
2 Year Warranty
Got this when it was on sale and thought I would treat myself.The lid stopped working, then it broke off. And now the kettle has stopped working altogether. Not happy!
Problem with the lid aslo, I returned the first one after 3 months and 6 months later the replacement has the same problem with the lid. For a product selling at $85 I expect much better quality. I WOULD NOT RECOMMEND
Very noisy kettle. Cannot have a conversation in kitchen when turned on. Would not buy again.
I have had this electric jug for two years and have been very pleased with it until just recently when it began to leak. At first it was only when it was nearly at the maximum level. Now it leaks every time I boil water in it. I am in a quandary whether to replace it with a similar one, or change brands, but when i read other reviewers comments, they all seem to have problems!!!! Why can a product not last more than 2 years as in the " good old days"!
This product should be removed from sale. The lid pops up during heating up and does not switch off. The kettle continues to boil and hot water spits out the top. This product should not be left on unsupervised especially when there are children around.
The worst kettle I have ever bought. The red coating peeled off and the coating on the button on the lid rippled with the steam from the spout - it only lasted a few months before I had to replace it
We bought this jug last year, it still works, but it is SOOO noisy!! It also makes a really loud clicking sound when it starts boiling. We have just replaced it with a quieter brand.
Very happy with this jug.Have had no problems
Purchased less than a year ago and has stopped working- also kid dies not open all the time
Cheap Rubbish, always difficult to get lid to open, now lid doesn't open at all. Recommend a decent brand not the ones Briscoes have on offer.
Used only for a year then the lid stopped opening. Also has problem with the on/off button, sometimes it just jumps back in a few seconds after you push it down. Not recommended
We have only had this jug for 6 months, turn on button broken, lid wouldnt open and has now broken. Very noisey. We loved the colour but this jug isnt worth $20! Too many faults with poor quality manufacturing! Dont buy it.
Soft handle. Water level gauge behind handle means level only correct if kettle is on level. Noisy. Light indication hardly visible - best in dark. Bit difficult to locate on base. Worst feature is button on lid to release lid - release should be on handle. Disappointing!
Had to return kettle...it had a strong metalic smell that wouldnt go away after 2-3 weeks.
I purchased two of these than a month ago. I asked a staff member if it was a good model and was told that it was. Within a couple of weeks I noticed that the lid pops up by itself occasionally. I didn't worry about it until it happened again today. I set the kettle to boil then left the room. I came back 10 minutes later to find the lid open and the kitchen steamed up and the kettle still boiling away madly (with half a cup of water left). Otherwise I have been happy with it!
Kettle started out fine, but now having to replace after only 2 years due to lid closing function not working and lid won't shut. Apart from that the kettle works ok.
I had this kettle for less than 2 years and the electric connection on the stand is intermittent. Problem with lid as well.
Don't buy this one, looks good but it has problems. Jug over wobbly when boiling, after a few fills the lid doesn't shut ! .The locking clip jams inside lid