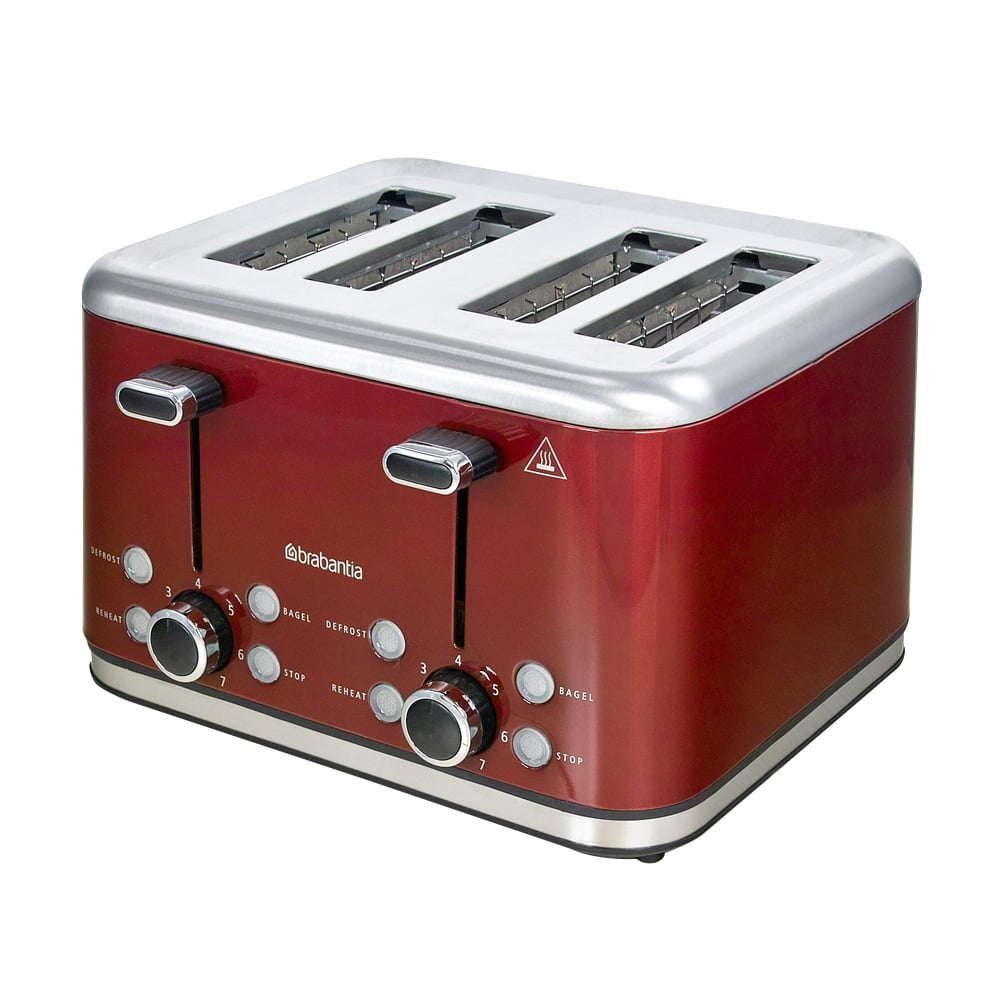 Brabantia Toaster BBEK1031NRD 4 Slice Red
or 5 fortnightly payments of $20.00
or 4 fortnightly payments of $25.00
or 6 weekly payments from $16.67
---
---
This Brabantia 4 Slice Toaster is made from full-size Stainless Steel housing with wide slots that can accommodate for almost all slices of bread with a self-centring function to ensure your toast evenly browns, just the way you like it.
Model: BBEK1021
Power cord storage
Slide-out crumb tray
LED indicator light
Variable browning control
Anti-jam function
High lift function
Can toast 2 or 4 slices separately
2 Year Warranty
Bought this toaster to replace a Zip toaster - hopeless, doesn't toast properly unless on max setting and has now blown up less than 2 years old.
Very disappointed - when it works it is great but need to continuously press down up to 6 times before it connects and holds bread to cook??
Really disappointed. Causing electrical fault now so can't use. And yes, as others have mentioned, takes a few goes to toast so not time efficient.
Looks nice but that is it. Causing electrical fault now. Rubbish.
Not good, would not recommend. Takes 3 goes on 7 to cook vogels. Wish Hi had keep receipt to return
I love this toaster. Great colour. Extremely functional. Like the defrost function as I keep bread in the freezer. Kids have their setting, I have mine. Everyone happy. Very even toast. Also the blue lights stand out so you can glance from afar and know if the toast has popped. Recommend highly.
Don't waste your money. Mine lasted 3 years at the most. Better to buy a cheap one and buy another in 2 years time, rather than spend $189 0n that totally shuts down.
Great product, useful functions. Love defrost function. Makes perfect toast no matter which temp u prefer.
Excellent product. Lightweight and easy to use as well as looking attractive.LOL
thought this toaster was fine, but it hasn't lasted long, about 18 months or so and it no longer goes. i would expect a toaster to last way longer especially an expensive one, so not impressed and will stay away from brabantia from now on
The toaster cooks bread evenly Delivery very quick. I'm very satified with my product and the service Briscoes gives.
Style over substance. Looks great, but takes so long you can seriously have a shower while you wait, and on highest setting (7), it's barely got any colour! Have photo's but can't upload here. Bought it based on other reviews, but ours is nearly useless - maybe it's just our one?
The toaster is great delivery very qick very satified with my product thanks Briscoes.
Excellent toaster, awesome service from Briscoes.
Had this toaster for a couple years now I think, still works perfectly fine & toasts evenly.
It's no different to any other toaster. It looks good and has all the features you would expect. We use Pam's bread and the toaster does not take whole slice of bread, not a huge issue but for the price I would of expected the whole slice of bread be toasted.
I dont know what kind of bread Andrea uses but toast bread i use cooks brillant no trouble with our Brabantia Toaster recommend to all for sure
Major reliability issues - first toaster stopped working on one side within 2 months. Replacement went pop and started smoking during use after about 12 months. Thankfully it had a 3 year warranty but needless to say we are not taking a risk on a third.
I returned this toaster as it took forever to brown the bread. I had to cook vogels for full two cycles on the brownest setting - not acceptable to me.
Looks good but it doesn't take a full piece of normal sized bread - either way you put it in. So my toast had an uncooked top. I returned it today - I only bought it yesterday and the initial response I got was that it could not be returned as it was not an electrical fault. Very unhelpful! I did finally manage to return it.