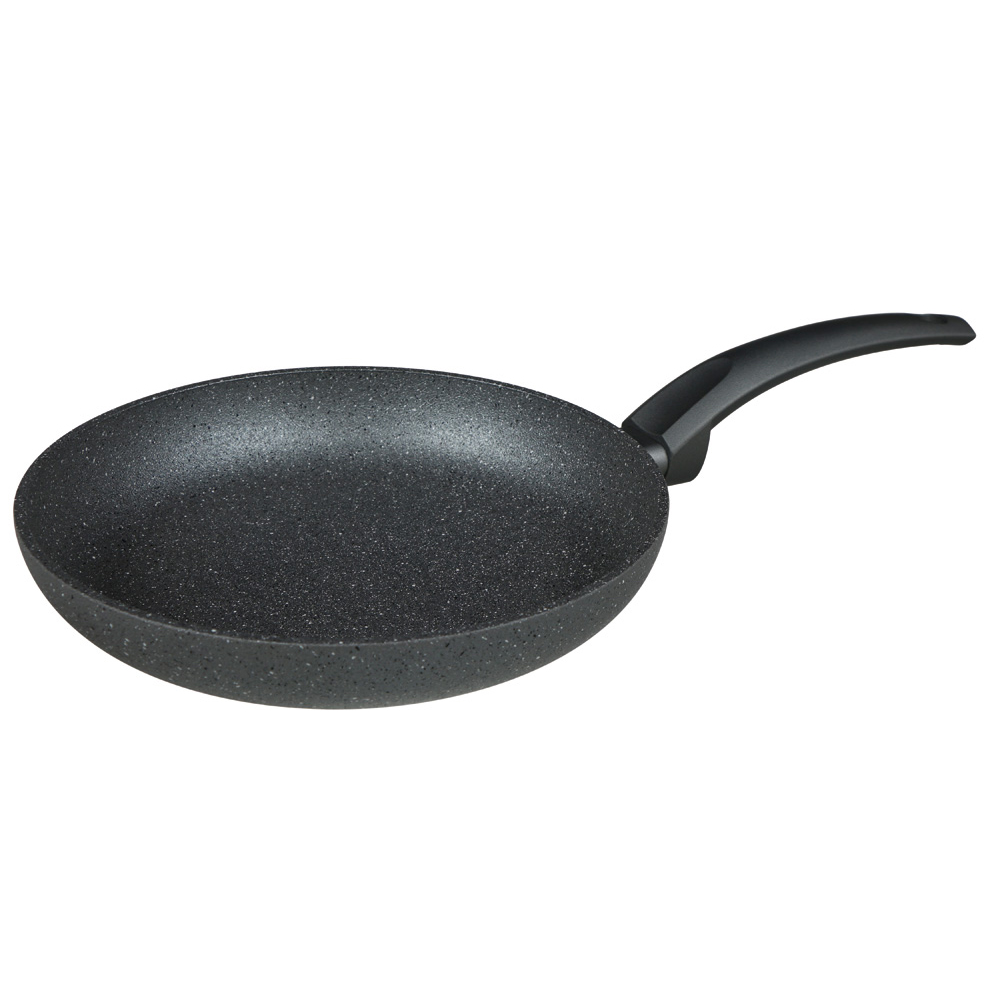 Zip Elite Frypan 20cm
or 4 fortnightly payments of $5.00
or 4 fortnightly payments of $5.00
or 6 weekly payments from $3.33
---
---
The Zip Elite Series is made from cast aluminium with an ultra strong multi layer non stick coating giving it excellent conductivity and heat retention.
Includes: 20cm Frypan & Felt trivet pad
Marble look non stick surface.
3 layer non stick interior and exterior
Heavy gauge 4.5mm thickness
Dishwasher safe
Suitable on all cooking surfaces including induction
Soft touch handle
20cm diameter
Best fry pan ever. I have collected every size now.
I have had no problem with these products except the 20cm one which does not work on my smog induction hob. Bought it on special offer as I did a year ago and had the same problem so returned it back to Briscoe explaining that it does not work and yet you are stil selling them. Please test them or put another description on them.. will be returning this pan once again.
For low to medium heat use only. Disappointed as i bought this online to be used for foods cooked at medium high heat. This is an important detail and should not have been left out by Briscoes.
Best pan ever bought Now have 5
I have used this pan about 5 times since new and love it. It is non stick at this stage and easy to clean. Great value buying at 60% off.
I bought three of these in different sizes, and am thrilled with the easiness of cleaning, and the balance of them on the stove top. I'm not sure how to use the felt trivet, though, so have just placed it between the pans to prevent scratching when stacked in the cupboard.
Highly recommend. Excellent online customer service. Well packaged. Great product.
Excellent product. Highly recommend Briscoe's online service.
Love these pans - have 3 of them. They are great on gas hobs!
These are the best non stick frypans I have ever owned. I have all sizes and another two in our caravan. We have an induction hob and they work well, you just have to check the size of the base is on the correct size element. This may be a smaller size element than you would expect for the larger pans. Look at the base area that will be sitting flat on the stovetop and choose the element size that best suits.
This pan says on the packaging (and Briscoes website) that it is suitable for induction cooktops. It is not suitable for induction cooktops. Have informed Briscoes but they continue to sell the item showing misleading information.
Very good non stick qualities. better than any other we have had
This frypan is useless on an induction cooktop and Zip should remove the icon from their packaging. Will be returning it for a refund.
It's a really good quality frypan and was an absolute bargain when on special for $20.
Handy fry pan use it all the time.
Had this pan for about 6 months and it has quite a robust coating, although the colour has changed from high heat use, it is still perfectly non stick. It's a medium weight also which I prefer not feather weight or cast iron heavy. Will buy a larger one soon.
These pans are great to cook with, i have the 20cms and the 26cm deeper one. I use them on a Samsung induction cooktop and they work perfectly,