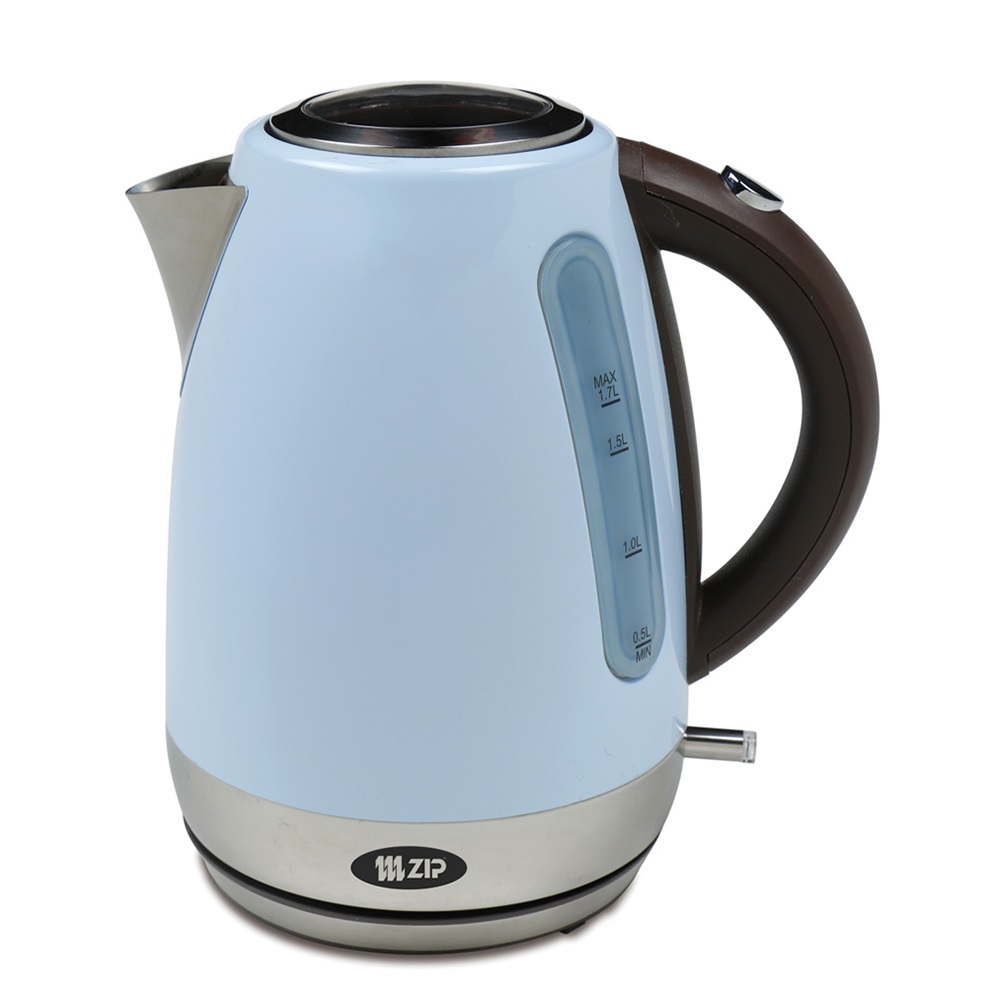 Zip Retro Vintage Kettle Blue
or 4 fortnightly payments of $35.00
or 4 fortnightly payments of $35.00
or 6 weekly payments from $23.33
---
---
Zip Retro vintage series demand centre stage in the kitchen with high gloss finish and simple 1950s aesthetics and vintage colour mix.
1.7Lt capacity
2200 watts
Concealed element
Cord storage
Neon power light
360 degree cordless base
One touch lid opening
Attractive jug and works very well - no time problems apart from I can smell and taste the chemical from the black plastic fittings inside the jug.
I love my jug. Haven't had any problems at all. Was even contemplating getting a spare.
I love this kettle. I can't fault it. It pours beautifully, easy to fill and being cordless is awesome.
Zip is terrible quality. First we had a toaster that caught on fire so I stopped buying their toasters then I took a chance on this jug and less than 12 months in it has just decided to stop working. I hope it doesn't catch on fire and burn the house down. I hope I have the receipt so I can return it. I will never buy zip ever again.
Water level leaked after 3 months use and water covered my bench. Not a good product.
Visually very appealing. Has a definite feel of quality, and the operating controls are well-placed for effective use.
I am happy with my purchase of this Kettle. Does exactly what it is meant to do.
Have had ours for nearly 2 yrs and No problems at all. Nice and quiet . We are very happy with it. If it gets calcification on the bottom I just add a slice of lemon with water, boil it and calcification gone. Glad we bought 2 of them at the price they were. I bought one for my dad too and its still going strong. I fill mine from the spout because of reviews about the lid. All good.
I'm liking my new kettle. Boils in good time and not too loud. So far so good.
Awesome jug never had a problem
Complete waste of money doesn't open and close would never buy Zip again
Terrible- the water level at the side leaked, meaning water was all over my countertop right underneath where the electocs of the kettle was! So dangerous- luckily I found it before my kids!
Loved the look of this jug so got it along with the matching toaster for our bach. Within 6 monthsjug was leaking, Briscoes were great and replaced it but same thing happened with the second one. Again Briscoes were great and gave us a refund. Toaster still working although on the highest setting it's only just toasted.
Looks beautiful but leaks all over bench as well and have only used for a week Do not recommend at all
Can't fault this kettle. Have had it for 5 months and no problems...so far. I must admit though reading lots of reviews on nearly all zip appliances and they aren't good at all. Maybe Briscoes shouldn't stock such a troublesome brand for the majority of customers.
Only had this jug for 2 years and after only 16 months the lid had crazy cracking all over it, then a few months later it won't open or close. It is now taking forever to boil and then to finish things off, it's decided to start leaking so out it's gone and I'm now trying to find a new jug...purely by going on the reviews here, so well done Briscoes for allowing us to put good and bad reviews up. It's a massive help!!!
This was our second try (the first was replaced for a faulty switch) and whilst I really like the look of the jug and functionality, the plastic clear window on top started to buckle with the heat then eventually shrunk and fell in. 9 months old.
Rubbish. Water leaks from measuring line and did this within days. Got a replacement and that did it too. Got money back. As per other comments don't bother buying this jug.
I had to go back to the shop three times - each kettle was faulty - leaked all over my bench.
I really dislike this kettle, it takes sooooooooo long to boil. I haven't had the leaking issues others have, but it definitely is LOUD. Wouldn't recommend