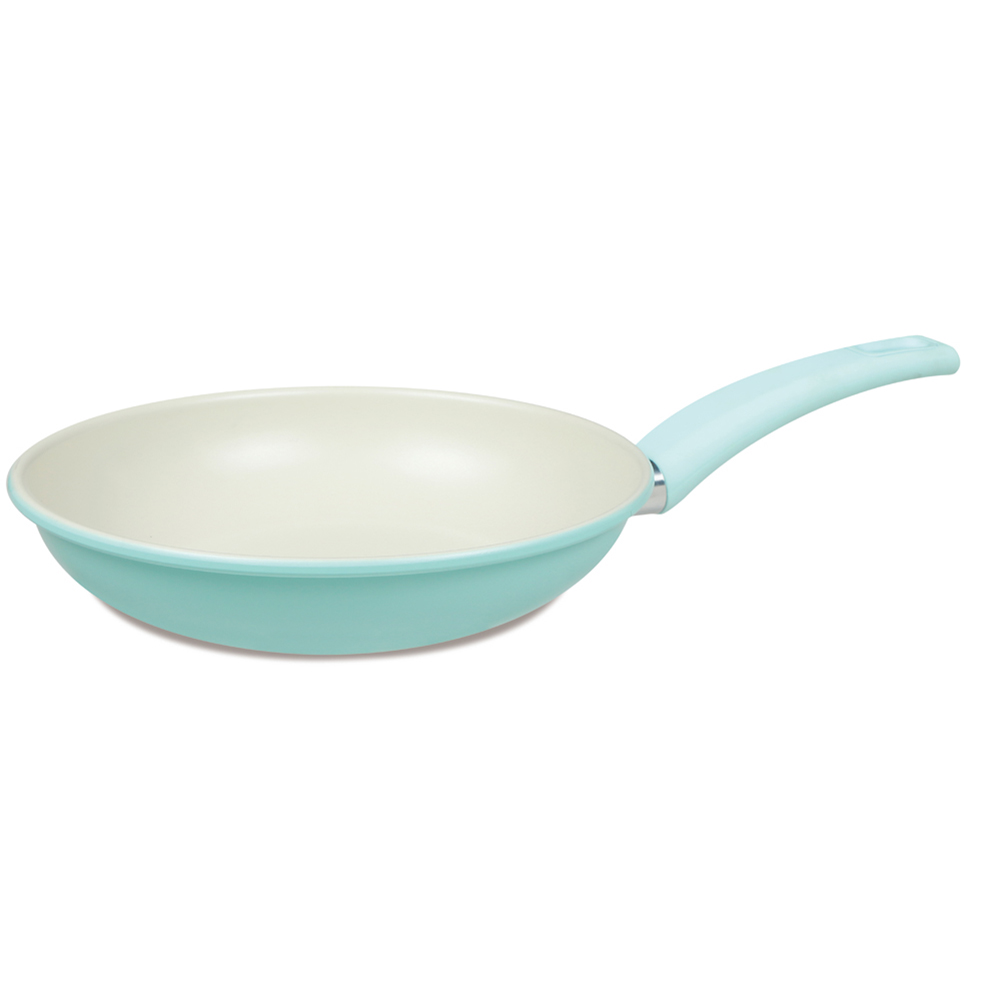 Zip Alfresco Frypan 26cm Blue
or 4 fortnightly payments of $2.50
or 4 fortnightly payments of $2.50
or 6 weekly payments from $1.67
---
---
This frypan is designed with a two layer ceramic coating and matching soft grip handles.
Suitable for gas, radiant, and ceramic glass top surfaces
PTFE and PFOA free coating
26cm diameter
Dishwasher Safe
12 month warranty
Don't buy this frypan. I have had mine about a month, was careful not to have heat too high, after the first time food was sticking and burning - its in the rubbish
Bought this as a cheap camping pan to us on a portable gas cooker, wasn't expecting miracles but it cooks really nicely and not sticky at all!! Breakfast bacon and eggs just slide off nicely. I did put a bit of oil in the pan before heating it and so far it's great. It is inclined to be hotter in the middle than around the edges so toasted Sammie's needed moving around to get evenly cooked, but other than that it's great. Cleans up easily too. In the process of ordering another one.
Bought this today and used it once to cook eggs on a glass top oven and the bottom of the pan is now all burnt and has the paint peeling off? Absolutely rubbish and waste of money. The pan looked nice, I really liked the colour except now after one use the bottom of the pan is black and burnt looking. Do not recommend.
Very happy with this pan, it represents very good value for money. I think the secret to these type of fry pans is on the included instructions when you first get it - Use low to medium heat. It just takes a bit of getting used too compared to cooking with a stainless steel pan.
lovely looking pan but absolutely awful. Everything stuck and the pan got burnt. i would give it a 0 if i could
Cheap, tiñny and flimsy. Bought 2 and tegret it. Burned and discoloured first time.
Hi i get all my stuff from briscoes never had a problem i put this pan on to cook some eggs the smell of pan was horrible and made me feel quite sick
To be honest I bought this for the colour and wasn't too bothered about the quality, its now my favourite pan, not only is the colour awesome to cook on as it makes me want to cook more, its also a very good pan. I read the instructions and seasoned as advised and clean as advised. Eggs just slide off, I've never had a pan like this, I want another. So easy to clean as well.
Absolutely in love with this pan. Heats and cooks evenly and quickly. I need more sizes in this pan.
Bought this discounted at $15. I would have been sorely disappointed if I'd paid full price.Not flat at the bottom from the first use, so only heats food in the centre of the pan.After light and appropriate usage and cleaning, looks horrid with burnt bits in the centre that I'm unable to clean off without ruining the pan.Looks good on the store shelf, but not after any usage.
Don't buy this frypan. I had it on the element and the bottom caught fire. Started to burn the paint off
I brought this pan for the colour, matches everything but it was a waste of money, everything sticks to the bottom and goes black straight away I have since thrown it away!
Unfortunately not a good buy, buckled immediately and also leaks some sort of discoloured stuff from under the lip of the pan....
I brought this for the colour but I should have read the instructions before I brought it. You have to use it at medium to low heat so no good for frying meat or anything that needs to be hot. The non-stick surface did not last long at all. Now everything sticks so I don't use it. Would be good to buy for a decorative item on display though.
Second use ended in flames from the bottom as it burnt the paint off. Cheap and nasty and very unsafe