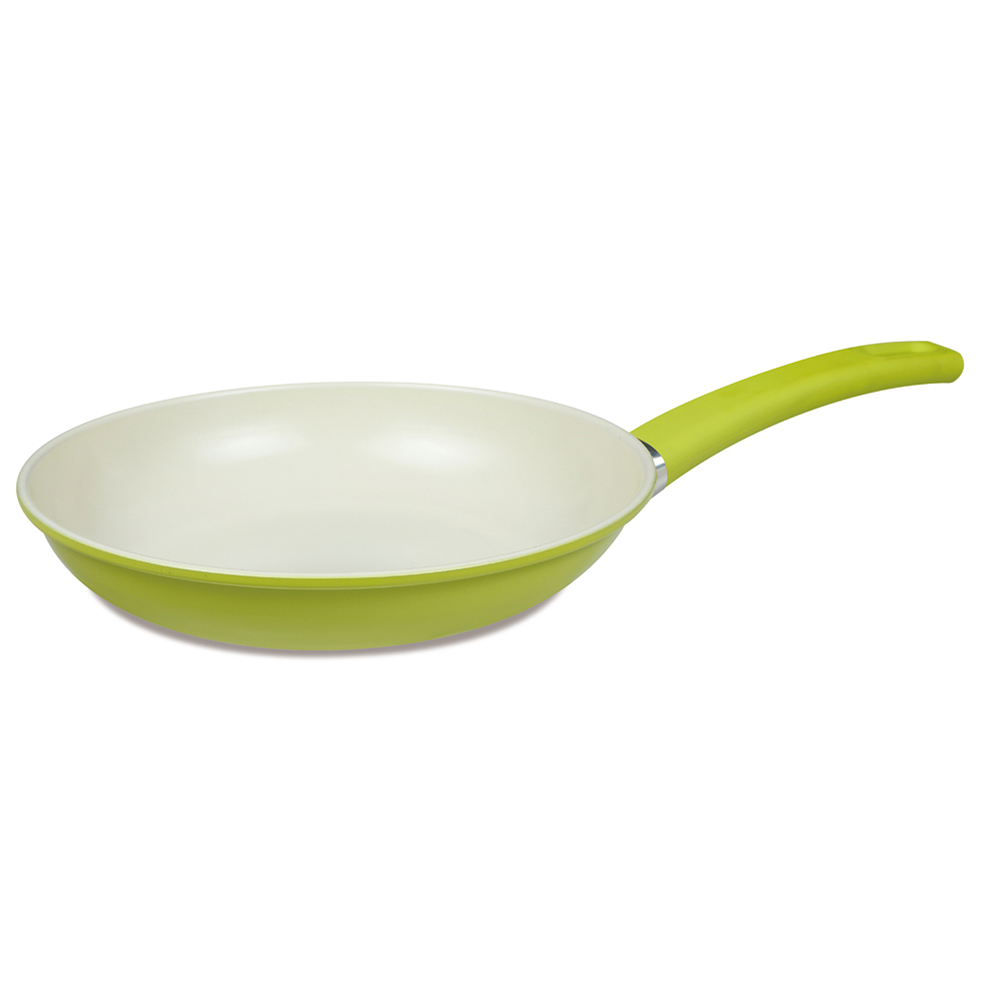 Zip Alfresco Frypan 26cm Green
---
---
This frypan is designed with a two layer ceramic coating and matching soft grip handles.
Suitable for gas, radiant, and ceramic glass top surfaces

PTFE and PFOA free coating

26cm diameter

Dishwasher Safe

12 month warranty
I returned it after first use, the coating burnt although i only tried to make an omlette at vry low heat.
Oiled, pan. First use pan had burn mark left in it.2nd use, low heat. Pan had even bigger burn mark.couldn,t clean it off. In the bin it went. Very disappointed.
Terrible you can only use on very low heat or they burn mark pan and you cant clean we used ours twice and threw them away
Wasted money on buying this pan Coating came off after a few uses & now everything sticks to it. Can't return to store for replacement or refund either.
Worst frypan I've ever bought. Like the other reviews, the non stick coating came off after only a few uses, ive owned them about two months, only used them half a dozen times, and am waiting on a sale to buy a new frypan
It is EXCELLENT guys , you have to use a little oil when you use it ... Is just about not use a metal table spoon ... I can't wait for Briscoe to have on sale a wok with this ceramic kind . It is so so easy to clean . I bought a stone one that blue and is far far away the quality from this ceramic one . Kind regards
Worst frypan I have ever bought. Used less than 6 times then threw it out. Heat doesn't distribute and burnt first use. Never again.
Brought this pan used it the first time was overwhelmed at how great it was. Huh untill i used it again kept burning the food . Going in the bin
Rubbish, burns every time, bent and buckled after first use, cheap and nasty
Works a treat, medium heat is all that is required.
Terrible fry pan. Brought to use xmas day. Used on low heat and burnt the bottom and even using plenty of oil it all stuck and burnt the pan. This was for pancakes. Will have to throw out as i cannoy get all the burnt marks off. Very disappointed.
Absolute rubbish. Unfortunately I bought 2! Makes a horrible smell when the bottom burns on first use.
I'm surprised at the negative reviews! Just bought this pan, seasoned it prior to use on medium heat and it cooked up bacon really well. Left the pan to go cold, as instructed, and just wiped it clean with paper towel. Looking at getting another
Took first pan back as coating chipped with first use, but the replacement gets used daily. I love the coating, frypan works best when heated on med and turned to low, holds its heat beautifully. Not good for anything that requires a high heat (like steak).
Worked great first two times but after that EVERYTHING stuck to the pan. Worst frying pan I've ever wasted money on
Not a great buy bottom burnt after first use and still continues total rubbish buy
Worst fry pan ever, no matter what heat, it burns everything.i will stick with cheap ones from countdown from now on.
Handle fell clean off third time I used it. Absolute crap - pleased I never paid the full price for it.
Worst frying pan I've ever used!
Complete Crap. The coating burnt on first use and cannot get rid of it. Will just have to use it as a "stick" pan instead of non-stick.