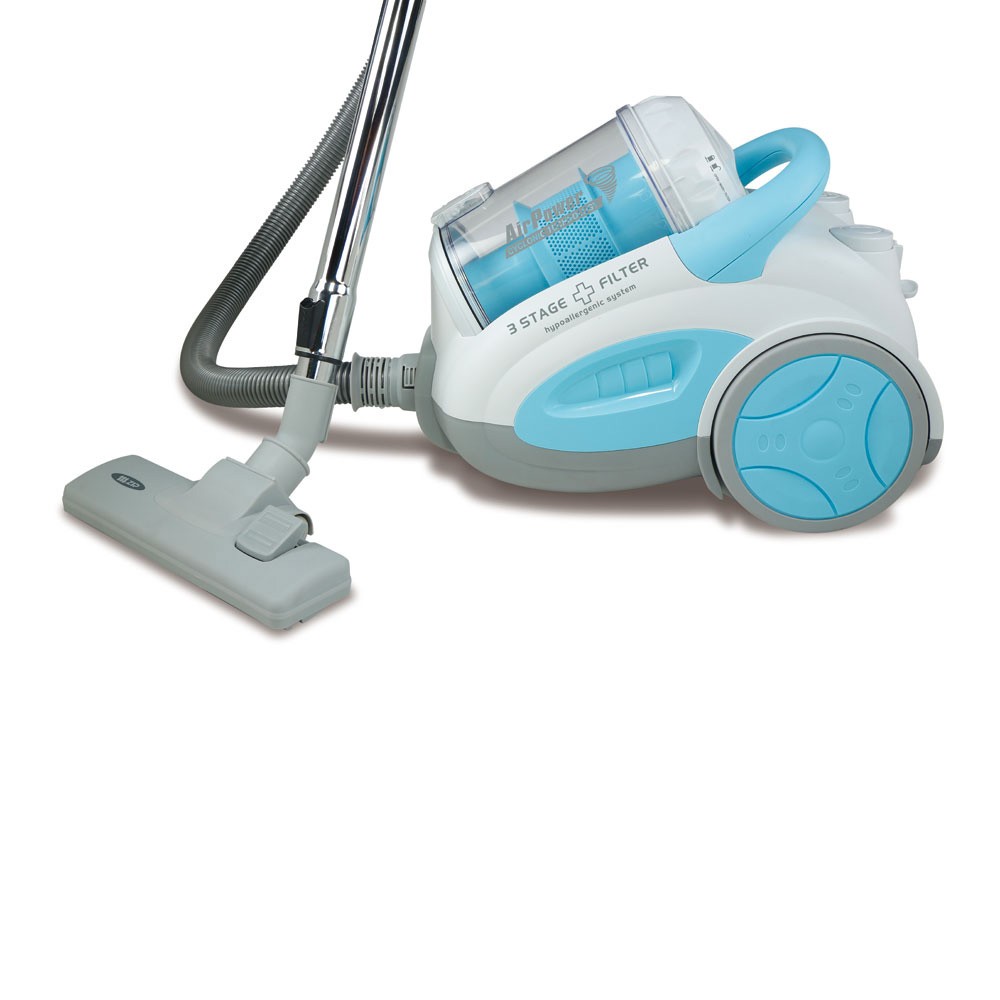 Zip Fusion Zip 374 Vacuum Cleaner White/Blue 2000W Bagless
or 4 fortnightly payments of $30.00
or 4 fortnightly payments of $30.00
or 6 weekly payments from $20.00
---
---
This Zip Fusion Vacuum Cleaner is designed with a powerful 2000W motor, large ergonomic carry handle, 360 degrees hose connector and 94cm adjustable telescopic wand with a two position floor brush.
Quick release cyclonic dust cannister
3 Stage washable and removable filter system
High suction power 320W
Soft start
Auto cord retractor
Dust full indicator
On/Off foot switch and foot auto cord rewind
Soft rubber wheels to protect hard floors
Handy vertical parking position for storage
Nozzle and brush attachments
Replacement Accessory Kit available: 1065249 - Zip 373/374 Filter Kit
12 Month Warranty
Worst vaccum cleaner ever, It over heats the filter gets full after one use so it then doesn't suck properly, Such a waste of time.
Worst vacuum I've ever owned. Difficult to put together after cleaning. Looses suction and overheats. Taking it back.
Brought this September 2018 ...sucks poorly and needs to be emptied every 5 mind and the filter is crap! Last night it blew up.... Will not be buying another one
Useless! Will not suck properly and the container and filter need cleaning out every 5 minutes to even semi do its job. Do not waste your money on this one!
Waste of money worst vacuum I've ever had suction is poor cylinder clogs constantly have to buy filters picks up light stuff only if you go over it a few times will never purchase zip again
I am thrilled with the Zip Vacuum. I purchased the same model ten years ago from you and it is still performing well, it to our holiday now. home.
The vacuum cleaner has great suction. The length of the cord is somewhat disappointing (shorter than expected) - length of cord was not featured on any advert.
This vacuum cleaner has a number of issues:- the power cord is too short- you have clean the top air filter out after every use- the vacuum loses suction when the drum is half full- the motor of the vacuum get extremely hot- there is no built in on tool storage with this vacuum either so the extra attachments have to be stored somewhere else making it inconvenient
I wouldn't recommend this vacuum and if you do decide to buy it, make sure you purchase the extra circular filter, we have had to replace this twice in one year as the rubber breaks and on one occasion we had to wait 6 weeks for the filter to come into stock!!
Loses suction when only half full you have to clean filters after every use even if not full. You need to buy another vacuum to suck out the filters otherwise wait a week for filter to dry. Will over heat within a couple of rooms and shut off for the day. Returned as crap
Brought for small home, but had to clean out filters everytime I used it even if only half full or would cut out. Would overheat after two rooms and have to wait till next day to use. Would lose suck when under half full
Works okay. Hose feels too light as the suction doesn't feel so strong. Wouldn't pay full price if it wasn't on sale - not worth $300. Sale price is a little too much for the work it does as well.
It does suck. it isn't as strong as what I have had in the past. I wouldn't buy this if its normal retail price is almost $300. its good after awhile.
Terrible vacuum - trying to use it on carpet even after going over and over the same spot it just wouldn't pick dirt up, was ok on wooden floor's. Also not the easiest to roll.
Not a great vacuum. Filter becomes warped with the rubber breaking off. Causing weak suction. Was unable purchase filters as there were none available online. Indicator showing that the vacuum was full when it wasn't. Cord is not that long.
Brought Sept 2nd 2017 it cooked itself today December the 3rd 2017 but we didn't use it for the first two months so 2 months use and it's dead DO NOT BUY if you want to save your money Briscoes should recall them if they were a good retailer so they won't then.ps all filters were kept clean so they can't blame that will.
Not worth buying no matter how cheap it is. Very low suction. It turned itself off from time to time because the vacuum got quite got hot I think.
Useless vaccum, filter got stuck, still used it for awhile until eventually it just stopped working.
Useless product waste of time, low suction power and turn off every 5min takes its own time to start again...