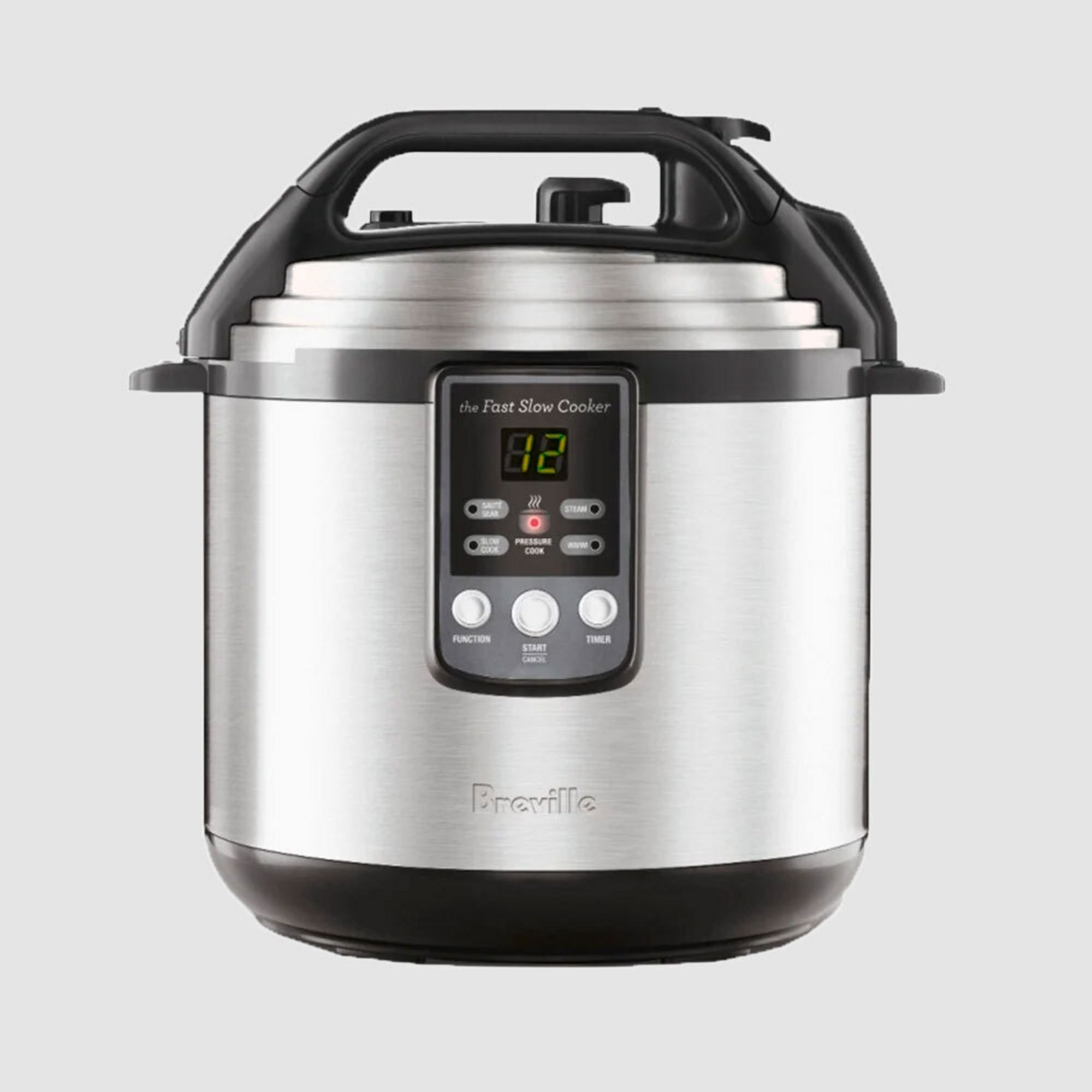 Breville the Fast Slow Cooker BPR650BSS
---
---
This Breville the Fast Slow Cooker is designed with smart pressure and slow cook settings, saute, sear, slow cook, pressure cook, pressure steam and keep food warm with a count down timer.
Capacity: 6L
Slow cook
Perssure cook:
Includes:

Universal basket
Redesigned lid and pin system
this product is just great, bone broth in 2 hours!!!! easy to follow instructions and cleaning is a breeze.
I am finding this to be a great product. Very versatile.
This product is designed to be practical and useful. A wise buy for me. I love it.
We really enjoy this wonderful multi-tasking pot. It works good and cut cooking times down to almost none. It works perfect. Very impressed... Will recommend as a must have, especially for working people. What a joy!!!
Love this product. 2nd one I've owned.
Absolutely love this product! Also so easy to clean!
Went alright to start so bought one for my Mother. She could never work the lid so that was a waste of time. The lid is very difficult.Then the nonstick surface went after about 6 months....it now attracts things.Now the unit wont detect lid secure so cannot steam or pressure cook so have to close and choose Sear...maybe dangerous?So started good but 18mths use out if a $400 appliance is shocking.
Amazing appliance....could not now live without it. Does EVERYTHING should really buy another so I can do 2 things at once. Can sauté, slow cook, pressure cook, steam.....WOW.Clean it all in the dishwasher. Get your dishwasher powder from Target Cleaning Supplies in Onehunga (Auckland )....it actually cleans not like the supermarket rubbish.
We love this applicance and use it all the time, especially the pressure cooker function. Very useful and easy to use.