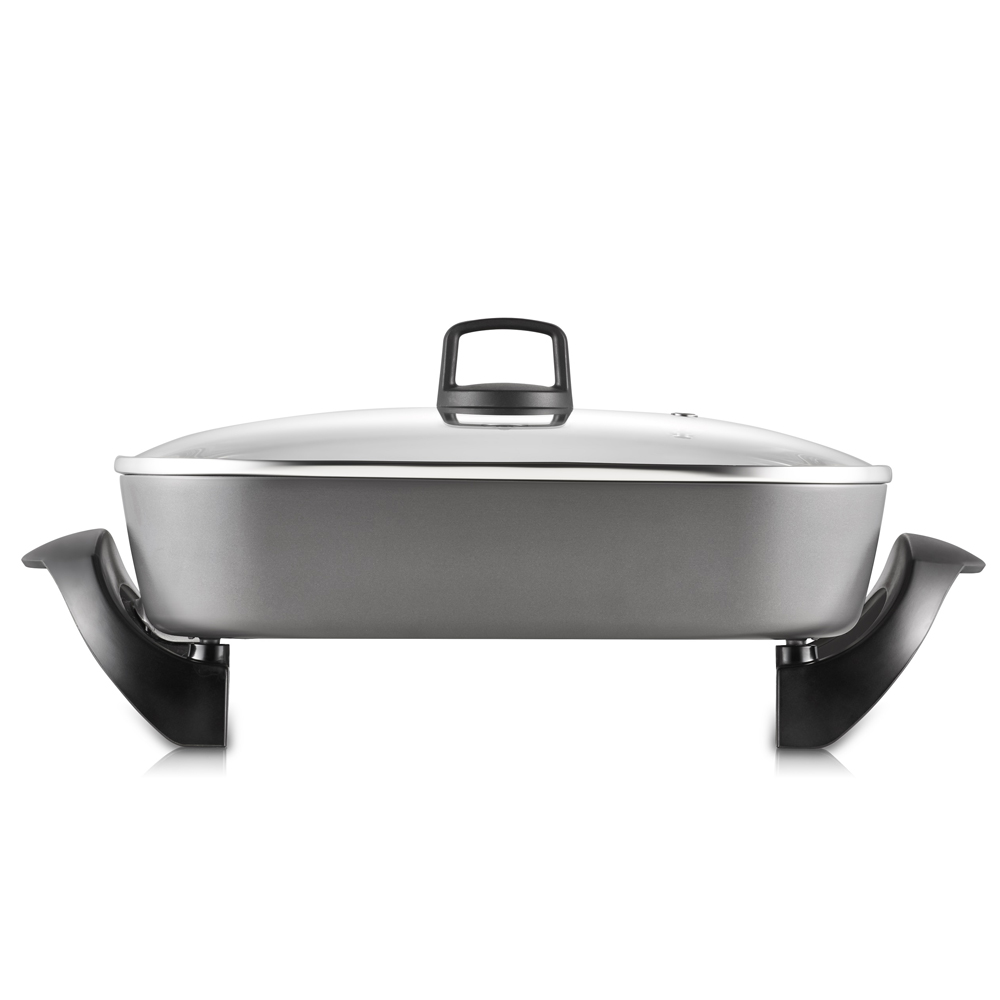 Sunbeam Dura Ceramic Frypan FP6000
---
---
This Sunbeam Dura Ceramic Frypan is designed with unique and distinct ceramic coating featuring Globally successful coating and Faster cooking than non-stick.
Banquet frypan
Dimensions:
Dishawasher Safe
Cast-in 2400 watt element
Tilt & Baste lever
PTFE & POFA Free ceramic surface
Easy Clean up
"
Do not even bother buying this item. It is terrible - burns my food & sticks to the pan. It's like half of the pan works well the other half burns or is at a different temperature. I have had this item for 3 months but only started using it in the last month. I will be taking it back for a refund.
Do not purchase this frypan. We returned one as the 'non-scratch' coating had scratched but the second is just as bad,cooks unevenly and burns nearly everything. Only had it for 6 months.
SO disappointed was given to me for my birthday and within a couple of weeks began marking and burning and I was so careful when cooking and cleaning. beyond disappointed dont waste your money.
Horrid thing. Loved the size and brand seamed like it would be reliable. But it is an all or nothing appliance. It's either insanely frying things to death or sitting there doing nothing . There is no consistency in the temperature. You can't adjust the temperature as the dial suggests. Totally disappointed in such a good brand .
Hopeless. Worst frying pan I have ever had. Heating inconsistent. You can't get it clean. I followed instructions carefully but after the first couple of uses I had trouble with food sticking to the pan.
Useless.Has a ring element. Burns on the ring. Doesn't cook outside the ring.Thermostat doesn't work - temperature is either surface of the sun or off.Has a black ring of carbon around the element which won't wash /scrub off.
I will be returning this product, burns everything. Can't get it clean looks awful. Tried oil, cooking spray everything catch's and burns,tried the lowest heat and it still gets to hot. Very disappointed
worked well for first few times then food started sticking and burning, even with oil added. Heats up unevenly, especially around the ring element. After just a few uses there is now black ring mark from the element. my main purpose in buying this was for health reasons as there is a bad rap regarding non stick Teflon ones, but it's just rubbish.
I agree with everything all the other reviews are saying about this product. Took mine back and got a refund after 5 months.
Disappointed. It was supposed to be harder more durable. We had pan less than a month. Already surface has scrached and we taking it back.we used plastic utensils. Heats unevenly as well