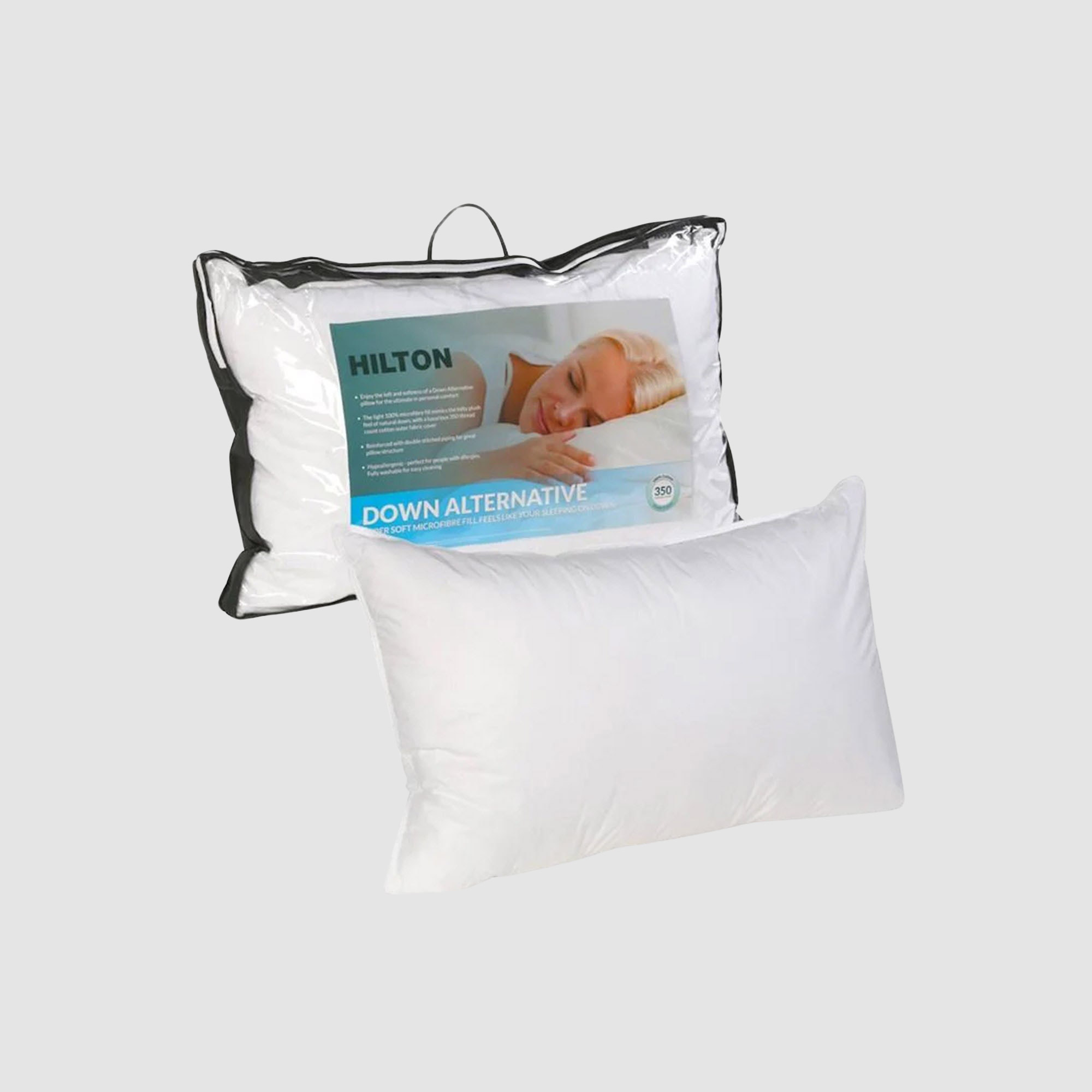 Hilton Down Alternative Pillow
or 4 fortnightly payments of $17.50
or 4 fortnightly payments of $17.50
or 6 weekly payments from $11.67
---
---
Hilton Down Alternative Pillow is a great everyday option. Crafted with a 350 thread count 100% Jappara Cotton Outer for soft touch, fused and paired with a durable 100% Polyester fill for extra loft and bounce back. Enjoy this low maintenance everyday creation.
Composition:

Outer: 100% Jappara Cotton
Filling: 100% Polyester

Care instructions: Gentle Machine Wash
Made in China
73 x 48 cm
Bought a twin pack at 1/2 price arrived today and WOW OH WOW They are like laying on a cloud well that's what I imagine it would feel like BEST EVER!
Love these pillows - very luxurious!
Love this pillow. Have always had feather and down and substitutes have been to warm. I also suffer from allergies.
Great quality! Better sleep!
When I lay on this pillow it had no support. It was in no way like a down pillow as it said on the label. I wish I could have returned it and got a better quality pillow.
These pillows are quite comfortable
I agree these pillows are the best! Been searching for the perfect pillow and this is it. I'm going to have to buy more as my partner keeps stealing mine!
Best pillow ever! I have purchase so many to try and find that perfect pillow and this one is it! You can mold it around your head, making it as high or as low as you want. Have bought a few now. Love them!
I've brought at least 9 pillows due to morning headaches. Finally I've found my perfect pillow. Hilton soft is AWESOME so now 6 of my friends got one for Christmas. All LOVE
These pillows are the best ever, and I'm really fussy with pillows. They feel like a feather fill but without the seperation. Lucky to purchase on special. Just bought number 6.
Love this pilllow it took me ages to find the right one but this one is finally it its comfortable to sleep on all night and i dont get a sore neck anymore like i did with other pillows, its the perfect thickness and not to hard or too soft and not to thin i will be getting more thats for sure!
Excellent value on special.
Best pillow I have ever purchased - soft feel and not super high, best nights sleep in a long time with this pillow - highly recommend.
I tried them out already, & I'm sooo glad I brought them.
Probably the better of the 3 I bought. It is soft and has a bit more support than 1 of the other ones purchased at the same time. I am a back sleeper and unfortunately found the support to be in the centre of the pillow rather than under your neck.
Amazing! After struggling to find the right pillow, this one ticks all the boxes. Super soft and comfortable, yet supportive. Goodbye sore necks and headaches! Highly recommend this product if you prefer a soft/moldable feel as a side sleeper.