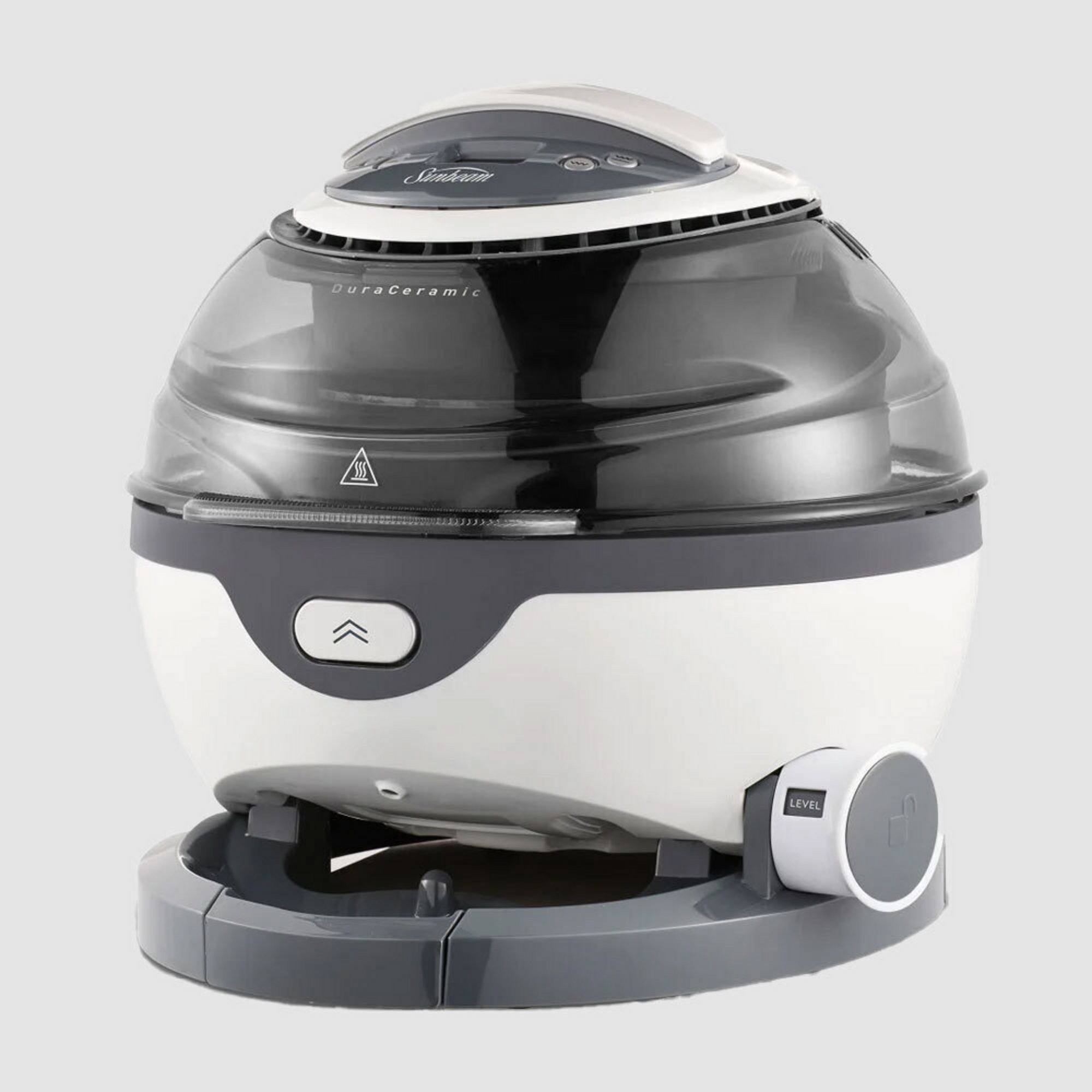 Sunbeam Halo+ Duraceramic Air Fryer AF5000
or 4 fortnightly payments of $100.00
or 4 fortnightly payments of $100.00
or 6 weekly payments from $66.67
---
---
The Sunbeam Halo+ Duraceramic Air Fryer AF5000 features:
Unique tilt cooking position - tumbles food for even cooking without crushing
Duraceramic coated pan - faster cooking and cleaning
Air fryer or grill settings - Fry, Bake, Saute', grill & roast
Dual heat source cooking - convection and radiated heat
LCD screen - set cooking time
Auto off once cook time is complete
1.25kg food capacity
Roasting rack, measuring spoon, handle and recipe book included
Removable lid for easy cleaning
Wattage: 1300W
12 month replacement warranty
The greatest thing ever. I am now the proud owner of two. I should be a sales lady, as I already convinced 5 people to buy one too
The greatest thing ever. I am now the proud owner of two.
Had hesitated about buying one for quite some time as I didn't want just a glorified chip maker. I have no regrets and use it most days. Also easy to clean.
Got it, haven't stopped using it. I cook everything in it. Love the crispy roast potatoes, better than I've ever made in an oven. We make toasted sandwiches, which are full perfectly melted cheese. We make roasted veges, chips, steak, chicken - the meat is tender and moist, the veges crispy and tasty. I just love it.
Brilliant. Easy to use and easy clean up
Am very happy with this machine. Have cooked a variety of dishes with great results. Scones were light and crispy,yum. Would recommend it.
its a great little fryer but there is no temperature control
The fryer works really well. We cooked the frozen camembert pieces in it and they were delicious. It's great not having to smother everything in oil,and also no goo to clean up
This is a great air fryer the tilt works fine I use the tilt when I cook chips or roasting spuds they brown all over
Why turn on your oven when you can use the Air Fryer for those little cooking jobs like chips, schnitzel anything that has a little oil in it. Super easy to clean too.
Great machine. Love that you don't need to add any oil. Really happy with it.
This is the most amazing appliance ever!! It cooks to perfection. No preheating required and healthier cooking with little oil needed. Saves time and money. I thoroughly recommend it.
Great little machine I use it every day, makes meat moist and tender, does fantastic roast veggies, chips, anything and no added fat. Easy to clean , easy to use. Very happy with this.
I love it! It does everything - chips stay crisp and meat stays tender. Well worth the buy.
Wow,just done the roast potatoes and pumpkin to go with our roast pork. Best tasting roast veges we've had. What a machine. Highly recommend.
Excellent air fryer, cooks everything well.
Was given 1 as a gift. Never turn oven on now. So simple to use and food tastes incredible with little mess. We are going to buy a second. This is a must have
Very satisfied, and quick. Take time to Read instruction manual.
So disappointed in this air fryer. After 3 uses has got extremely dirty on the metal guard and will have to unscrew to clean it. Plus house smells like an overworked takeaway shop after using. The tilt is so unnecessary as food needs little or no oil when cooking so there's little or no fat to drip off and as it rotates all the food items end up in the bottom of the pan (simple physics!) at its lowest point.And is only big enough for a meal for 1 to 2 people.
Amazing machine, I have cooked in it everyday since boxing day. Food is cooked to perfection and have enjoyed the meals.Easy to clean too. My sister and daughter have purchased one as well they were so impressed.