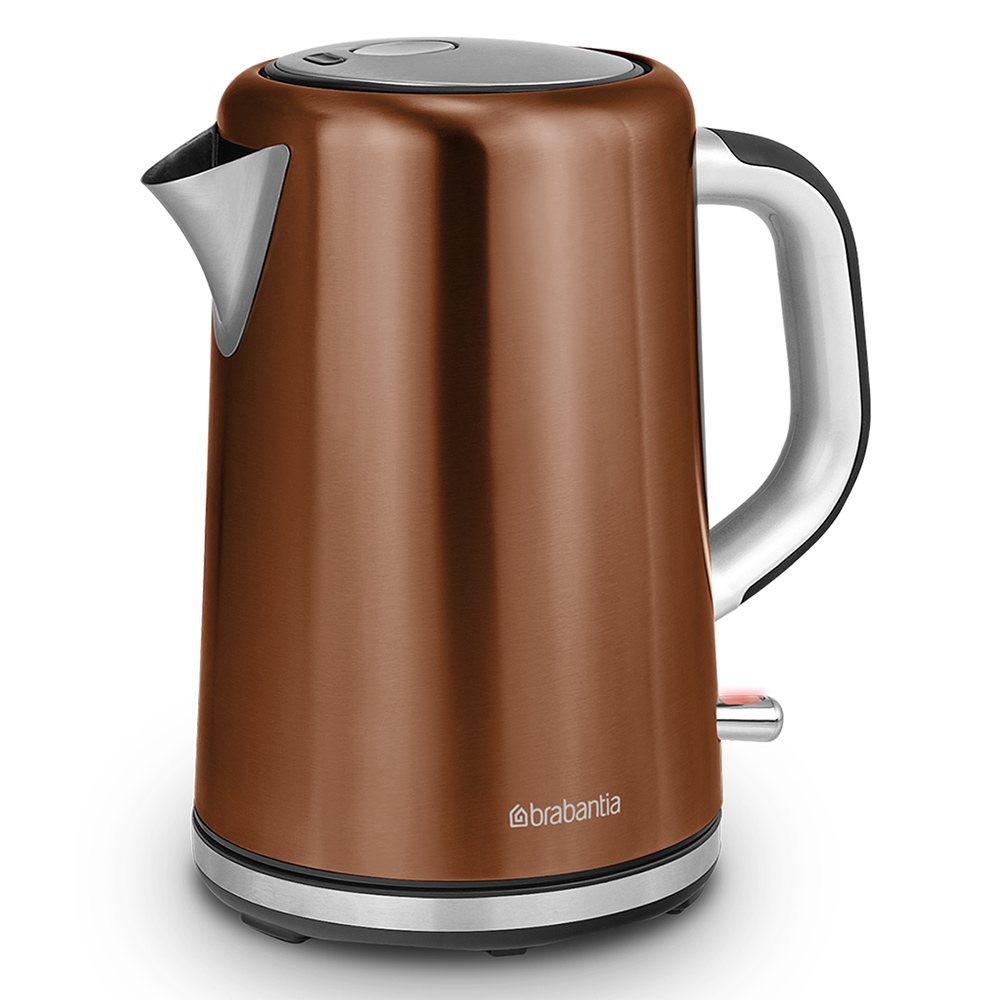 Brabantia Cordless Kettle Copper 1.7L BBEK1001ACP
or 5 fortnightly payments of $18.00
or 4 fortnightly payments of $22.50
or 6 weekly payments from $15.00
---
---
The Brabantia Stainless Steel Kettle is formed to a timeless European design. It features an attractive multi-layered metallic copper colour finish, a convenient transparent water gauge and dry boil protection ensuring the kettle shuts off if it does not contain enough water.
The filter is removable and easy to clean. Convenient push-button with flip-top lid. The attractive soft-touch handle grip ensures safe handling. Brushed stainless steel exterior and interior with concealed element.
1.7L cordless kettle
360-degree rotation
Auto shut off
2 year warranty
Wattage: 2400W
Really disappointed had this just over a year and its died. Button to open the lid became temperamental and do did the base had to jiggle it
Within 1 year lid broke, noisy, copper faded and chipped, bottom leaks terribly. Can not find receipt to take back. Will not buy this brand again.
Nice looking but that's about the only thing going for it. The lid mechanism is absolutely hopeless, and the rubber seal is already corroding .
Overpriced rubbish. Lid never fitted properly and was very hard to open. Then hinge broke. Now hard to make stay on. Under 12 months old.
Very noisy, keeps on boiling long time before switching off,lid opens up by itself when boiling ,steaming area, about 16 months old, low quality.
Don't waste your money on this product. The lid always breaks. X4 of this brand
Don't buy. Lid wouldn't open properly after about a year then lid completely detached from kettle. Wasn't exactly cheap to buy. Not impressed
Bought this kettle in july 2017.It has started leaking badly at the sight glass & collects on the base plate.This appliance should have lasted longer
Lid has broken off, is super loud, and randomly leaks from somewhere (haven't managed to figure out where).
This has been a good kettle for 2 1/2 years, but is now leaking from the water window.
We are on the hunt for a new jug after this one - not lasting very long- broke on the lid. It was a constant struggle to get the lid to pop open.
Have only had this for 13 months and lid has completely broken. Very sad as i love the colour and design. Would not recommend.
We are on our 3rd one which is going back too. Lid only works intermittently and it switches itself off after a few seconds about twice a week.
Beautiful looking kettle but faulty lid design. Ours broke at around 6 months which seems to be common according to other reviews. Wouldn't buy again.
Lid on the replacement does not work properly after a couple of weeks. The button does not work and appears that a vacuum forms around the seal of the jug. Love the jug and returned to buy the matching toaster. Really annoyed with the lid.
only had it for 14 months and it stopped working very sad and took ages to get rid of bad tasting water from new
This jug I brought maybe October last year and it is already not working I have to play around with the jug to get it to go:(this is the 3rd one I've already taken it back a few times will have to take it back again; (
We bought two of these jugs last August. One for us and the other for BnB guests. They have been faithful servants so far, with both getting plenty of work. They maybe slightly noisier than some at the height of their boil but that has not been a problem for us. I would definately buy another one.....also love the colour!
Pretty copper accent for rustic kitchen & house theme. Min water amount is 800ml which is annoying when 1 cup wanted ($electricity) but needed to protect the element.
Only had this kettle four months before it started leaking terribly. What a waste of money. Do Not Waste Your Money On This Rubbish!!!