Winter Bedding: How to Style Your Bed this Winter
Come home to comfort with our super cosy range of winter warmers, featuring luxury blends & soft textures to keep you snug in the coldest months. Shop in-store or online today and sleep easy this winter.


Winter Bedding Essentials
Nothing beats a cosy, warm bed to snuggle into after a long day! As things cool down, make sure you're equipped with all the bedding essentials. From a duck down duvet inner to add warmth and breathability, to fleece sheets and electric blankets to keep in the heat at night, Briscoes has a wide range of bedding that will keep you comfortable this winter.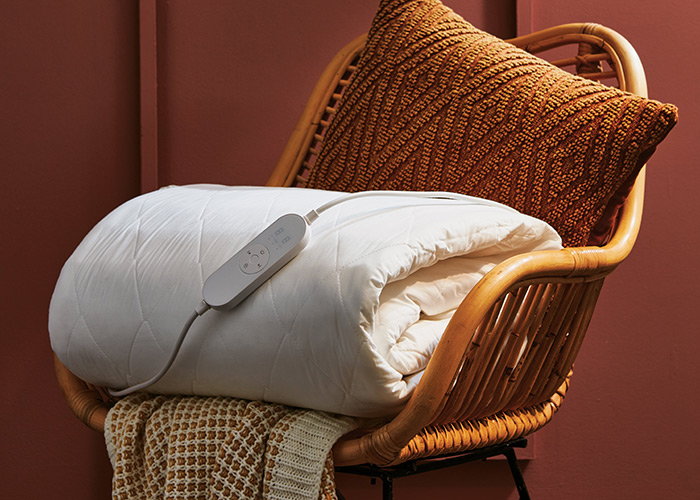 It's no secret that an electric blanket is a bedding essential for winter! Whether you like your bed to be nothing but toasty or prefer just your toes to be kept warm, an electric blanket is the answer. With our wide range and smart technology you're guaranteed to find the perfect one for you! Use our electric blanket buying guide to ensure all your needs are met.


Sunbeam Quilted Electric Blankets: Sleep in luxury with this cotton/polyester blend quilted top fully fittted electric blanket. Designed with Sunbeam Sleep Perfect Technology and even has a cosy feet setting.


Goldair Electric Blankets & Heated Throws: 'SleepSmart' is part of the new Goldair Luxury Series, where youc an control your Electric Blanket through connection with your Wifi our Smart Home. This means you can turn your blanket on from the couch before you go to bed or set up a weekly schedule for when it will automatically turn on every night!
Time to Substitute Your Summer Weight Duvet Inners for a Winter Weight!

With temperatures cooling down, find the right heavier weighted duvet to ensure a quality nights sleep. Our duvet inner's range from natural materials such as down, wool, cotton or bamboo, to synthetic fibres like polyester & microfibre. There are advantages to all, so check out our duvet inner buying guide to help decide!
Try the Crowd Favourite: The crowds have spoken... the John Cotton duck and goose down range are an excellent option to get you through the winter months. Also a great trans-seasonal option as a feather fill enures breathability as well as weight!


NZ Made: The Two Islands 500gsm Alpaca Duvet inner is made from premium grade 100% Alpaca fibre. Two Island New Zealand sources only the finest New Zealand Alpaca fibre for a luxurious, long lasting sleep.
Styling Trends for the Perfect Winter Bedroom

Time to replace those bright pops of colour with warming hues. Try styling a neutral duvet cover with warm toned co-ordinates. Add in a heavy weight blanket to the end of the bed to tie this look with the rest of the room. Acessorise your space with similar colour tones to create the ultimate cosy haven...