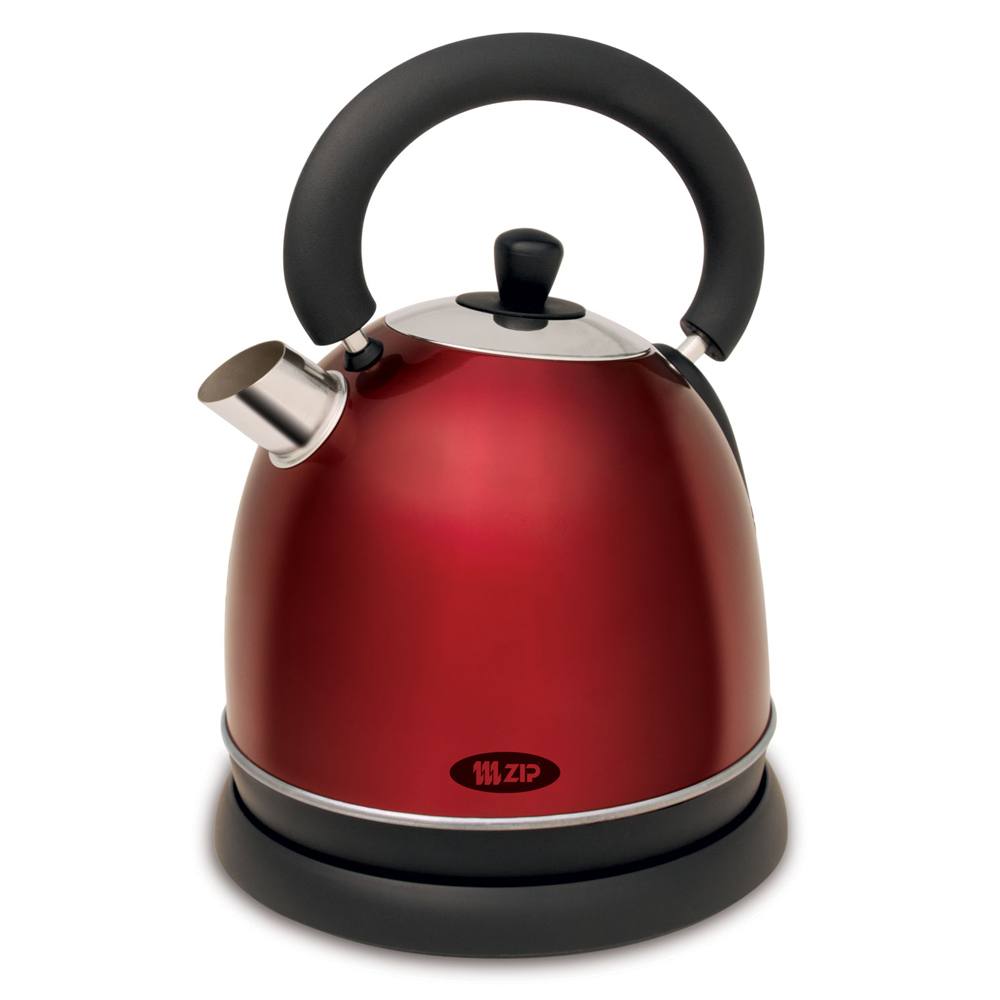 Zip Metallic Red 1.8Lt Cordless Kettle
or 4 fortnightly payments of $12.50
or 4 fortnightly payments of $12.50
or 6 weekly payments from $8.33
---
---
This Zip kettle in a stylish red metallic finish features a 1.8 litre capacity with 360 degree cordless convenience. It has a safety cut out and boil dry protection feature, and a concealed element and large pouring spout with a stainless steel filter. The oversized handle is comfortable and safe for lifting, filling and pouring, and the large transparent water gauge and neon transparent switch show how full the kettle is and when it's in use.
We bought this kettle and within 6 months it has become unusable. The red colour has corroded so much at teh top that we can't even open the kettle anymore and have to fill it up using the spout. This hasn't happened with the other brands we have bought. Terrible product!!!
Bought with the matching Toaster only recently, and very happy so far with both items.
It looks lovely and feels strong. Had to boil and change the water over 10 times to get rid of the new taste in water. already the switch has been a bit dodgy
Had this jug for two years. The on off switch has never worked well. Sometimes you need to press it down over half a doz times for it to stay down. Won't buy another when it dies. I HOPE it dies soon
Nice looking jug and very quiet
Has chemical smell and taste when boiled. Customer service recommended boiling with 1 third vinegar and 2 thirds water but this didnt really help. No reply to emails. Very disappointed.
I bought this kettle several months ago. No problems at all. An excellent buy the price.
I took mine back! Had a horrible smell and metallic taste each time u boiled it. I switched it for the chrome one which is way better. Would not recommend this at all.
Thought it was me.On\off switch has never worked properly.Paint flaking and faded as well
The on off button has always needed pressing down at least three times to stay on and the red has worn off at the top gradually.
Great had no problems surprised to read such negative comments and mine is still shiny red and had it about 18 months and use it about 2times aday
Like others have found, the on/off switch is faulty. The colour chips around the the lid area. Have had the kettle less than two years and can no longer use it as when switched on it blows a fuse
This is a kettle that works well and has done for the last 2 years I've had it. However, the paint job on it is appalling and within a couple of months of purchase faded and started having blotches of discoloration all over it. It is annoying as I wanted it to complement my kitchen with red appliances and the matching toaster is still fine... Will have to replace it soon, despite it being in perfect working order, which is a shame.
Issues with on/off switch. Can be a real battle to get switch to stay on to begin boil. If you leave on at the wall when kettle is not in use it starts to hum. Also very noisey when boiling
Great jug for the price. No issues at all
Had this 2 years reasonable price with good working.
Water takes on a metallic taste once boiled hoping it will go the more it is used??
We have had this jug for less than 2 weeks and it has started leaking. We do not have the receipt so unsure if we can get a replacement?
like many of the others the on/off is faulty.
Love our red kettle/s, there so bright & cheerful