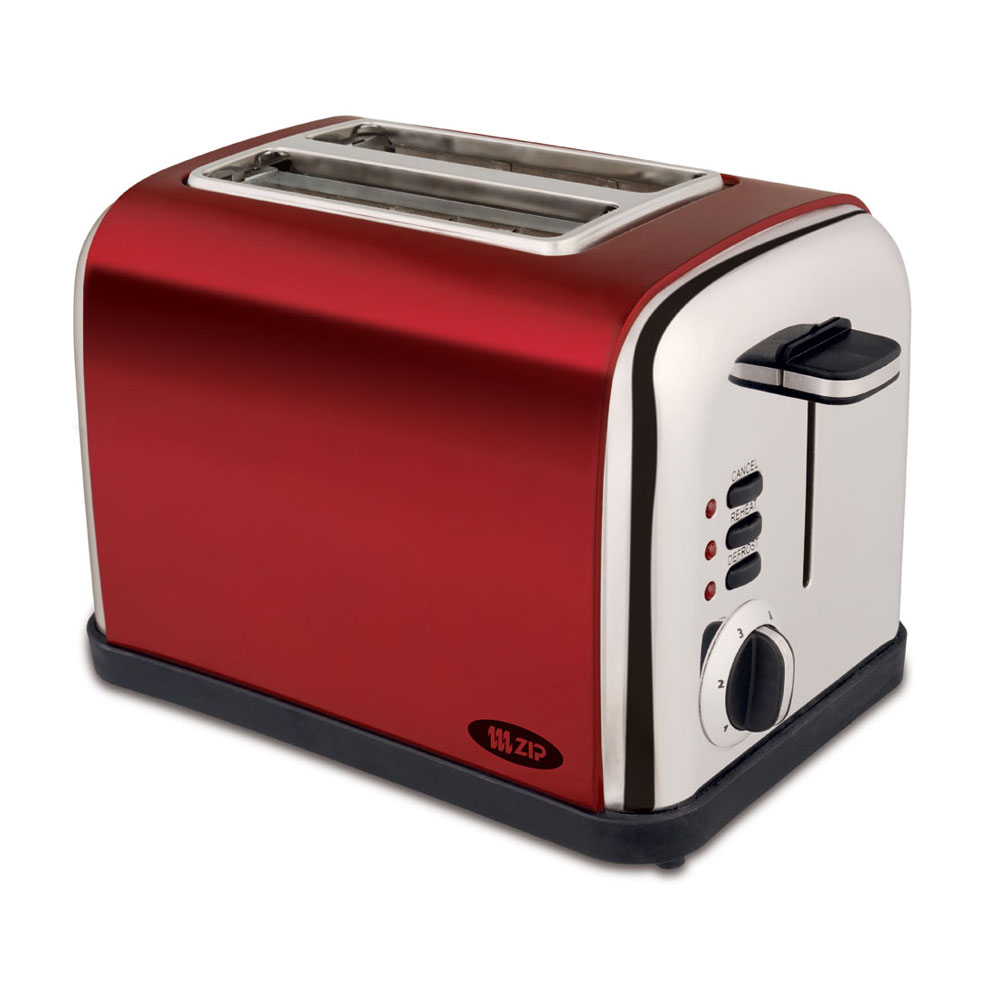 Zip Metallic Red 2Slice Toaster
or 4 fortnightly payments of $32.50
or 4 fortnightly payments of $32.50
or 6 weekly payments from $21.67
---
---
The Zip 2 Slice Toaster in a stylish red metallic finish features 6 variable settings including defrost, reheat and a cancel button for instant ejection. The wiide slots are ideal for thick bread, bagels, crumpets and muffins and includes an automatic bread centreing and removable crumb tray.
Bought it a few years ago. First issue - latch wouldn't stay down (taking a couple of goes every time). Now simply dead. Not purchasing again.
Lasted only a few months before blowing up. Total waste of money.
Terrible toaster! Original broke within a couple of months and the replacement didnt work at all...
Only just bought it but happy so far with purchase
I was interested in buying one of these toaster but after reading these reviews I have changed my mind. It sounds like the whole toaster is faulty and they're not prepared to fix the problem before putting it out there for sale.SHAME ON YOU, ZIP
Slider broke after 2 weeks! Won't stay down, returned it and got a breville. Don't waste your money.
This would have to be one of the worst purchases I have ever made, no receipt so not even going to try and get my money back but deeply disappointed in Briscoes especially when I see so much other negative feedback with regard to this toaster. Why are you still selling it Briscoes? Shame on You!
We were not happy with the toaster, after a month of use the push down lever had stopped working. We don't have a receipt, this is our second review and have not had any acknowledgement of our complaint.
Light but sturdy, and looks good on the bench. Cooks toast well, fits bagels and English muffins comfortably and has a smooth action. I like it.
Bought this product a few years back and only lasted 6 months. Lever wouldnt stay down.
Has lasted over a year but we're buying a new toaster as I'm sick of the toaster latch not staying down! Wouldn't bother buying from Zip again
I brought mine April 2015 and in the last 6 weeks it has been playing up and now it won't stay latched down!
Have had this toaster for 5 years now so I really need to give it some stars for performance. However, the most annoying thing about it is that the crumb tray somehow does not do its job at all so I am constantly left with piles of crumbs all over my benchtop!
Excellent product . Really love the gorgeous colour
I ordered this product on line I was very happy with Briscoe's online shopping and the ultra fast speed they shipped my order over the holiday period however the toaster did not work upon arrival I called customer servace and they replaced it with no hesitation the replacement works fine I purchased this product on sale for 40 dollars so i feel it is a real good deal at that price how ever i would not recomend this product at the retail price of 119 dollars
Just got toaster out of box, turned it on and the lever won't stay down. Bugger standing there holding it for the whole time ya toast cooks.
I bought this in Nov 2014 and it is only Jan 2015 and it doesn't catch to hold the bread down anymore so unless I hold the lever myself it is now useless and very disappointing.
I purchased this toaster last year and it cooks perfectly even and there are no problems whatsoever. Recommend it.
Had this toaster for a little under a year and the whole time the toast settings have been up the whack, it literally just decides how brown IT wants the toast and now it won't latch at the bottom. I guess you get what you pay for