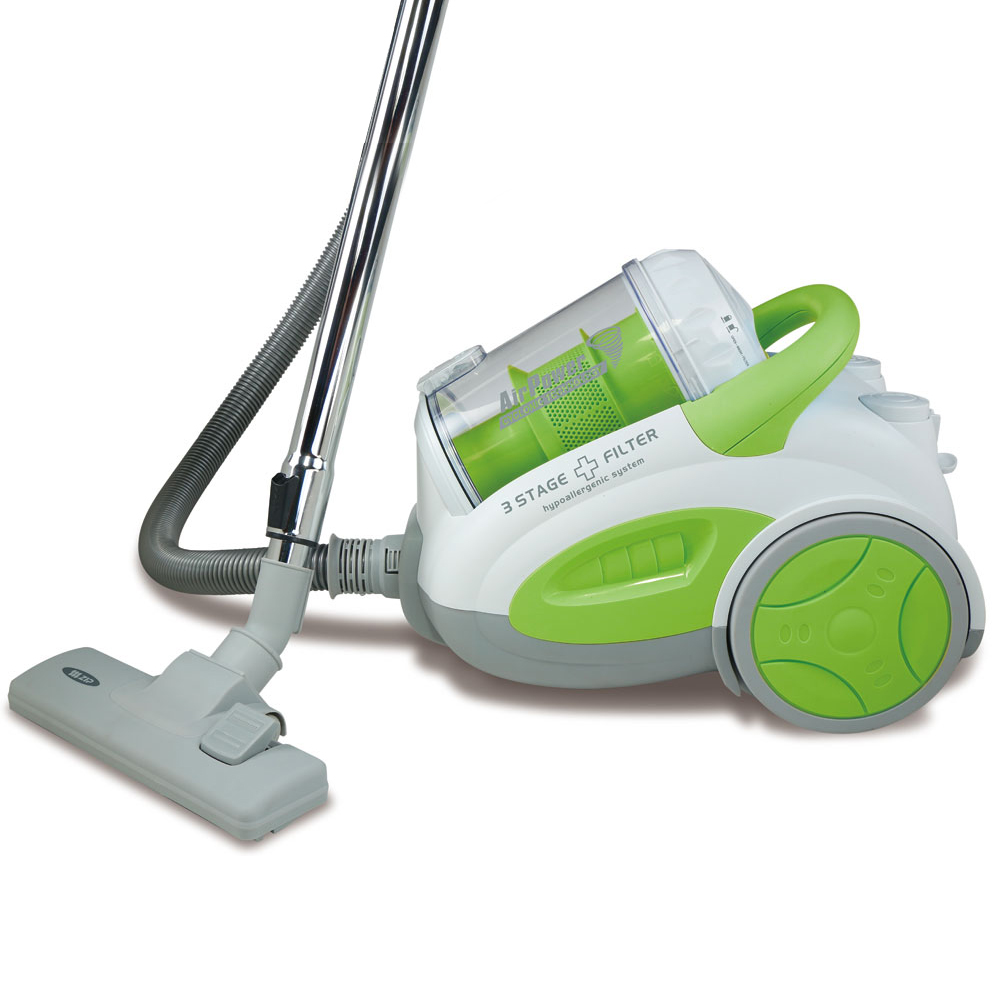 Zip Fusion Zip373 Vacuum Cleaner White/Green 2000W Bagless
or from 4 fortnightly payments of $37.50
or from 4 fortnightly payments of $37.50
or from 6 weekly payments from $25.00
---
---
This Zip Fusion Vacuum Cleaner is Bagless with a 2000W powerful motor, featuring a large ergonomic carry handle, a 360 dregree hose connector and 94cm adjustable telescopic wand with a two position floor brush.
Quick release cyclonic dust cannister
3 Stage washable and removable filter system
High suction power 320W
Soft start
Auto cord retractor
Dust full indicator
On/Off foot switch and foot auto cord rewind
Soft rubber wheels to protect hard floors
Handy vertical parking position for storage
Nozzle and brush attachments
Replacement Accessory Kit available: 1065249 - Zip 373/374 Filter Kit
12 Month Warranty
DO NOT BUY THIS VAC... BRISCOES DO NOT CARRY THE FILTERS AND CONSUMABLES FOR IT !!!!!Their back up service is Shocking... still waiting for filters nearly a month later.Dont buy vacs from Briscoes
Terrible vacuum! I had to replace 2 times.but the last time it stopped the shop did not replace again.do not buy it !!!!
Terrible vacuum. Always overheating and things falling off it including the wheels. Have only had it for 6 months and it's time to get a new one... don't waste your money even though it is cheap!
Love the colour. Love this machine. No more dust. What more do you want?
Had purchased this vacuum and on 3 occassions the wheels on the foot of the vacuum continued to break and fall off. Was given a replacment foot twice and after it breaking the 3rd time had enough and asked for a refund which they relunctantly gave and blamed me for manufacturing issues. Vacuum also required cleaning almost every day. Worse vacuum ever.
Not good cleaner. Cord won't retract after a few months, then 1 wheel fell off and can't be refitted!
Bricoes why do u have these on your shelves.. it is a piece of crap over heats and stopped working after the 3rd use..as it was purchased for our caravan which is only used when we go on holiday..DO NOT BUY!! My warehouse $70 vacuum was a better purchase still going strong after 2yrs
Terrible vacuum overheats all the time Briscoes wouldn't replace it when I took it back.
Terrible vacuum overheats all the time Briscoes wouldn't replace it when I took it back.
Purchased as a spare. Suction is not the best. Doesn't stand Stationary when moving around, always flips up, hence causing filter to fall out all the time.
Very happy with my purchase.Suction is good, only problem is chord is on the short side.I am lucky to have another vacuum and clean the filter with this.
Plenty of powerlight and easy yo manafelove it
Wish I had of read all the reviews before buying this piece of crap vacuum. Really disappointed in the staff who recommended this vacuum cleaner to me as well.
The filters, that need replacing regularly, are worse for the environment that the bags and defeat the purpose of having a bagless. They cut out due to over heating, fall apart just because you look at them and the suction is weak.
Great the first few times, and then completely useless.
Worst vacuum cleaner ever. Stops all the time due to overheating, also requires cleaning after every use.rubbish.
This is honestly the WORST vacuum I have EVER USED! I have had it replaced 3x already...as I'm vaccuming the house I look behind me and there's dust pouring out the back of the vaccum! Also I vaccum one or two rooms and then it just shuts down???? DON'T GET IT! WORST VACCUM EVER MADE!
The worst vacuum cleaner I have ever purchased. Started cutting out due to over heating after 2.5 months of owning and I have a small house, the suction weakened very fast. Poor quality and noisy. Wish I had read the reviews before purchasing as it is terrible.
Ugh. Exactly what a bunch of other people have said. You get what you pay for, but damn son, this really is crap!
I was most unhappy with this vacuum cleaner , amongst other things the cord won't retract . I took it back and although the cleaner was out of Briscoes 30 day return window , the Manager listened to my complaint re the cord and not being fit for purpose and allowed me to return it for a refund against an Electrolux with additional top up payment .Well done that man , I will continue to shop at Briscoes but never buy another Zip product of any sort.