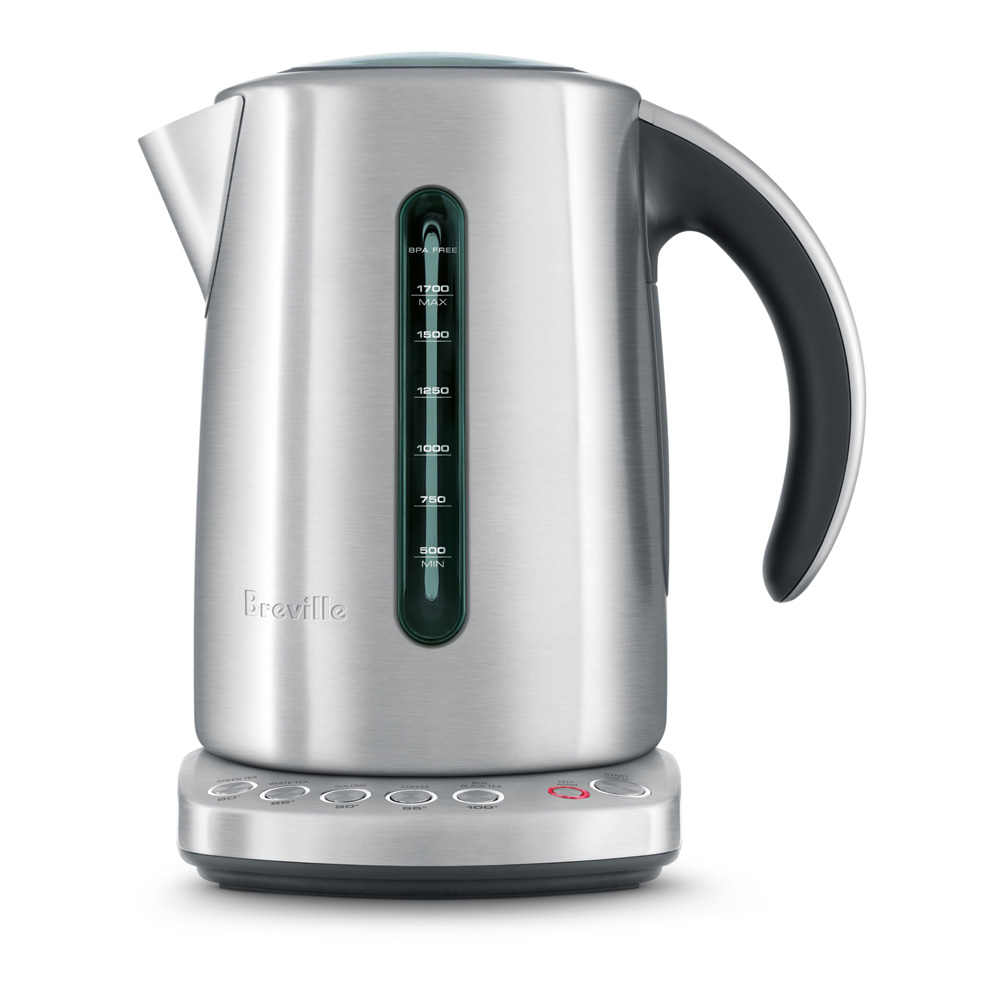 Breville BKE825BSS the Smart Kettle 1.7 Litre
or 4 fortnightly payments of $43.87
or 4 fortnightly payments of $43.87
or 6 weekly payments from $29.25
---
---
This Breville Smart Kettle features 5 temperature settings for optimal tea and coffee brewing, as well as a keep warm function that holds the water temperature for up to 20 minutes. Cushion controlled soft open lid prevents hot water splashback.
Capacity: 1.7 Litre
Safety auto cut off and boil dry protection
Ergonomic non slip handle with stainless steel cover
Clear view dual water windows
Fast boil
Brushed stainless steel body and base
BPA free
2400 watts
2 Year Warranty
Bought this kettle 2yrs & 1month ago. Now it's out of guarantee it's decided to not work. The electronics keep reverting to 70deg & making odd noises. 85kms from shop. Going there 2moro now won't turn on at all. Was very reliable economical on power for 2yrs. Original cost $225.
We bought one of these kettles when they were just released so 5-6 years ago. It was expensive at the time but it has just kept going. See through panels are a little milky looking, lid has a few cracks and the open button is slower than it used to be but they are pretty minor issues! The base is not working properly anymore so we have to buy a replacement. I think it's been a great jug and after reading other reviews excellent value for money!
The best kettle I have ever owned. Only downfall is I find the water gauge hard to see so never sure how much water in it! Breville, excellent brand.
Very pleased with this purchase. Looks great, performs well. Have not used the different setting much, but will in summer when we drink lighter teas. Not noisy compared with our last kettle. Easy to read dial.
We like the features on this kettle which we have just purchased. I think it is a bit noisier than the "Whisper" which had to be replaced but we are tolerating this because it is reliable so far.
We loved this kettle, the stay warm feature was used often and the different temp settings were a neat idea. However the inside of the glass water level measure on the side broke after having the kettle about 3-4 years (and left glass bits inside the jug unnoticed for I think about a week as it still worked and was only broken on the inside so no leak. Thank goodness the filter catcher on the spout stopped any glass getting in our coffee!)
The only complaint with this jug is it's noisy. Have had mine for several years and absolutely no other problems.
Fabulous kettle - I looked on Consumer first & it got the best marks. We love it, best I have ever bought.
Breville The Smart Kettle
12 months old now switch off when starts to boil.Wont bring to boil
Amazing jug. Perfect for the late night feeds for my son . Heats to a perfect temprature .
Awesome kettle. It heats the water to the temperature that you need for different types of hot drink. It also has a 'keep warm' function.
This is the best kettle I've had - we drink a lot of herbal tea and it is fantastic!